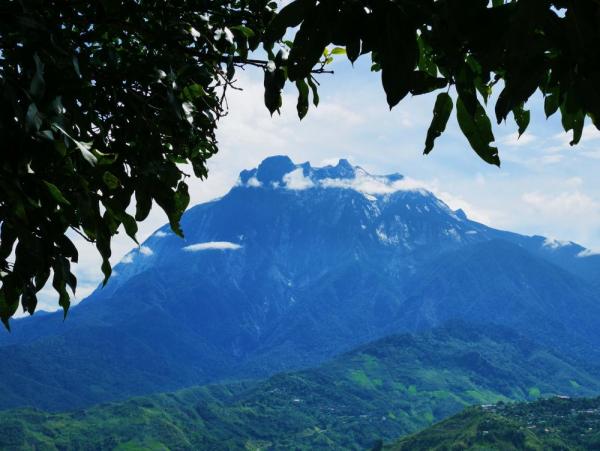 Mount Kinabalu spans six vegetation zones from lowland rainforest to alpine scrub

Borneo is an island of extremes. Flanked by exquisite coral reefs and white sand beaches, tropical lowland rainforest blankets the floodplains and gives way to unique montane and alpine ecosystems home to species found nowhere else on earth. Mount Kinabalu is a 13,435 foot granite massif rising from the Bornean jungle, the tallest peak between the Himalayas and Papua New Guinea and the center of Kinabalu National Park. The mountain not only attracts climbers, it is also a biodiversity hotspot. Biologists and nature lovers worldwide make pilgrimages to the park to admire its 6,000 plant species, of which 1,000 are orchids. The majority of Borneo's mammal, bird, amphibian and invertebrate species are also represented within the park, creating one of the most biologically diverse places on the planet and rightfully claiming UNESCO World Heritage Status.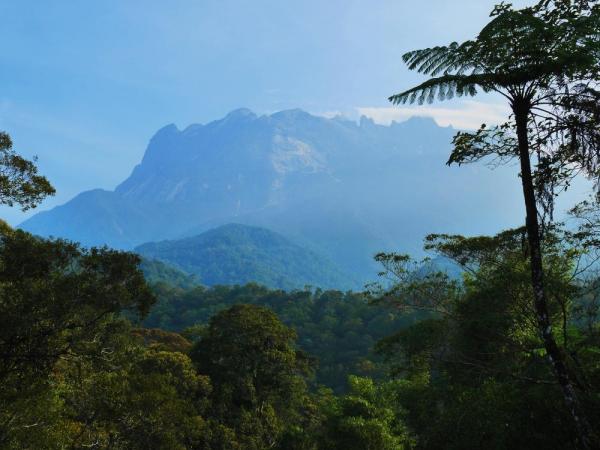 Mount Kinabalu in the state of Sabah in Malaysian Borneo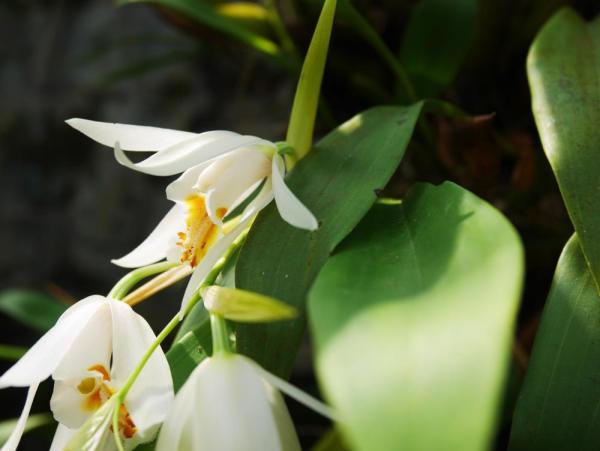 One of Kinabalu National Park's 1,000 orchid species, Coelogyne sp.

Mount Kinabalu is, at a minimum, astounding. Towering alone on the horizon, glaciated granite spires peek through the churning mist to further elevate Borneo's feeling of being the real "Lost World." My wonderfully knowledgable guide, Adrian, ran me through the mountain's geologic history and biotic richness on our three hour drive from Kota Kinabalu. It turns out the mountain isn't the only thing that's big in Borneo. Kinabalu National Park is home to a very exciting list of world-record holders. The world's biggest moth, biggest stick bug, biggest flower, biggest orchid, biggest leaf..the list goes on. I was lucky to encounter a few of these leviathans on our trek through the forest at the mountain's base.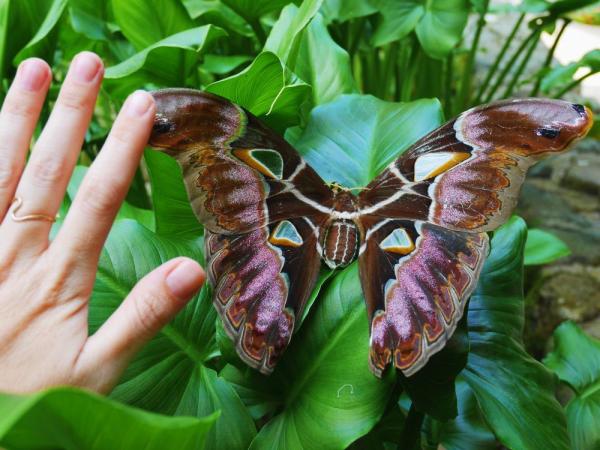 The world's largest moth, Atlas atticus

1. World's Biggest Moth. The atlas moth, Atlas atticus, is both big and beautiful. This juvenile stopped to pose for a few photos and while its wings are not yet fully developed (it's going to grow more!), you can see the serpent-like camouflage at the tips of its wings, looking uncannily similar to the head of the moth's forest neighbor, the king cobra. The atlas moth can reach a wingspan of twelve inches!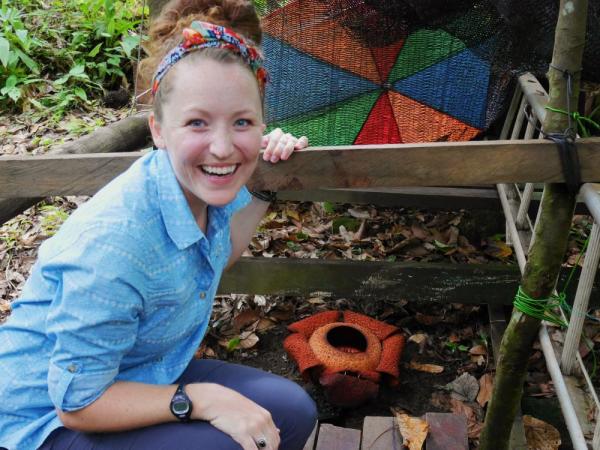 A family living near the park found this Rafflesia flower growing on their property
2. World's Biggest Flower. The Rafflesia flower, Rafflesia keithii pictured above, is actually a parasite that grows only on woody vines in the rainforest. The species I encountered maxes out at 95 centimeters (over 3 feet), but it's Sumatran cousin reaches a floral diameter of 105 centimeters! The seeds germinate very slowly, sending thread-like roots into the host vine and sucking out tiny amounts of nutrients. This vampiric relationship continues for up to five years until the flower finally blooms. Once open, though, the Rafflesia lives for only another five days, making it's presence behind a local's house near Kinabalu Park very exciting, indeed.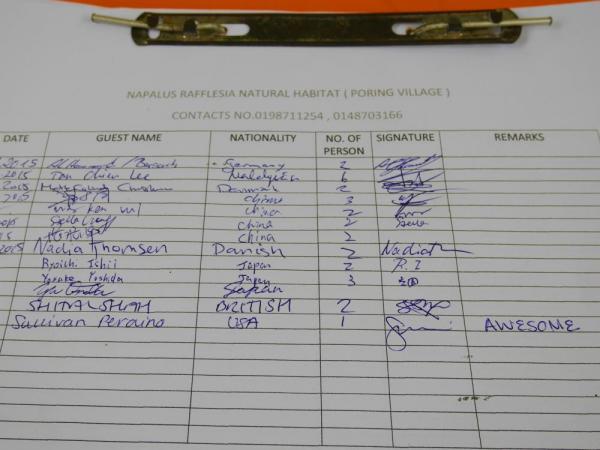 I wanted to let the park officials know how stoked I was to see a Rafflesia flower in bloom.
Thanks, Kinabalu National Park!​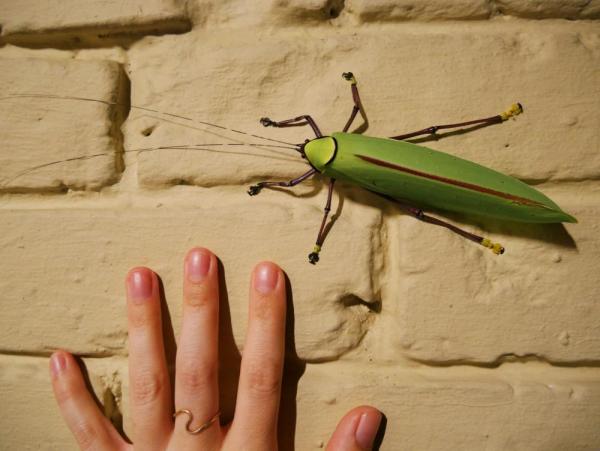 This leaf bug found his way to my cabin door at Sutera Hill Lodge inside Kinabalu National Park
3. This Big-A** Leaf Bug. Unfortunately, I wasn't able to identify this specimen. But, he still makes my list of giant things in Kinabalu National Park.
Whether you're a botany nerd like me, a climber, trekker or enjoy bird watching with a great view, Kinabalu National Park is a place you have to see to believe. Next, I'll venture up the Kinabatangan River in search of Bornean pygmy elephants and my red-headed cousin, the orangutan.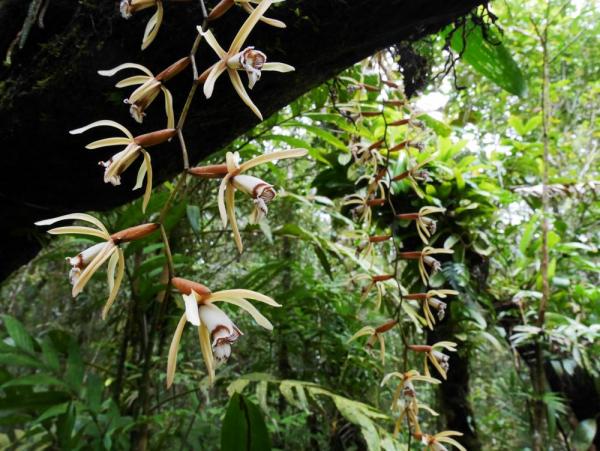 A necklace orchid gracefully spilling over a dead log along the trail in Kinabalu National Park​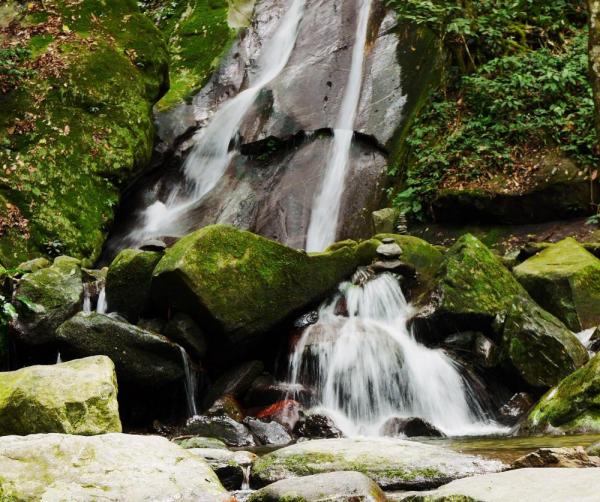 Poring Hot Springs makes a nice half-way stop on the drive to Kinabalu National Park​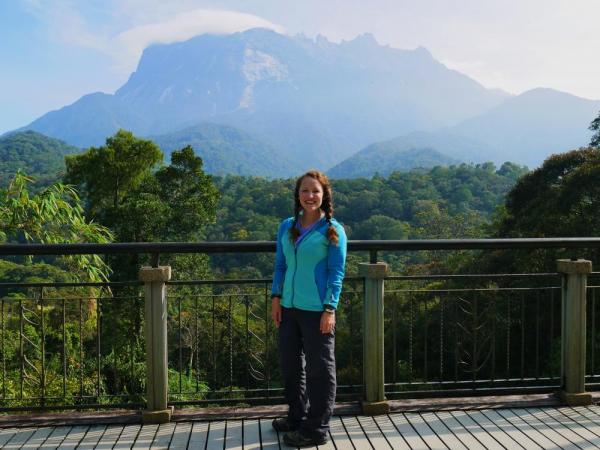 Mount Kinabalu National Park