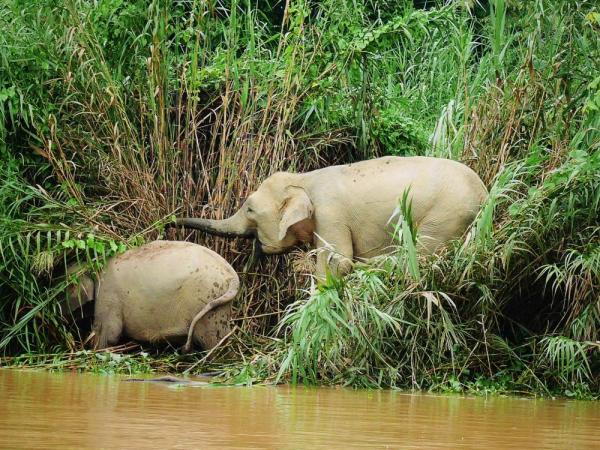 My first sighting of Bornean pygmy elephants!
As an avid nature program follower (hence my Attenborough enthusiasm), I thought I had a pretty good handle on the fauna of Borneo. Orangutans, right? To my delight, I found there is so, so much more to see in the jungles of Borneo. Three days on the Kinabatangan River brought me up close with pygmy elephants, proboscis monkeys, crocodiles, long- and pig-tailed macaques, monitor lizards, oriental pied hornbills and a whole mess of other birds that I won't even begin to name.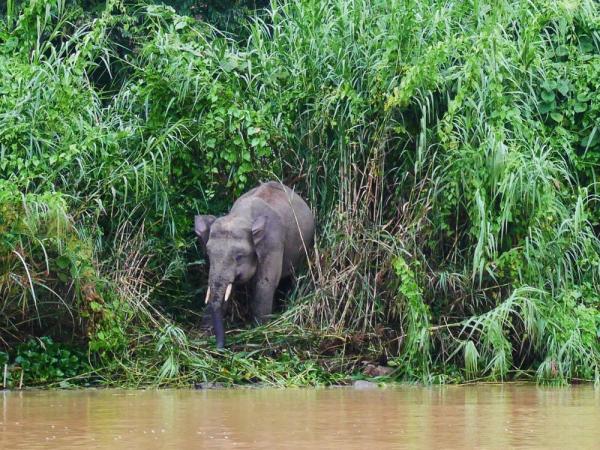 A male pygmy elephant grazes with the herd
My favorite of all the animals happens to occupy the petite end of the size chart, the Bornean pygmy elephant. With males reaching a maximum height of seven feet, the tallest pygmy elephant stands only a few inches higher than the average human and is the smallest elephant in the world! I got to observe these beautiful, yet small, beasts every day of my trip, which I was frequently reminded is very, very rare. From our launch, we first discovered a mother, baby and juvenile elephant munching grass by the riverbank. The baby was maybe two feet tall, about hip-height! This first sighting was enough to raise goosebumps, and my fellow travelers were equally ecstatic.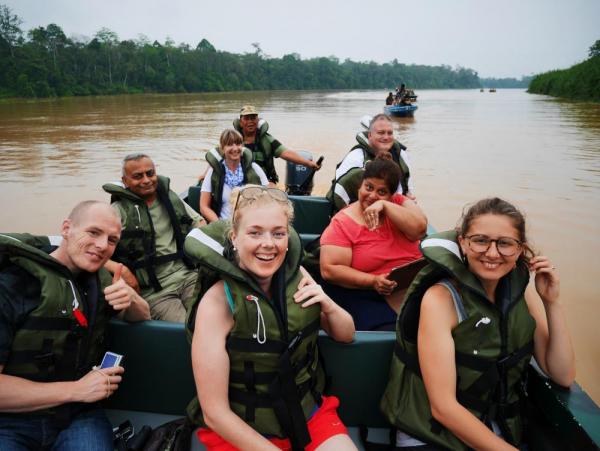 We just saw elephants in the wild!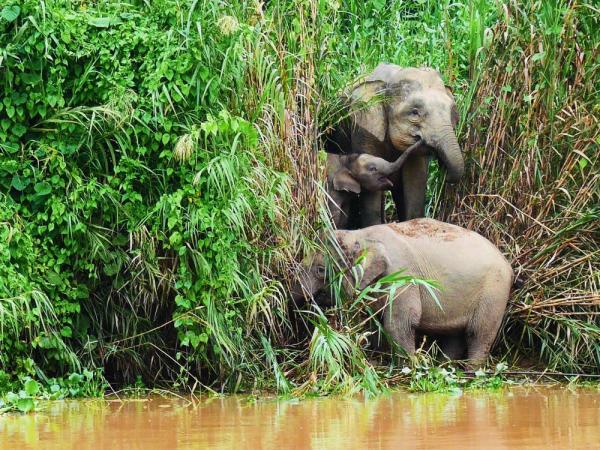 Bornean pygmy elephants looking cute by the river
The Bornean pygmy elephant has a very laid-back attitude, generally more passive and less aggressive than its bigger Asian elephant counterpart. This chilled-out behavior led many to believe that they were descendants of domesticated elephants that were given to the Bornean Sultan of Sulu as a gift in the 1600's. It wasn't until 2003 that genetic analysis revealed they are in fact a distinct species in the elephant world - making conservation and habitat preservation all the more important.
Biologists estimate there are only 110 - 120 pygmy elephants in existence, comprising three herds concentrated in the Kinabatangan floodplain. The pygmy elephant's small frame, gentle nature, rounder belly, bigger ears and straight tusks make them truly, to quote the World Wildlife Foundation, the "cutest of all the pachyderms." Another of Borneo's endangered species, the pygmy elephant is threatened by the loss of lowland forest, habitat fragmentation, and human-elephant conflict. Meeting these animals in their home territory was a spectacular experience and I hope that ecotourism helps to increase awareness and support for their management and protection.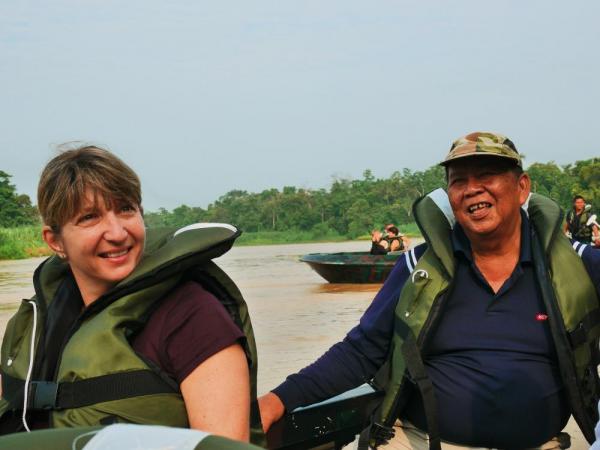 Our guide was just as excited as we were to see another herd of elephants
Check out the other inhabitants I found along the Kinabatangan River!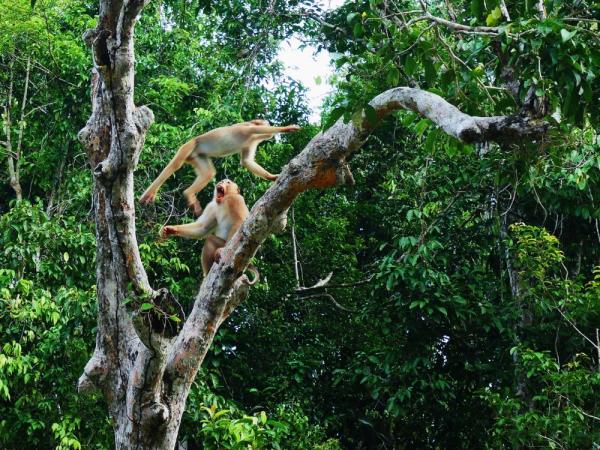 Pig-tailed macaques fight for the top of the tree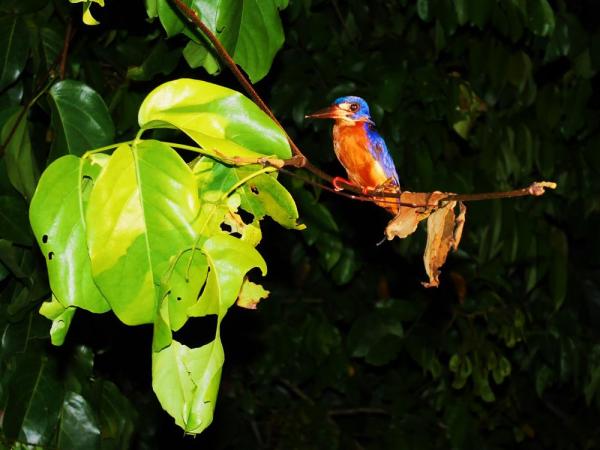 A blue-eared kingfisher on our night cruise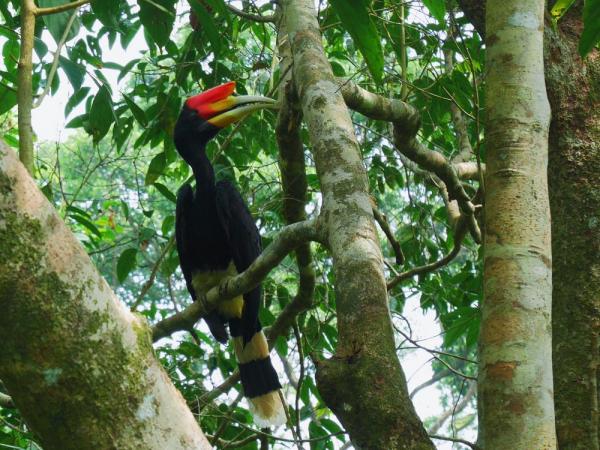 Finally close enough to a rhinoceros hornbill to get a picture!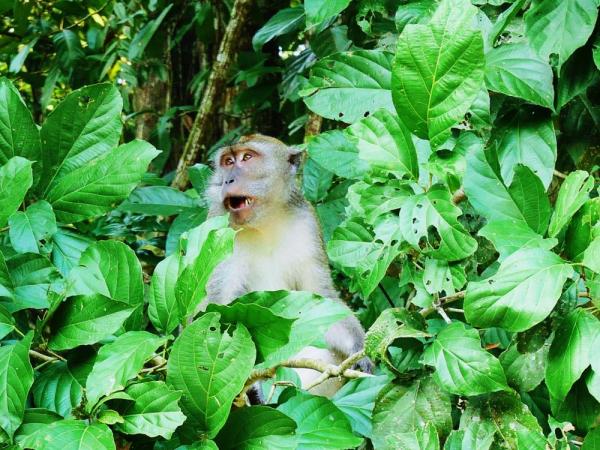 Long-tailed macaque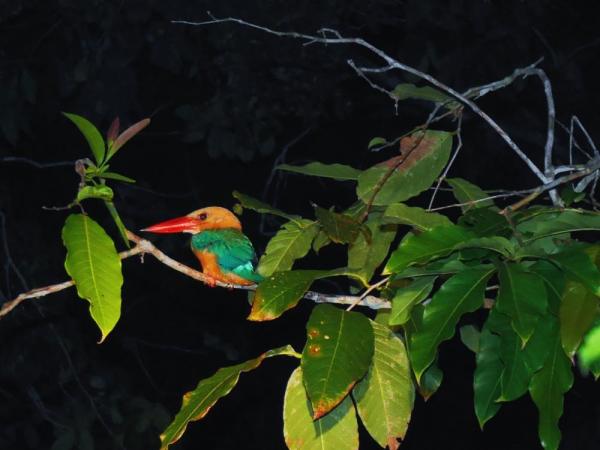 Stork-billed kingfisher