Located in the central business district of KK, this heritage hotel offers a relaxing getaway in the heart of the city. A masterpiece of a colonial building, representing the original colonial elegance and charm of a bygone era.

The Jesselton Hotel will undoubtedly attract your attention the moment you step into Kota Kinabalu (KK) city. The hotel is located in a beautifully restored colonial architectural style. The iconic hotel showcases original colonial period features, fixtures, furniture, and finishes. The hotel is a timeless piece of colonial beauty, boasting spacious interiors and passenger lift service to its guestrooms. With a total of 44 guestrooms that come with classic furnishings and fine carpets coupled with elegantly designed interiors, the hotel provides an exquisite personalized getaway, each equipped with free WiFi and modern en-suite bathrooms.
Rooms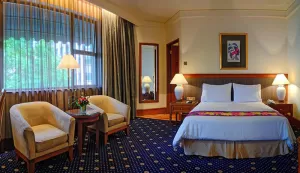 Deluxe Room
Room Size: 323 sq. ft with King size and twin beds.
Inquire
Kate was great to work with in the planning stage. She was prompt, helpful, and efficient. Our tour guide, Edwin, was knowledgeable and passionate. We were very happy to have traveled with Adventure Life, it made the trip easy and a true pleasure. We could concentrate on enjoying the experience rather than the details of travel.
Lisa Bridge