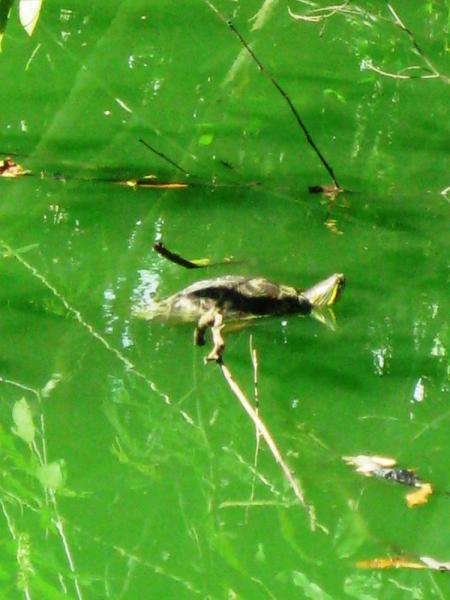 I woke several times in the night listening to the rain and wind howl outside our door. Our room was located on the second floor on the corner overlooking the ocean, so there was nothing to break the storm coming in off the ocean. It was so cozy to snuggle in and listen to the storm rage against the building. The SunBreeze hotel holds one of the best restaurants on the island – The Blue Grill, so after a late start today we enjoyed a leisurely breakfast at the edge of the just down the steps from our room. I had discovered on this trip that I was madly in love with the lime juice they made in Belize, so I was in heaven sipping cold lime juice while we watched the turquoise water just feet from our table.
The beaches of San Pedro are different than many expect. Swimming is best done from the ends of the ever-present piers that extend from every hotel. The sand strip is usually only 10 yards or so wide, and the water is full of sea grass which protects the island from erosion. Extending the length of Ambergris Caye and located one mile off shore is the barrier reef, which breaks the waves and further protects the island. It was different to sit on the beach and not have waves to watch, but there is plenty of people watching to do as people wander up and down the beach on their way to whatever is next.
This afternoon we visited a few hotel properties on the island – a little bit of work time but walking barefoot on the sand to get there was definitely the way to go. We stopped at Red Ginger for lunch, an Asian fusion restaurant with complimentary freezing cold water – delicious! We had scheduled a massage earlier, so after relaxing in the hammocks we headed out just before sunset to Asian Garden, a beautiful Asian themed courtyard where Ryan and I enjoyed a side by side massage. Halfway through the massage we turned onto our backs and the tiki torches had been lit and the stars had come out. Now that's the way to relax! We enjoyed dinner at the tiki-themed restaurant across the street and made our sleepy way back to the hotel along the beach. Not a bad day!