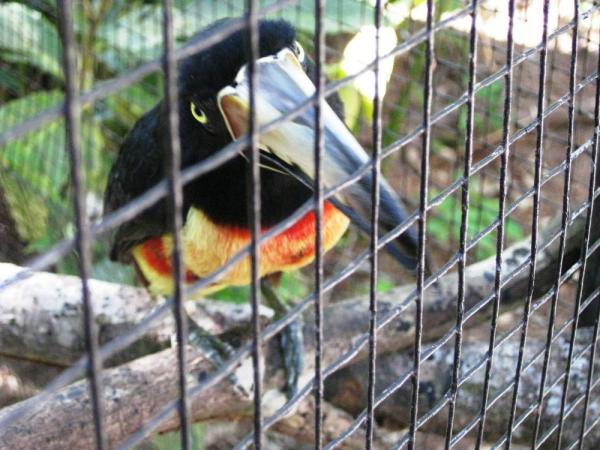 Another lazy morning. We had purchased juice and bagels at the market the day before and stashed them in the room refrigerator, so we enjoyed a lazy breakfast on our balcony overlooking the ocean. The staff at the SunBreeze gave us a golf-cart tour of San Pedro en route to a visit to their sister property north of town this morning, and after this visit we wandered the beach a bit more before getting ready for our afternoon fun: snorkeling at Hol Chan Marine Park.
Our group was just Ryan and I and one other lady, so soon we were speeding out towards the barrier reef in our motorized boat. The Hol Chan Marine Park is an area of the barrier reef designated as a protected zone, and Jeffrey, our guide, pulled our boat up to the park rangers boat and paid our fee's. We slowly motored to the "parking lot" – several small buoys in the blue water for the boats to tie to. There were a half dozen boats there already, and more pulling in every minute. Groups of tourists were already snorkeling around oblivious to other boats, and the whole scene seemed incredibly precarious. Jeffrey quickly tied off and told us to put on our flippers and jump off. We landed in about 3 feet of blue-green water, and Jeffrey gave us safety instructions and helped our fellow tour mate with the basics of snorkeling.
Soon we were able to put our faces in the water and let the warm waters of the Caribbean carry our bodies. To our great surprise the water was teeming with foot long silver fish with yellow tails, indistinguishable from above the water. We set off to circle a break in the reef, spotting all sorts of fish such as a puffer fish, several gigantic grumpy looking black groupers, a school of 6 foot long tarpon resting beneath a ledge, and a barracuda swimming around us in a circle. One sinister looking stingray lay partially camouflaged in the sand, his four foot wing span and quivering tail earning him instant respect. A couple of sea turtles joined us for a while before heading off in search of more sea grass. The coral formations were intricate and beautiful, and home to hundreds of vibrant tropical fish. It really was like swimming in an aquarium.
Before we knew it, we were back to our boat. After a very quick motor to another location on the reef, we arrived at "Shark Ray Alley", named for the high number of nurse sharks and stingrays in the area. Jeffrey just took the edge of a rope and started slapping the water. Instantly the water was filled with nurse sharks – some as long as 8 feet long. Our jokester guide reminded us that the captain is always the last one off the ship, so would go in first?? Our tour mate was terrified of the sharks, so I knew it was between my loving husband and me. One look at his face I knew it was going to be up to me to make this happen! I figured these tour operators pretty much depended on keeping their tourists alive, so I pulled on my courage along with my facemask and jumped off the side.
More tropical fish, more beautiful coral, and of course….sharks. Nurse sharks are actually bottom feeders; more a gigantic catfish than shark, but just their size and name was enough to inspire some fear. They would slowly appear from the gloomy water in the distance, their length being the most intimidating thing about them. I had seen youtube videos before our trip of guides catching them and helping tourists to hold them, so after I relaxed I was hoping we'd get close enough to at least touch them….I mean, who really gets to hold a shark in their lifetime? But unfortunately our fellow snorkeler was too freaked out and couldn't relax, so our considerate captain called it in before too long and we were back at the boat without chance to hold a shark. I was glad to miss seeing more stingrays up close and personal – those are the ones that make me really nervous.
We putted along the barrier reef for a while, Jeffrey filling us in with his extensive knowledge of the reef before jetting back towards the caye. We showered before taking to the beach again, strolling through town for dinner at a Lebanese restaurant. The ethnic range of this place was crazy, with no end to food diversity. After dinner we lingered over drinks at the Blue Water Grill, and enjoyed a warm breeze blowing in off the ocean. Full of sun and completely relaxed, we headed to bed.