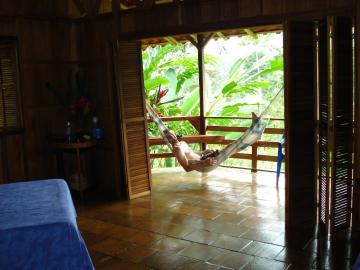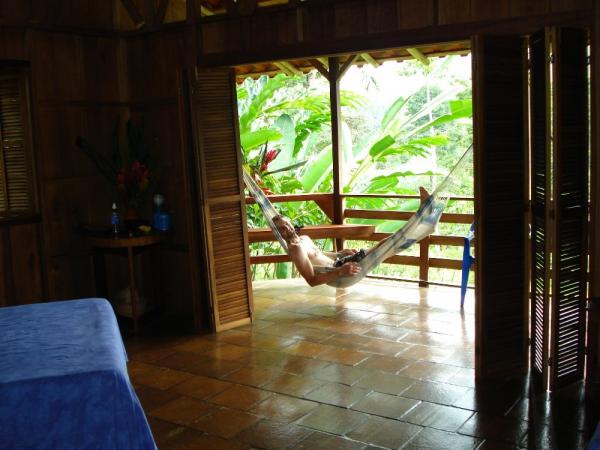 Last night in the middle of the night, there was a huge thunderstorm. I can't believe how intense the storms are here. They feel so close. I am scared of lightening so the storm made my adrenaline rush. It is beautiful to watch the lightening strike over the ocean.
Today we start the day with a hearty breakfast of fruit, eggs, cereal and coffee. Our day is filled with adventure. Jim is going to take us out and show us some of the activities that Tranquilo Bay offers their clients.
We start our journey by going to some nearby islands that are inhabited by native tribes. Our first stop is an island where the villages is located on a hill right on the water. I am amazed at the simplicity of life in this village. The people live in small huts. I don't think they have running water or plumbing. They speak a native Indian language that I am not familiar with. Some of them also speak Spanish.
We meet up with one of the locals and he takes us on a hike to the top of the island. On our way, we see women washing their clothes in a stream. We also get a lesson some banana trees and other native plants and trees. It is very interesting.
When we reach the top of the hill, we see an old tower. The tower was used for transmitting when the United States first occupied Panama. It is so neat to see the history. It seems very random that amongst these people, is a large tower used by the US.
Our next stop is another island with another village. This village is more spread out. The school is located on the water but then the rest of the people live dispersed throughout the island.
As we land at the boat dock, the children rush to greet us. It is so fun speak Spanish with them. They are very intrigued by our arrival. One of the their favorite things, Jim tells us, is to have their picture taken with a digital camera. They don't know what they look like so they like to get their picture taken and then look at the screen to see themselves. So we stay at the dock and visit with them and take their pictures.
We continue on our way. We hike through the island to get to a white sandy beach on the other side. I am not sure why we didn't just boat up to the beach. My only thought is that it is too shallow to get the boat all the way to the beach. Also, Jim maybe just wanted us to meet more locals.
While we are hiking, we have a few kids trail behind us. I feel badly because I am not sure if we have just interrupted school of if they were done for the morning. At any rate, I enjoyed interacting with kids. One kids runs home and brings his kitty to us so we can see it. Pretty neat.
The white sandy beach is beautiful. It is very private. We are the only ones there. It is kind of weird because it is just Kurt and Jim and me. So we just hang out and play in the waves. I think it would've been more fun if maybe just Kurt and I could've hung out at the beach by ourselves or if we had surf boards or boogie boards to play with. We were only there about an hour. It just felt a little awkward. But I am sure if there were more people at the lodge, just hanging at the beach for the afternoon would've been really fun.
Next, we head to another island with trees so we can have a picnic lunch in the shade. Lunch is sandwiches, fresh fruit, chips and homemade cookies. A true picnic lunch.
After lunch, we go sea kayaking, This is a really fun activity. I was nervous because I had never sea kayaked before. It is surprisingly much easier than maneuvering a river kayak. We kayaked to a cave that is in the middle of rocks. This is a little challenging as we have to go in the cave when the tide is going out so that we don't hit our heads. I was kind of freaked both about getting into the cave and actually being in the cave. Once we are in the cave, you can see a bunch of bats at the top sleeping. I kept waiting for them to start swarming my head. That didn't happen luckily. It was neat to be in the cave but I couldn't stay long. To get out of the cave, you also have to wait until the tide is low. It was much easier getting into the cave than out of.
Our next adventure is to go dolphin spotting as we head back to the lodge. This takes some patience as you have to wait for them to surface. After staring at the water for awhile you start to think the waves are the dolphins surfacing. Your eyes start to deceive you. Once we spot them, we try to take pictures as they surface. You have to be quick on the draw to capture them at the exact moment that they are surfacing. Jim said usually they get pretty close to the boat because they are curious about the boat. They only got close to the boat once. After awhile we don't see them anymore. Jim decides he will see if the dolphins will play with us. So he maneuvers the boat in the area where we see them to see if they will swim next to the boat. We tried for about a half hour without any luck.