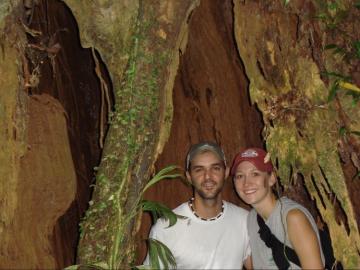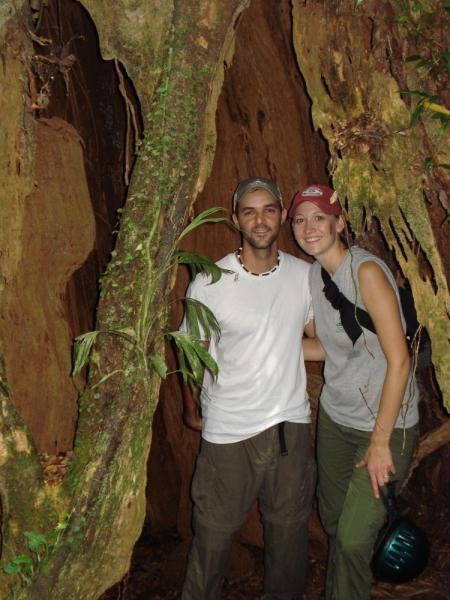 Today we are headed to Tranquilo Bay. We are getting married there today. I am so excited. It is something we planned right before we came. We thought it would be just like us to "elope" in Panama. The only person that knows are my co-workers and my mom. It will be such a surprise for the rest of the family.
We ate breakfast at the hotel out on the water. Very good breakfast . Jim and Jay arrive at the dock at 10 AM. The boat ride to Tranquilo Bay is about a 1/2 hour. It is again nice to be on the water and the scenery is beautiful. Crystal blue water and gorgeous, plush islands.
Tranquilo Bay itself is also very beautiful. We arrive at their boat dock and then walk on a board walk through the marsh lands. Jim and Jay show us where the dinning area and where they live (same building). I finally get to meet Renee, Jim's wife, and their two kids Body and Tres. After exchanging so many emails back and forth, it is great to meet her.
We are then escorted to our bungalow. Tranquilo Bay has 6 bungalow type rooms. Each one has a porch with two hammocks, one or two beds depending on accommodation needs, and private bathrooms and showers. They give us the farthest bungalow so we can overlook the water. It is beautiful. The bungalow isn't located directly on the water. It is on a bluff that faces the water.
The room inside is beautiful. It is very roomy and has a homey feel. It feels more "Americanized" than our other places but the comforts of home are a welcomed touch after being in the Jungle and thinking I had bugs crawling on me at night. The rooms have air conditioning and fans. The bathrooms are beautiful and the showers are roomy. You can drink the water from the tap as it is filtered rain water.
We get a chance to freshen up before it is time to have lunch.
For lunch we had taquitos, rice and salad. It was very good.
Now it is time to go snorkeling. I am so excited. I have never really snorkeled before. We load up all the gear and head out. Jim is going to be our guide. He parks the boat near some reef and gives us a brief overview on how to snorkel. We get started and we follow him for awhile while he points different things out. After about 10 minutes, we realize the current is very strong and we have drifted pretty far from the boat. Jim decides the current is a little too strong and that it would be better for us to find a different spot.
When we find the next snorkeling spot, we all split up. It is so neat to see the beautiful coral and the cool fish. When I have to clear my snorkel, I am so nervous to step down because I am afraid I am ruining the coral. So that is a little bit of a challenge. I know Kurt and I both swallowed quite an amount of sea water.
We saw all of the tropical fish you would see. It is so cool to watch them dart in an out of the coral. Jim found a puffer fish and pointed it out. This thing was pretty creepy. It is tucked in between the rocks and it is all puffed up. It just stares at us from the safety of its little cove.
Then we split up again. I am wondering around looking at things when I came upon a shark. Now being from Montana and living my entire life there, I really don't have experience with Sharks. My first instinct is panic. I surface to see how far Jim is. He and Kurt are pretty far away. I don't know what to do. So I decided my best bet is to try to get closer to where Jim and Kurt are. I start swimming as fast as I can (thank goodness for flippers as I can swim a lot faster). While I am busting my butt to get to safety, all I can hear in my head is the Jaws music. Then it occurs to me that my rapidly kicking feet and legs looks like food to the shark so that causes me to panic even more.
Finally, I reach Jim and Kurt. I tell them about the shark and Kurt is fascinated. Jim must've read the horror on my face because he tells me that the shark is called a nurse shark and they are harmless. Good to know (after I have pretty much just had a heart attack).
Kurt and I decide to go see if we can find it again because Kurt is interested in seeing it. We swim together holding hands and all I keep thinking is 'I wonder how many other couples can say they went snorkeling on their wedding day and encountered a puffer fish and a shark'. This is such a neat experience.
In order to make it back to the lodge in time to get ready for the wedding and get married at sundown, we have to start heading back to the lodge. Kurt and I get ready and then meet everyone at the main lodge so we can head out the island where we are going to get married.
We take the boat to Zapatilla Caye. When we arrive, Kurt and I are surprised to see everything the staff has done for our special day. They set up an aisle with coconuts and tea lights, an archway at the end of the aisle made out of palms and made two bonfires at the beginning of the aisle. They also planted two coconut trees at the end of the aisle in our honor. Kurt and I could not have imagined a more beautiful setting for a wedding. The best part is that I never dreamed my wedding would be like this. It was absolutely perfect.
When we return to the lodge we have some appetizers and toast to our wedding. Dinner is a curry chicken dish with rice and we had homemade chocolate ice cream for dessert. The dining room has a very homey feeling and the entire atmosphere is very relaxed. I felt like we have known Jim, Renee and Jay all of our lives and that we were sitting down for a family dinner. Very neat.
Upon our return to our bungalow tonight, we found our room decorated with flower petals. It really made it feel like a honeymoon. What a wonderful way to end a perfect day!