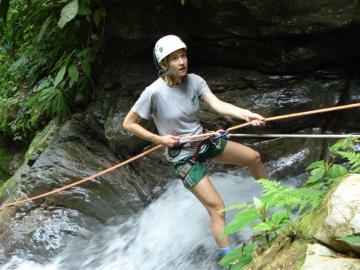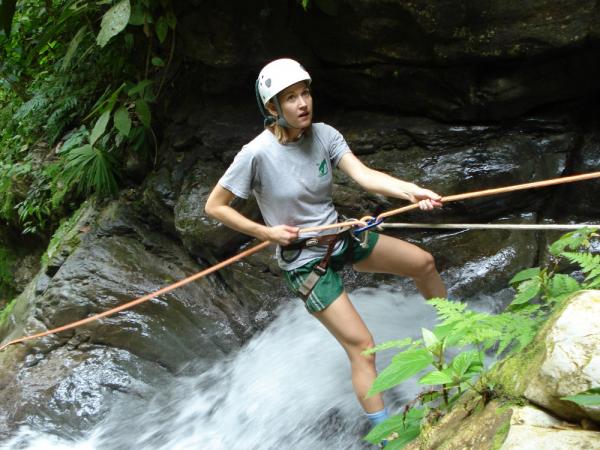 We had quite an early morning today. We woke up at 5:45 AM. Now while both Kurt and I are use to getting up in the mornings for work, it is a little harder to get up early when one is on vacation. We were so excited to go whitewater rafting, however, so getting up early wasn't too hard. We set an alarm but I was nervous it wouldn't go off so I also got us a wake up call. The front desk also called our room when the transfer was there which was very nice too.
We boarded the van and met with the river guides for the white water rafting. The van was very nice and comfortable. We had to swing by two more hotels to pick up a couple of other non Adventure Life travelers. That took about 20 mins. Then we were on our way to the rafting station. The drive takes a little under two hours. It is a very beautiful drive and the guide explains the area as you go along. It is also on a very good road which makes the drive easier. I spent most of the drive debating if I should tell them I am pregnant or not. I really wanted to go rafting so it was a very hard decision. Plus my doctor didn't seem to think it was a problem which made the decision even harder.
Once we arrived at the rafting station we were instructed to put our bags in lockers and then head to breakfast. Our breakfast was so good. I am not sure if it was just because I was a little hungrier than normal or not. We enjoyed some coffee, juice, eggs, toast, yogurt and fresh fruit.
We had to wait a little while after breakfast as there was a van coming from Arenal that had more people who were rafting today. During this time, we were briefed on the safety procedures of whitewater rafting. As they are explaining possible situations that can happen while rafting, it is easy to get scared. However, I got the feeling that they have experienced every situation and felt like I was in good hands should anything happen.
When the rest of the people arrived and ate breakfast, we boarded the van again to drive to the put in to begin rafting. This about another 1/2 hour-45 minute drive. The last part of it is very very bumpy. After we arrived at the put in station, we put sunscreen on, left anything behind we didn't want to get wet and get all of our gear on; i.e. Helmets and life vests.
Then we decided who was riding in which raft and the sitting order. Two strong "captains" need to be at the front so we had to decide who that would be. That is when I decided to tell our guide I was pregnant. That did not go over well. Aside from the guide not wanting me in his raft due to the risk, none of the guides felt comfortable taking me down the river. They could tell I was discouraged and they explained that in Costa Rica, the woman and her child are very very respected and taken care of and it was more than just a liability thing. All of them would personally feel bad if anything happened to me. That made me feel better but I was still bummed out because I was so looking forward to going. I kissed Kurt goodbye and boarded the van again.
So I can't really say how rafting was. Kurt said that it was very fun but he thought I could've gone without being injured. Always better to be safe than sorry I guess.
The driver of the van kind of had to decide what to do with me. After I pouted for awhile, the driver asked how I was doing. When I answered him in Spanish, he asked if I was fluent which I told him I am so we proceeded to converse. That is when the day completely turned around.
Marlo, the driver, made a few calls and arranged for me to get a tour of a pineapple plantation. This was so interesting. There is a lot more work that goes into growing and processing a pineapple than I imagined. I had the chance to see the process of how they pick the best pineapples to export, the next best to sell locally, and then the ones that are completely deformed to be dehydrated. The ones that are exported are done so under the name Del Monte. So now the next time I eat a pineapple, I will know maybe where it came from which is very cool. Also, getting to eat fresh pineapple right out of the dirt is pretty neat. I also sampled some freshly dried pineapple. The whole experience was so neat and it was a nice alternative to just sitting at the rafting station thinking about how much fun Kurt and the rest of the crew were having.
When we returned to the rafting station, I ate a home-cooked authentic meal with Marlo along with some of the other workers for the rafting company. We visited about their family lives and jobs. Ultimately, my experience was very positive. I learned about pineapples, spoke Spanish the entire day and interacted with the locals.
After all of this, I only had to wait about a half hour before everyone was done rafting. When everyone had a chance to view and purchase a few pictures, buy refreshment and clean up, we boarded the van to get to our next destination.
It took about 2 hours for us to get to Bananito town. The road was still in pretty good condition. The driver dropped us off at a little bar called Salon Delia. Here we met Justo, our guide for Selva Bananito, and Joseph our next driver. The drive to Selva Bananito is difficult. It is a very very bumpy road and it takes about 1 hour. The scenery is still nice but the road makes it a long drive, especially for a pregnant lady.
Once at Selva Bananito, we rested for about an hour. Then we cleaned up and went down to the main lodge for a welcome cocktail and dinner. It was so cool. They have tiki torches that light the pathway to the lodge and then the lodge has candles all over for lighting. It is a very tranquil and relaxing atmosphere. The air is fresh and the sounds are peaceful.
Dinner was a wonderful home cooked meal. We sat and visited with Jurgen, the owner and Justo. It was a very leisurely evening. When we went back to our cabana, we lit a few candles and sat in our hammocks. After a busy, active day the welcomed atmosphere of our cabana was a nice way to end the day. There was a gigantic full moon which lit up the entire jungle. So nice to be on vacation!!