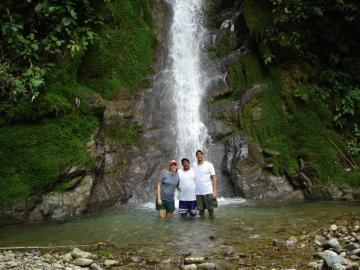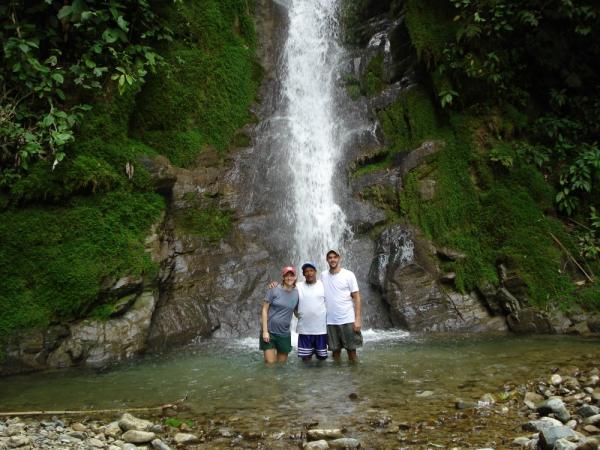 Selva Bananito is a pretty neat place. I had kind of a difficult time getting use to the bats. They fly in and out of the room all night getting the bugs. I also felt like I had bugs crawling on my face the entire night. I know it was just my imagination. I didn't have any mosquito bites when I woke up this morning so I know I was just being paranoid.
After reading the descriptions of Selva Bananito I was a little nervous of how I would like it. It really is great. I was worried about the soap the lodge provides and also the quality of the shower. Actually both were such a welcomed relief. I think that I just felt so dirty and sweaty that having a nice hot shower (provided by solar heated water) with soap was a nice treat.
Today was another early morning (I thought I was on vacation). We met Justo and the gang at the main lodge at 7 for a hearty breakfast. We had eggs, toast, fruit, cereal, beans and rice, homemade cheese from the farm and wonderful coffee. The atmosphere for the meals and the entire lodge makes it impossible to not relax.
After breakfast, we head back to our room to gather the things we will need for the day. The large jug of filtered water in our room allowed us to fill our water bottles. We made sure we lathered on the sunscreen and mosquito repellant for the long day through the jungle.
We started on the hike at around 9. It was hot already. The first part of the hike was hard just because there was no shade cover. Walking in and out of the water along the banks of the river really helped to keep us cool. As we got into the shadier parts of the hike, we started to see more reptiles. The poisonous dart frogs are so cool. They are very tiny and their green and black coloring is magnificent.
As we hiked along we chatted with Justo about his life at Selva Bananito and at Puerto Limon. When not working at Selva Bananito, he fishes in his home town. When asked what he enjoys the most, he says he enjoys both parts and enjoys the variety. It was so nice to connect with him. He is very personable and pleasant. Some of the areas we hiked through, we had to climb over small slippery rocks. He was attentive to make sure that I was safe and did not get injured. He even cut walking sticks for himself, Kurt and me. Those were great and helped for the uneven river bed we walked through.
After about 2 hour s we start to climb up through the jungle. It is here we meet up with Jonathan who helps with the excursions and projects around the farm. He is quiet and has a smile that lights up a room.
When we got to the top of the hill, we can hear the waterfall. It is not much further before we are actually standing on top of it. We get our harnesses and helmets on and listen to a brief description of how to rappel down the waterfall. I decided to go first. I have rappelled before but never this long of a rappel and never in a waterfall. I was very nervous. Part of it was knowing that it was slick and you are about to put yourself over the side of the cliff. The other part of my fear was knowing that I could potentially slip and fall and harm the baby. But after not being able to go rafting, I knew that I wanted to do this. I wanted some kind of adventure during my trip. So over the cliff I go.
It was really fun. While nervous and scared, I also had a huge rush of adrenaline. I made it down safely without any problems. The only thing that made the rappel hard at all was after I got under the waterfall. The water is kind of pounding down on me and it caused my contacts to move so then my vision was a little blurry. That was pretty interested.
Watching Kurt go down was fun. He is a natural and of course makes it look so easy. After everyone was down, we all play in the water and waterfall. The cool water is refreshing after such a long hike.
After a little more hiking it is time to stop for lunch. We found a nice shady spot along the river. Lunch was wonderful. We had a rice dish and some juice. I felt famished. Apparently the hike took more out of my than I thought. It was so nice to just sit by the river and relax.
The rest of the hike was pretty good. We had one more rappel that is considered the mandatory rappel. This means that there is no other way to get down but rappel. This rappel was not a long and it is not in a waterfall. However, I found myself slipping more on this rappel due to the moss on the rocks. It was still fun.
When we return to the lodge, it is about 3. We have the rest of the afternoon to relax in our rooms. Both Kurt and I crashed. It was so quiet and peaceful. The only sounds are that of the animals in the jungle. It was like we were backing packing in the mountains of Montana. Nothing but you and nature…just awesome.
Tonight at dinner we had company. Fabio, Vanessa, Andrea and Josue from EcoSafari have come to Selva Bananito to do a hotel inspection. It was so great to see them. I didn't feel like I really got a chance to know them when I spent time with them earlier in the week. It was nice just to visit with them. I had a great time practicing my Spanish. It was also really neat to listen to them talk with Jurgen about some of the political things happening in Costa Rica. We also met a couple from Switzerland. Ursula and Eugene are in their late 50s early 60s. They were great. Kurt even split a beer with Eugene.
Our bed was a welcomed treat this evening. After such a strenuous day, it was so nice to lie in bed, read by candle light and just listen to the peace of nature.