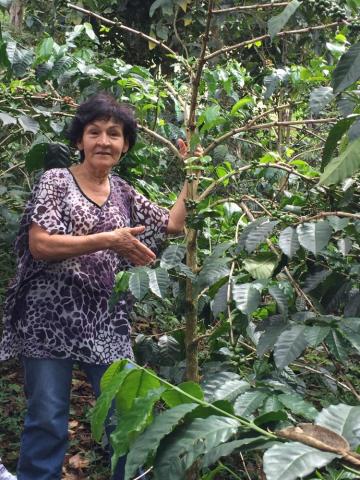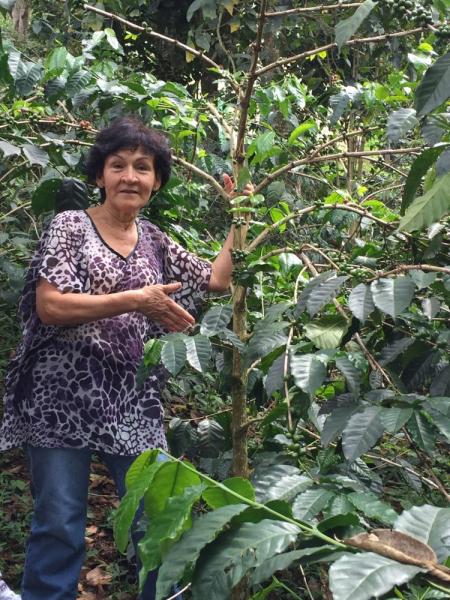 We spent the morning exploring the Finca Cafeteria "La Arboleda" today. We met the owner Marleni, our host of the day and she greeted us in her home with cookies and crackers before we set off. She took us for a hike through her farm, built on a steep hillside above her house. All her coffee was shade-grown, and she had plants that had been in her family farm for over 100 years. When a large shade-tree died, the coffee plants below stopped producing, but as trees grew up and provided shade again, those plants were able to start producing again.
Walking through her farm, we noticed that nearly all her plants had berries on them, but only a few here and there. She explained that rather than having a set harvest season, her plants produced berries at a much slower pace, but more consistently during the year. This allowed for a more continuous production, but much smaller scale than a more traditional farm. Just the day before, she had roasted about 10-15 pounds, and that was her harvest for the week.
Marleni explained that the more traditional newer farms planted coffee plants and the produced berries twice a year in large quantities, and the plants would last for several years before needing to be pulled and replanted. The production was obviously greater, but it required more nutrients in the soil to produce at that quantity. She preferred the organic, smaller production of her small family farm.
She then took us back to her home where she made us a "perfect" cup of organic coffee. While we waited for the water to heat up, we ate "Subido de Maiz", a corn wrap, similar to a moist cornbread. It was boiled in a leaf and was a traditional indigenous food in the valley. She heated the water to 90 degrees Celsius, and slowly poured the water over the filter to produce small cups of deliciousness. We enjoyed the coffee and sacks and bought a few pounds of coffee to bring home.