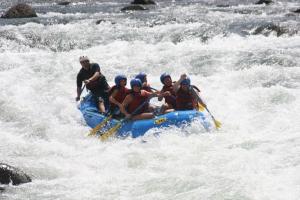 I was reading the New York Times this weekend, and noticed that the #1 Most Emailed article was about travel in Costa Rica. It's a really interesting article about one person's Costa Rica experience, and, best of all, the article focuses on three areas Adventure Life tours visit: the Pacuare River, the Monteverde cloud forest, and Manuel Antonio National Park.
For those of you who aren't going to read the article, let me summarize it for you: guy goes to Costa Rica, has a blast, doesn't see jaguars, does see sloths, almost misses out on Manuel Antonio because the park is closed Mondays, is put off by the number of tourists near Quepos, but learns how to appreciate the beauty of the area anyway.
Not to detract from the author's expertise, but if he had been traveling with Adventure Life, we would have been able to inform him that Manuel Antonio is closed on Mondays, so he wouldn't have missed out on that. He would have also been with a local guide who could have pointed out the less-crowded beaches. Not that I'm against independent travelers – that's what I've been most of my life – but it's interesting to see how much easier and more fun a trip can be with someone who knows the area well.
For more information on the Adventure Life tours that visit this area, check out the
Beaches and Rainforest
tour (Pacuare Whitewater Rafting) or the
Adventure Pacifica
tour (Monteverde and Manuel Antonio).
For the un-summarized version of the article, click
here
.