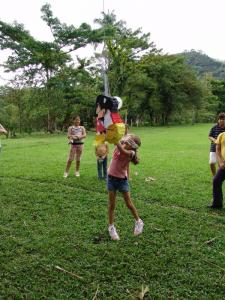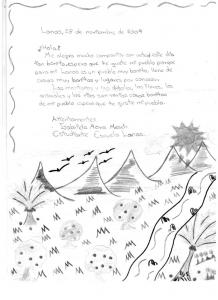 Last month, Adventure Life teamed up with our partners in Costa Rica, to sponsor a holiday party for a group of Costa Rican children from the Turrubares Mountains. The following is from our friends in Costa Rica regarding a few details of the celebration. Looks and sounds like it was a delightful day.
On November 28, 2009 Costa Rica Reps based in San Jose, Costa Rica teamed up with Adventure Life Journeys based in Missoula, Montana to host a holiday party for Costa Rican schoolchildren. Located in the Turrubares Mountains, Galan and Lanas are small isolated communities on an old travel route connecting San Jose (the capital of Costa Rica) through rural mountainous jungle terrain to Costa Rica's Pacific Coast.
Galan school was represented by three students and Lanas school was represented by nine students. The children come from families with very limited resources and the rural location makes it especially difficult to access decent educational opportunities. For example, some children walk many miles in order to get to and from school every day.
The objective of the activity was to share a full day of fun and happiness for these children as a reward for the extra-ordinary efforts they take to be properly educated. The day began with a brief introduction about both Costa Rica Reps and Adventure life. Children were then told about tourism activities in general and specifically about eco-tourism, sometimes also referred to as sustainable tourism. Emphasis was placed on the importance of protecting and keeping the environment clean. By way of specific example students were asked to assist in cleaning up the area as the party came to an end.
Throughout the day Cristy from Costa Rica Reps led the children in team building activities and traditional games to keep them actively engaged. Prizes were given for each game. At noon lunch was served including hot dogs, snacks and sodas. It should be noted that for a rural Costa Rican child a hot dog is quite a novelty! For dessert the children enjoyed ice cream and cake. Each child also received a bag filled with an apple, a pear, juice, cookies and candies.
Staff member gave a pre-selected child a personalized gift. The look on some of these childrens' faces was priceless! The event ended with a lively traditional Central American game where each child took turns swinging a stick at a classic piñata. One final blow and piles of candy rained down on the deliriously happy children as they scampered about collecting the treats!
The event was truly a great success for all in attendance for the following reasons: The children received a fun and wonder filled day of games, a nice meal, lots of treats and a special gift. Their parents were able to see laughter in their childrens' faces and could clearly sense the love in the hearts of the staff at Costa Rica Reps. The staff were able to actively participate in that special gift of giving. Even the onlookers wore painted smiles for the entire day. It was a day of special warmth for the children that only a human heart can give.
This event is still fresh on the minds of the staff and has provided motivation to make this an annual tradition. Perhaps next year's event will include nearby communities and we hope activities like this holiday gathering will provide opportunities to educate children and their parents as to the positive benefits tourism can bring to remote places.
For 2010 Costa Rica Reps hopes to incorporate a reward system throughout the days events whereby students will begin the day by planting trees and collecting litter around their homes and schools. Perhaps there could be a "trash art" contest to see who can make the most creative piece of art out of the trash collected. Now all we need is a grand prize for the winner!
A special thanks to Adventure Life Journeys for allowing Costa Rica Reps to collaborate on this inspiring initiative.
Thank you, our friends in Costa Rica. Truly our pleasure.