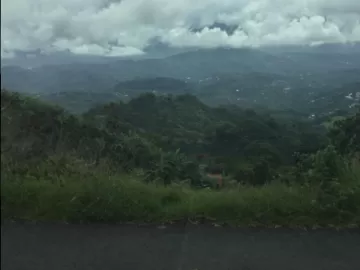 It seems so easy, just hop in the car and go! I know I was ready for a little more independence after 12 days of taxis and private cars. After getting the keys to my brand new Honda (and receiving ample instructions on how to use the GPS) I set off from San Jose on a track south toward the Savegre Valley. My Spanish is pretty rusty so I was little nervous about getting lost or not being able to read the traffic signs but I set off and after a few wrong turns with the GPS blaring "make a U-turn!" I was on the high way with the music up and AC on high!
I don't love to drive. I drove a Ford F150 all over the US for two and a half years while I worked with a Children's Theatre company and feel like I have done more than my fair share of driving for life. Driving in Costa Rica wasn't much unlike driving at home though. Roads were well marked, adjusting to kph wasn't too hard and the roads were not as scary and bumpy and pothloed as I had been warned. That is... until they were. My GPS took me on quite the adventure and I followed it blindly not really knowing any better. Up, up, up I went around hairpin turns, over massive rocks and through the deepest mud I was terrified I would get stuck and have to walk back to God knows where to try and communicate that I needed help. At this point on my journey I was all alone, and white-knuckling the steering wheel in pure fear. The GPS said I had over 2 hours of driving to go and I didn't know if I would make it, the stress might kill me! Not 30 minutes into my harrowing ordeal, after 1,000 considerations of turning around, there it was, PAVEMENT! But not just pavement, a perfectly nice road heading back in the direction I had just come from!! My relief was met with a strong urge to pitch that GPS out the window! A nice little "shortcut" it had taken me on. The rest of the trip I ignored the darn thing when it told me to turn off onto another dirt road and once right off the side of a cliff. It always caught back up with me and was perfectly happy to take me on the highway instead of the scary side road.
So, should you rent a car while in Costa Rica? SURE! It was nice to be able to drive to town from my hotel or to a trail head for a solo hike the freedom was very much welcomed. Just don't put too much stock in the GPS.