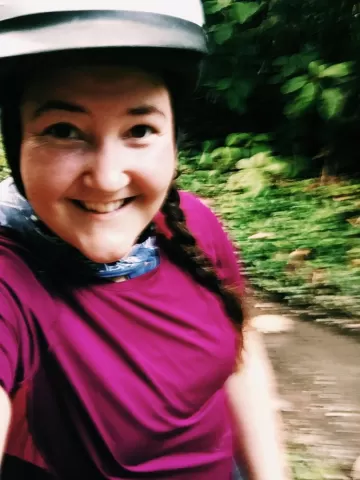 Costa Rica is known for its whitewater and in my opinion the Pacuare should be included on every itinerary that visits the country. It was SO. MUCH. FUN! I grew up on the river since my dad has guided in Washington state since before I was born. I was ready for the whitewater, but I've never been a boat that my dad wasn't in charge of so I was a little nervous. My nerves were instantly soothed when I met our guides and saw what a tight ship - no pun intended - the folks at Rios Tropicales run. There were maybe 30 of us headed out on to the river that day and we were broken up into groups of about 4-6 based on language we spoke and who was traveling with who. On the ride to the river we received a safety briefing, all the stuff I've heard a thousand times growing up, but of vital importance.
Mom and I got paired up with three young Costa Rica men all who spoke varying amounts of English. I think I was most impressed with our guide, Carlos' ability to switch seemlessly from taking to Mom and I in English to Spanish and making everyone feel like they were included and taken care of. Before each rapid Carlos would give us a run down of what to expect, what paddle commands he might call and he would take us through it like a champ. Our safety briefing came in handy when one of the guys fell out towards the end of a rapid, but other than that things went off without a hitch.
This is the single most fun excursion I did on my entire trip. HIGHLY recommended.