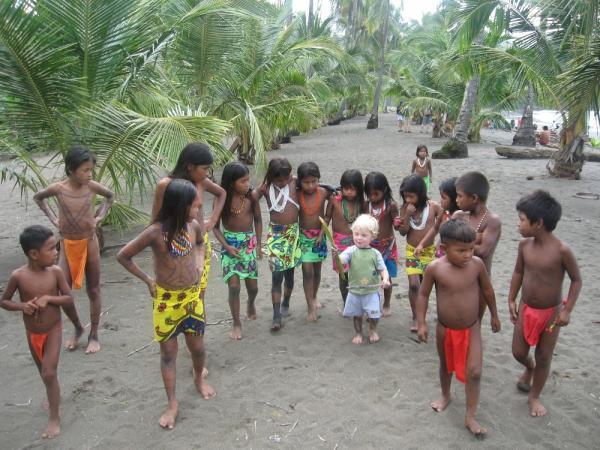 We woke early for a plentiful selection of breakfast options and then boarded buses to the Ish fees.
We started our journey on the southern side of the canal in the waters of the Pacific Ocean. The canal runs south-north through Panama and we transited just over half of the canal. We first crossed under the Bridge of the Americas connecting North and South America via the Pan-American Highway. Then we entered the Miraflores Locks. Here our boat was raised 27 ft and then lowered back down on the other side. This allowed the canal builders to cross the Continental Divide of Panama without having to dig as deeply. It also limits the transfer of species from the Pacific to the Caribbean side. I'm not completely sure of the details on this as I spent much of the cruise making sure that Matthew would not dash off and fall under the open railings into the Canal so I missed some of the detailed information presented by our guide.
After the next set of locks, we had lunch onboard. The exceptional quality of cuisine was even more impressive because the staff had carried everything onboard that morning with no kitchen onboard for cooking. The chef must have been up well before dawn to prepare all that incredible food. It amazed me that they could serve everything hot and fresh on the Isla Morada 4 hours after we boarded. Our local buffet restaurants could definitely use some lessons!
Shortly after lunch, we disembarked in Gamboa and took buses to the viewpoint for the Miraflores Locks. On the way back to the boat, we stopped at an artisan market where I passed on the somewhat generic souvenirs, more because I was busy chasing Matthew about then because of a lack of interest.
I have been pleasantly surprised that at least half a dozen other passengers have commented on what a good baby Matthew is. I feared that since he was the only child onboard, the other travelers might resent his presence. However, I think he has charmed his way into their hearts and earned many token grandparents. The crew is wonderful -- always asking if he needs something special to eat, sneaking him chocolates and making funny faces at him. It certainly hasn't hurt that he recently learned how to blow kisses and delights in showing off his new trick.
As I sit writing this on the sundeck of the Pacific Explorer, a giant Panmax vessel (~1000 ft long) is making a sharp turn right past the bow of our ship. It is traveling at a steep V and looks to be within ~ 5 ft of our ship. Those captains must be exceptional to maneuver in these tight spaces!