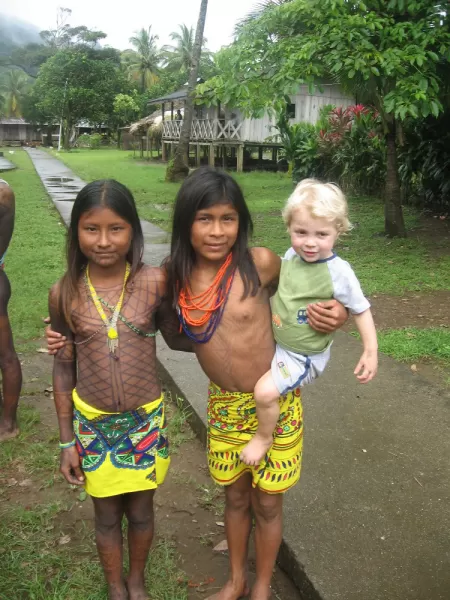 This morning we arrived at Granita de Oro, a small island near Coiba Island, off the coast of Panama. The island took ~ 20 minutes to circle via kayak and was the perfect picture of a deserted tropical island.
We had snorkeling training in the morning and then headed off the island after a mid-morning brunch. Mom tried snorkeling, but her fear of water became too overwhelming when it was coupled with the awkwardness of walking in fins and trying to see out of a mask. She opted out and waited on the beach with Matthew while I went.
I saw many brightly colored fish and a white-tipped reef shark while snorkeling. However, I didn't want to leave my mom for too long so I soon headed back. Other travelers continued on seeing a turtle, another shark, a few eels, and more.
Mom and I tried taking out a double kayak with Matthew but he really did not like the idea of having to sit down in the boat so we opted to play on the beach with him instead. I've never seen so many beautiful, unbroken shells anywhere. The beach was also active with hermit crabs scampering around spilled juice and other crumbs left by our travelers.
On the way back to the Pacific Explorer, we saw three spotted jumping out of the water. Our zodiac driver brought us ~ 10 ft away as we tried to click pictures. Mom was so excited to finally see dolphins. Matthew, however, had promptly dosed off when the zodiac started moving and didn't stir in all the excitement.
We spent the evening watching movies in our room. Matthew was watching a DVD while we watched the VCR. He decided he wanted to watch Snow White on VYS instead so I told him "after our movie." He repeated asked for Snow White and finally gave up and snuggled into me. An hour later, he was nearly asleep with his eyes drooping and his body limp against mine. As the credits rolled for our movie, he leapt up and shouted "Snow White." What a sweetheart! He had sat patiently that entire hour, obviously constantly thinking about his movie, but knowing that he had to wait until "after our movie" to say anything more.