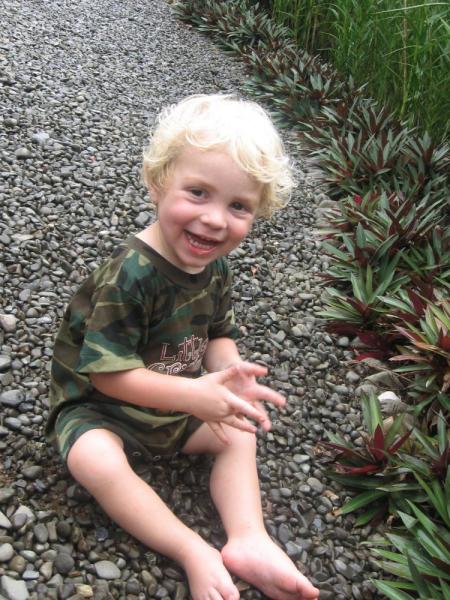 We arrived at the beach of Manuel Antonio National Park and walked through the park to the small town. We had signed up for the optional "Rainmaker Canopy Tour" so a bus picked us up in town and drove ~45 minutes into the mountains.
There I strapped Matthew into a backpack for the 3 hour walk up the mountain. We traversed suspended bridges in the canopy but saw very little wildlife- only a millipede, toad, and anole. I was disappointed that the trip had been advertised as a "canopy tour" when we really only spent ~ 20 minutes on the canopy bridges. The rest of the time was spent on a steep and humid rainforest walk. We really would have seen much more wildlife if we'd stayed with the group in Manuel Antonio. There they saw three slots, capuchin monkeys, a howler monkey, and more.
Upon returning to the town, Matthew needed a break so I played on the beach with him while mom went shopping. Matthew played with a naked little two year old Asian boy, splashing in the waves and dumping sand. Once again, they made instant friends without any language barrier to hold them back.
It was the first town that we had encountered since Panama City and grandma loved the chance to finally buy souvenirs. She returned laden with shopping bags and I set out, determined to gather as many Christmas presents as I could in the next half hour. I bartered very little at first, thrilled to just be able to buy unique presents. Finally, I got back into my bartering groove and started negotiating a bit more. I also got a quick chance to call home with my international phone card that finally worked!
After we returned to the boat, the staff put on a slide show with photos from our journey. There were some great shots and we had the chance to purchase the CD of images with the profits going back to the Embera people.