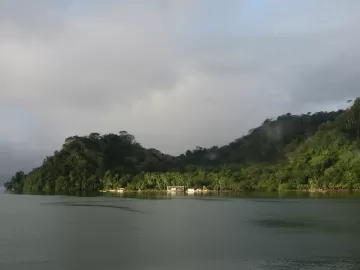 Mom had offered to take Matthew on this day so that I could go whitewater rafting. Her transfer would arrive after lunch and we would meet back in San Jose at the same time. I woke extra early to meet my rafting transfer. They drove us to the put in and provided a thorough safety briefing.
Because we were in the first raft on the river that day, we had to be able to work well together as we would be mapping the route for the other rafts in our group and other companies to follow. Our guide was very experienced and the rafting was exceptional. The Pacuare offered a mix of class III-IV rapids that completely swallowed our raft with waves that rivaled any rafting I had done previously. Many of the travelers in our group had never rafted and everyone had an incredible time.
For lunch, we stopped at a small black sand beach and flipped the raft over for a table. The guides prepared a fabulous fresh lunch of tortillas and various sandwich fillings. Then we were back on the river for some more great rapids. As we became a better team, our guide decided to have a little fun and we tried some of the gentler rapids (still class III mind you!) backwards or turned the raft in circles as we went through.
Back at the rafting headquarters, we enjoyed photos of our adventures and then boarded a bus to San Jose.
We spent our last night in a beautiful hotel, Le Bergerac, with exquisite service and a French restaurant on-site. I just wish we had planned more time to enjoy it! Next time we'll need to spend at least part of a day relaxing in San Jose before heading home...