When is the best time to cruise Greece?
Late spring to early summer or autumn is the best time to take a cruise
because the inflated summer prices and crowds are not present, plus there is very manageable weather with no heat waves over 40°C. Blessed with balmy
Mediterranean
weather,
Greece
is a year-round travel destination with hot summers, relatively mild winters, and comfortable temperatures rarely dropping under 5°C (41°F).
Cruise season in the Greek islands runs from late April through September
, but we recommend cruising in late spring and early fall for pleasant outdoor conditions without the excessive crowds of summer.
At a Glance:
High season:
May to September
Shoulder season:
April, October
Low season:
November to March
Busiest months:
July and August
Best Time to Visit Athens
Late spring to early summer, or autumn, is the best time to visit, as the weather is still great and the crowds are much more manageable.
Athens
has good weather year-round for the most popular activities such as walking around the city, eating at restaurants outside with tables and chairs, and taking bus tours. Most city activities can be enjoyed any season in Athens, although swimming and sunbathing at the beach are best during summer. Enjoy a wide range of
cruises from Athens
, with the nearby Piraeus port being one of the most frequented cruise ports in the Mediterranean Sea.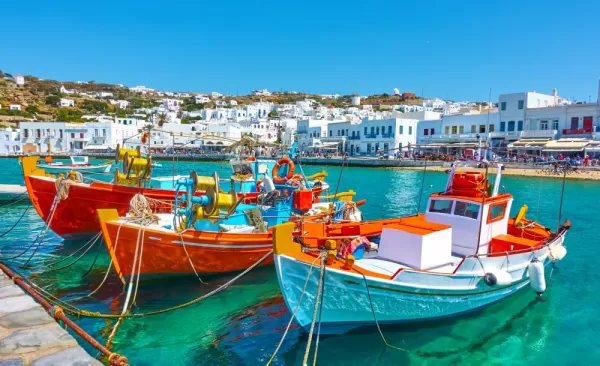 Best Time to Cruise the Greek Islands
With stunning isles like
Santorini
,
Corfu
, and
Mykonos
, island hopping in Greece is one of the biggest draws of visiting this Mediterranean country. Generally, late spring to early fall (May to September) is excellent for sunshine and warm weather, but August can get very crowded as this is when Greek locals enjoy their summer vacation. Location is also worth considering since the southern isles tend to be warmer and have longer summers than the northern archipelagos in the Aegean.
Best Time for Beaches
The best time to go to Greece beaches is from June to September when it's the sunniest, and the waters are warm enough to dive into. Any other month is usually too cold, especially if you're planning on swimming and
snorkeling
. If packed bars and live parties are your main interest, July and August are ideal, with flocks of locals and foreigners crowding the nightlife spots. But if you prefer relaxing by the shore with the smallest amount of people, plan your beach trip in September when most tourists have already gone home.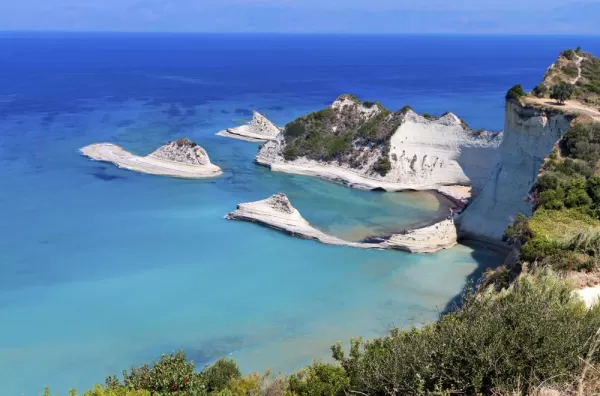 Best Time for Hiking
April, May, and October are the best months to visit Greece for
hiking
and
cycling
adventures. Expect blue skies, plenty of sunshine, and comfortable weather that isn't too hot for outdoor activities. Spring is especially beautiful as the landscapes come alive with vibrant flowers in full bloom. There is also slightly less rainfall in spring compared to fall. Despite having a little more rain, fall is a lovely season for Greek vacations. Temperatures stay at very comfortable levels, and the golden hues and falling leaves of autumn are a gorgeous sight.
Cheapest Time to Go to Greece
The off season in Greece is from November to March. During these months, hotel, tours, and cruise prices are significantly lower as there are very few travelers around. If saving money is a priority, November or March would be the best time to enjoy a cruise holiday on the islands. Keep in mind that there are no Greek cruises in December, January, and February due to the cold and sometimes rainy weather. Many hotels and dining establishments on the Greek isles also shut down during the low season, so it's important to secure your reservations before traveling.
Wondering when to go on your dream vacation to Greece? Let our
Adventure Life travel experts
assist you in planning the perfect Greek islands cruise that works with your schedule.