Sparkling azure seas, miles of sandy beaches, ancient olive groves, sleepy villages of tumbling white washed houses and endless sunshine – these images are synonymous with mainland Greece and her 6,000 islands. Alone they would be reason enough to make it an ideal destination for escape and exploration but these attractions are only part of the picture.

Greece is a nation steeped in history, ancient culture, myth and legend. Everywhere one finds evidence of the many cultures and nations which have ruled and inhabited these lands, beginning with Neolithic man and progressing through Roman, Venetian and Ottoman periods among others. This colorful and varied history, influenced by so many different cultures, has left each island a little world unto itself - each has its own legends, traditions and something which marks it as unique.A Greece vacation typically combines a mix of beaches, culture and history and, depending on the cruise length, may visit one, two or even more island groups along with certain mainland ports.
Athens and Piraeus
Greece cruise itineraries will often begin or end with a visit to the Greek capital city of Athens, accessed via the port area of Piraeus. It is almost impossible to wander around Greek's capital city without stumbling across some evidence of its ancient culture and colorful history, which dates back more than 3,000 years.
As the central seat of Greece's ancient and classical culture for arts, philosophy and learning, it would be impossible to list all that there is to see and do in Athens, suffice it to say that one trip will certainly leave you wanting to explore more!
The most famous of all Greece's ancient landmarks is the
Parthenon within the Acropolis,
while other notable tourist destinations are the
National Archaeological Museum
which houses the largest collection of Greek antiquities in the world, the
Agora market
, the stone theatre known as the
Odeon of Herodes Atticus,
and the
Stoa of Attalos
(the ruins of an ancient covered portico).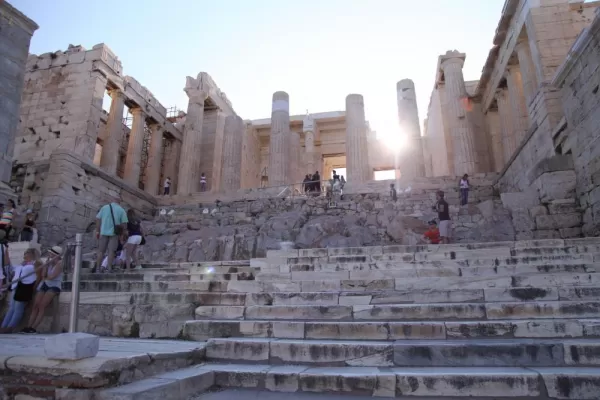 The Cyclades
Greece cruise itineraries vary widely, although many of the more popular ones focus on a specific group of islands such as the Cyclades. This large, central Aegean island group is typified by quintessentially Greek villages and towns with low, white washed and flat roofed houses.
Among the most famous ports of call are:
Cosmopolitan and vibrant Mykonos - the haunt of celebrities, interwoven with tiny alleys and, according to Greek mythology, the site of the battle between Zeus and the Titans.
The tiny neighboring island of Delos - This uninhabited island is home to an archaeological site of enormous historical significance. Ancient market squares, temples and ceremonial avenues of great carved lions await eager explorers.
Santorini- Formed when an ancient volcano exploded in the Late Bronze Age, creating what is believed to be one of the largest eruptions ever to occur on earth. Whitewashed villages give the appearance of being impossibly perched on cliff edges.
Kynthos, which boasts more than 70 beaches, is another popular port in the Cyclades. Many of the tiny winding streets are too small for vehicles, so locals on donkeys are a common sight. The Katafiki Cave here is one of Greece's largest and the island is also home to natural thermal springs with healing properties.
Folegandros, with its towering cliffs, large cave and architectural and cultural influences colored by a history of Athenian, Venetian and Ottoman occupation, is another common stop on a Greek cruise of the Cyclades.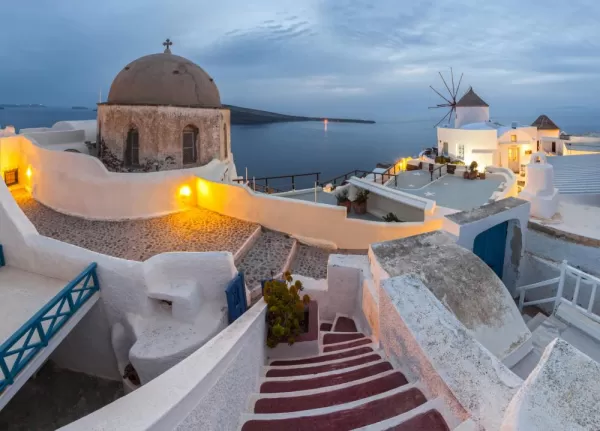 The Dodecanese Islands
Between Crete and Turkey, the Dodecanese offer a different take on Aegean cruises of Greece. The most popular port in the Dodecanese is on the island of Patmos, where the Bible references the visions of St. John the Theologian in the Cave of the Apocalypse. Tourists and Christian pilgrims alike come to this site along with the Monastery of St. John, founded in 1088.
The Saronic Islands
These are the closest islands to the Greek capital, Athens, making the ports here common ports of call for both Greek cruises and day-trips.
The tranquil island of Aegina produces cotton, almonds, olives and figs but is most famous for its pistachios. It is also home to the ruined columns of the Temple of Aphaea, dating back to around 500 BC
The lone town on the island of Hydra offers a bustling mix of shops, open air restaurants and cafes, markets and galleries