Have questions? We're here.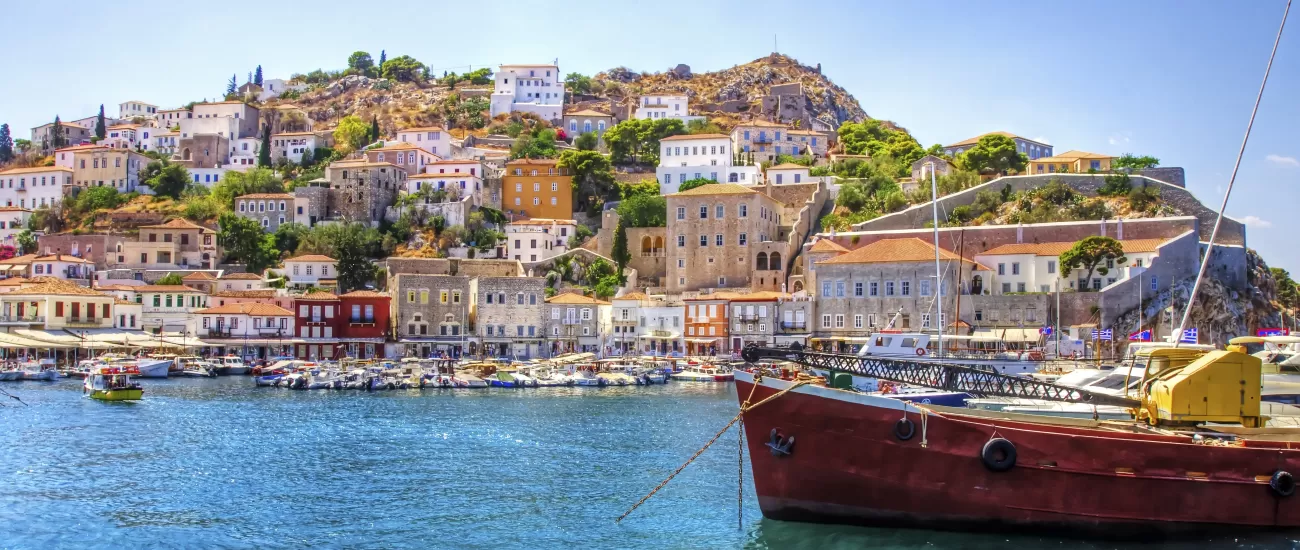 Hydra Cruises, Trips, & Tours
Travel made your way ™
Take a cruise to the island of Hydra located to the South of Athens, Greece on the Aegean Sea. Relax, swim, or read your favorite book on Bisti Beach. For a more active outing, take a hike on a wonderful trail up to Profitis Ilias Monastery, at the highest point of the island (567 m or 1,860 ft above sea level). Additionally, there are another 300 churches on the island and five other monasteries including the must-see Monastery of the Assumption Virgin Mary, built-in 1643. Instead of taxis, generally, the people of Hydra prefer to rent out donkeys that one can ride throughout the island; it's a lot of fun for the whole family. Contact our travel specialists to start planning your ideal trip to Hydra today!
6 Best Hydra Luxury Cruises & Tours for 2023-2024
Trip Name
From
Days
Next Departure
Summary
At the heart of the Greek Islands: Athens Roundtrip

$

5280

8
Jun 8, 2023
Departing from Athens, sail to some of Greece's most beautiful and lovely islands, including Delos and Mikonos, before returning to Athens on the …
At the heart of the Greek Islands

$

4020

8
Sep 3, 2023
Step aboard the new, luxurious Le Lyrial in Athens for an 8-day small ship Greek cruise to some of the most beautiful, charming islands like Delos, …
Splendors of the Western Mediterranean

$

4530

8
Apr 27, 2023
Embark on a luxurious small ship for an 8-day cruise of the Western Mediterranean on Ponant's Le Bougainville. Discover Malta, Sicily, and the Greek …
At the heart of the Greek Islands

$

4800

8
Jun 15, 2023
Departing from Athens, sail to some of Greece's most beautiful and lovely islands, including Delos and Mikonos, before returning to Athens on the …
Cruising the Greek Islands of the Southern Aegean: With Smithsonian Journeys

$

5130

8
Jul 12, 2023
Board the luxurious Le Jacques Cartier in Athens for an 8-day cruise to some of the most beautiful Greek islands in the southern Aegean. Explore …
Charmes de la Méditerranée Occidentale

$

5030

8
Jun 1, 2023
Join Le Bougainville on this 8-day Charmes de la Méditerranée Occidentale cruise exploration, experience the picturesque different places in the …
6 Top-Rated Hydra Cruise Ships for 2023-2024
Ship Name
Max Passengers
From
Summary
Le Bougainville
184

$

4530

Experience a luxurious setting where the main focus is of authenticity and passion for travel. Le Bougainville is an environmentally-friendly …
Le Jacques Cartier
188

$

4800

Indulge in an intimate cruise with the opportunity to visit an ever-expanding choice of destinations in an ethnic-chic ambiance with luxury service. …
Sea Cloud II
94

$

5535

The Sea Cloud II is a legendary windjammer comparable to her sister ship, the Sea Cloud. Featuring her own unique character, the Sea Cloud II …
Star Flyer
170

$

1890

The Star Flyer is a stylish vessel designed to accommodate 170 passengers in an intimate and comfortable atmosphere. This true clipper ship reflects …
Le Lyrial
264

$

4020

The sleek, intimate Le Lyrial sails under the French flag and entrances her passengers with her contemporary decor, comfortable suites, and refined …
Harmony V
50

$

3190

Introducing the Harmony V, a modern vessel launched in June 2009, with a sleek high-tech look very similar to the private yachts to be found in the …
Greece Travel Guide
Favorite Greece Cruises
Top Hydra Travel Destinations
Top Experiences in Hydra
Hydra Trips by Activity