Have questions? We're here.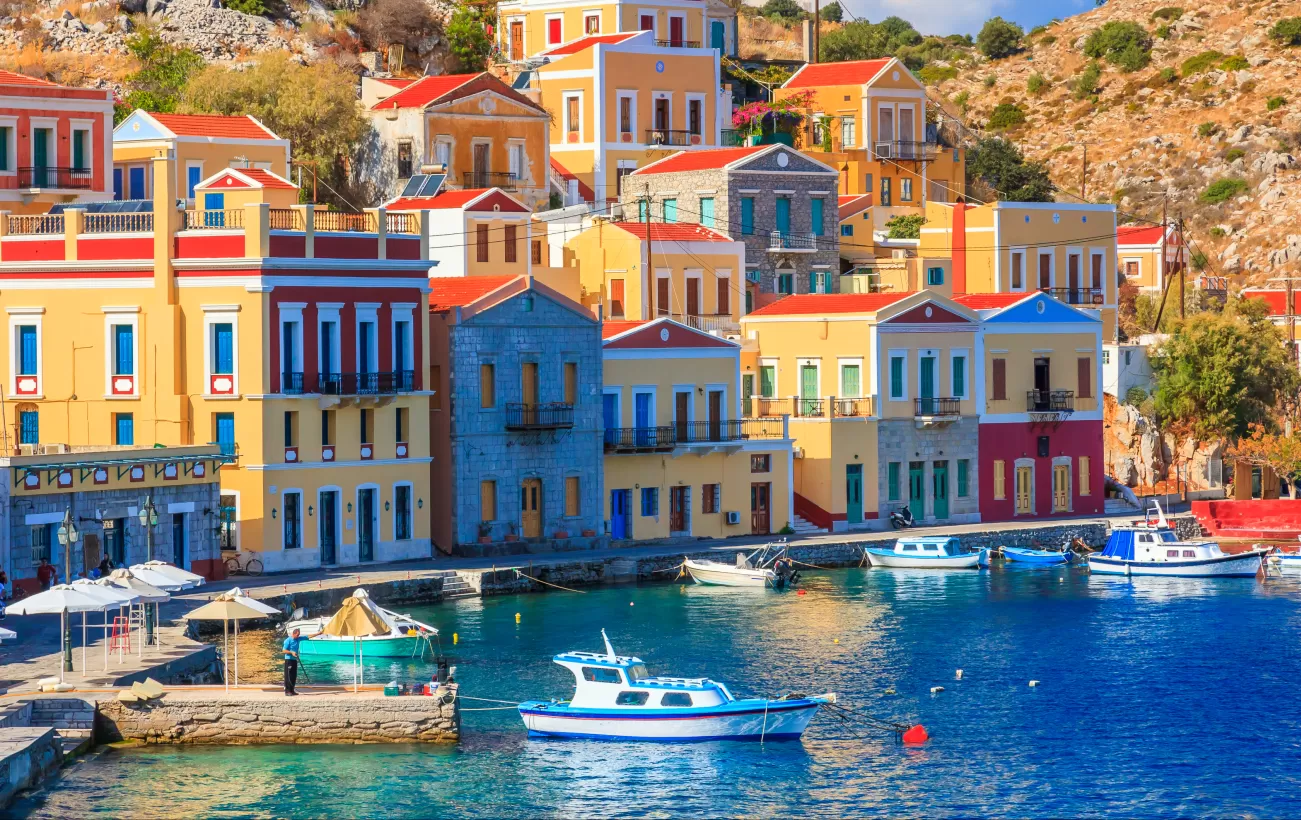 Greek Islands & Turkish Coastline
Example 8 Day Cruise aboard Emerald Azzurra
Get inspired by the possibilities.
Build your ideal trip.
Sail the azure waters of the southeastern Aegean Sea on this 8-day cruise aboard the Emerald Azzurra. Embark in the port of Piraeus in Athens, stopping off to explore a number of the stunning Greek, Dodecanese and surrounding islands. From the Aegean island of Patmos where Saint John wrote the Book of Revelation, Rhodes which is a UNESCO World Heritage site, Amorgos' and Mykonos' beautiful beaches, to Bodrum where you can find the Mausoleum at Halicarnassus and the beach resort town of Kusadasi in Turkey.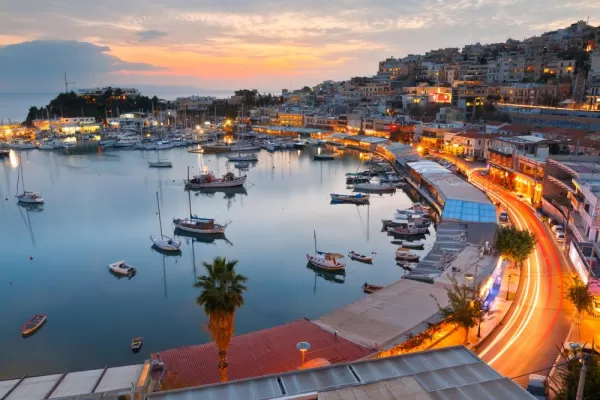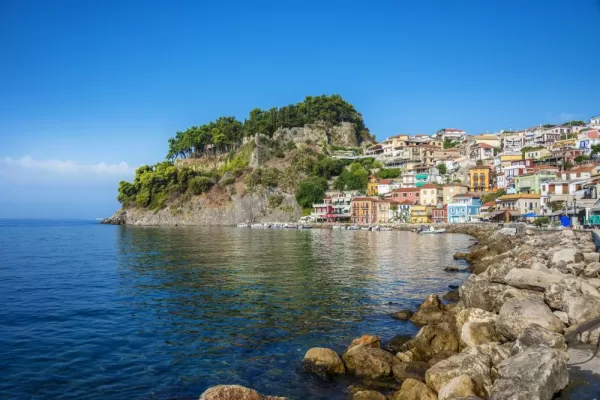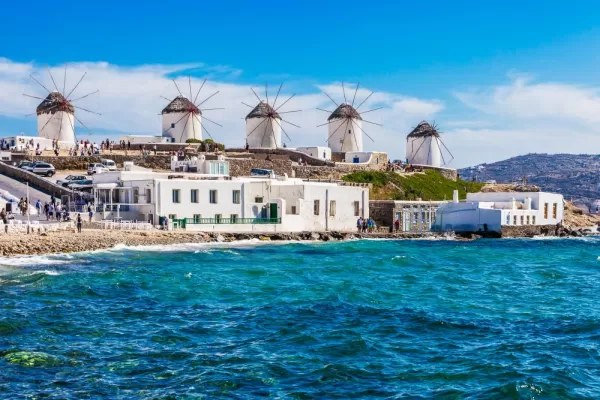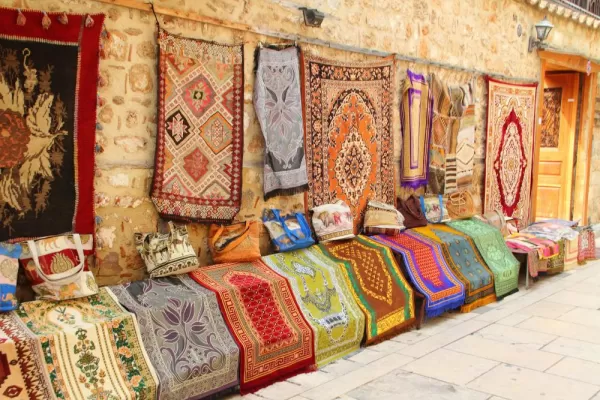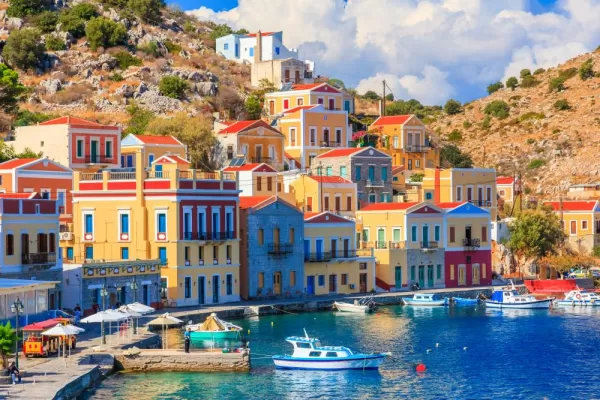 Experience the Grand Bazaar in Kusadasi
Visit the Mausoleum at Halicarnassus in Bodrum
Explore the medieval city of Rhodes
Discover a variety of stunning Greek islands
Full Itinerary
Expand All
Day 1: Athens, Greece | Embark
Upon your arrival in Athens, you'll board your spectacular super yacht, Emerald Azzurra, to commence your yacht cruise.

The Greek capital, Athens was the heart of Ancient Greece, the remnants of which have been beautifully preserved, namely the Acropolis.
Day 2: Patmos, Greece
1 Breakfast, 1 Lunch, 1 Dinner
In the north of Greece's Dodecanese islands, the Aegean island of Patmos is known for being sacred as the place where Saint John wrote the Book of Revelation. A wonderful stop for those inspired by nature, architecture, history or, simply, sun-worshippers.
Day 3: Kusadasi, Turkey
1 Breakfast, 1 Lunch, 1 Dinner
This beach resort town on Turkey's west coast dates back to 3000 BC and is now a busy cruise port, with a renowned nightlife. Home to a small, Byzantine castle, the Grand Bazaar selling the wares of numerous merchants and much in the way of monuments to the past.
Day 4: Bodrum, Turkey
1 Breakfast, 1 Lunch, 1 Dinner
Reaching from Turkey's southwest coast into the Aegean Sea, the stunning twin bays of Bodrum are home to one of the Seven Wonders of the World, the Mausoleum at Halicarnassus, built between 350 and 353 BC for Mausolus. While being historic, the city is a playground for Turkish and foreign visitors alike, with two contrasting sides, east and west.
Day 5: Rhodes, Greece
1 Breakfast, 1 Lunch, 1 Dinner
The capital of the Dodecanese Islands, Rhodes seemingly has it all. Lush green valleys, golden beaches and archaeological sites. Known as the Island of the Knights, the medieval city is a UNESCO World Heritage site.
Day 6: Amorgos, Greece
1 Breakfast, 1 Lunch, 1 Dinner
The furthest eastern island of the Cyclades group, Amorgos is a secret, untouched hideaway where unique natural landscapes are dotted with Cycladic architecture, beautiful beaches welcome relaxation and hiking trails awaken the adventurer in you.
Day 7: Mykonos, Greece
1 Breakfast, 1 Lunch, 1 Dinner
Named after Apollo's grandson, this cosmopolitan Greek island in the heart of the Cyclades is built on myth and legend. Clear blue skies, renowned beaches and white-wash windmills make it the perfect port stop.
Day 8: Athens (Piraeus), Greece | Disembark
Today you'll disembark Emerald Azzurra and be transferred to the airport for your return flight home.
Dates & Prices

Select a Date
Oceanview Stateroom (D)
182ft² - 204ft² (17m² - 19m²). Situated on the Emerald Deck, towards the front of the yacht, Oceanview Staterooms are bigger than the average standard.

Select a Date
Balcony Stateroom (B)
285ft² - 306ft² (26.5m² - 28.5m²). Situated on the Observation deck, Balcony Staterooms are stylish home-away-from-home. With everything you need for a great night's sleep.

Select a Date
Balcony Stateroom (A)
285ft² - 306ft² (26.5m² - 28.5m²). Situated on the Panorama deck, Balcony Staterooms are stylish home-away-from-home. With everything you need for a great night's sleep.

Select a Date
Deluxe Balcony Stateroom (S)
382ft² - 403ft² (35.5m² - 37.5m²). Deluxe Balcony Staterooms are conveniently located on the Pool Deck and feature their own private balcony. With just two per yacht, you'll benefit from having extra space for the assured comfort.

Select a Date
Terrace Suite (T)
648ft² - 669ft² (60.2m² - 62.2m²) (includes outside terrace). Spacious Terrace Suites take pride of place at the back of the Panorama Deck. As the name suggests, you'll enjoy a private oversized terrace, where you'll be able to relax and take in the views as you sail into the world's prettiest ports.
Select a Date
Yacht Suite (Y)
700ft² - 721ft² (65m² - 67m²) (includes outside terrace). Positioned at the back of the Observation Deck, you'll be treated to sensational ocean and coastal views from the private terrace. Receive a number of inclusions to help you make the most of your time in your Yacht Suite.

Select a Date
Owner's Suite (SA)
1,162ft² - 1,192ft² (108m² - 110.8m²) (includes outside terrace). Oversized Owner's Suites are the largest and most opulent, located on the Pool Deck. Boasting a separate bedroom and lounge area, also enjoy the large private terrace, from which to see the stunning views of each port you visit.
Notes

- Single accommodations are available on some, but not all, tours for a single supplement rate, payable at the time of booking.
- Children under 12 years old are ineligible to participate in tours, except for applicable Christmas tours and cruises and only if accepted by operator in its sole direction.
- Due to the availability of alcohol on many of vacation packages, children and other persons under 21 years of age must be accompanied by a person over the age of 21 (an "Adult") and must share their accommodation with that Adult.
- Most transportation services are not equipped with elevators or wheelchair ramps, and cabin doors and rest rooms may not be wide enough to provide access for standard wheelchairs.
7 Breakfasts, 6 Lunches, 7 Dinners
7 Nights Accommodations
Accommodations as listed
Ground transportation as listed
Activities as listed
Meals as listed
Access to a 24-7 Emergency line while traveling
Choice between Emerald Plus and Emerald Active Excursions
Wifi
Complimentary Wine, Beer and Soft drinks with lunch and dinner on board
The services of an Emerald Cruises Tour Manager
Airport transfers to and from the ship
Port taxes and charges
All tipping and gratuities
Including a Welcome and Farewell Reception & Dinner
Walking tour of Patmos old town
Guided tour of Ephesus
Guided city tour of Amorgos old town
Travel Insurance
Personal Expenses
Flight costs (please request a quote)
Additional excursions during free time
Fuel and transportation surcharges (when applicable)
Travelers are urged to arrange comprehensive travel insurance to cover any unforeseen circumstances that may occur during the tour
Inquire
We have received reports about this form not submitting, if this occurs, please wait a minute and try resubmitting. If you continue to experience an issue please call our office at 406-541-2677. We are working to resolve this issue as quickly as possible.
We are so glad that we chose Adventure Life. The service is top-notch. Everything is well taken care of and we just have to print the documents and go. Franny even gave us timely updates on possible airport strike.
KC Chan
Greece Travel Guide
Favorite Greece All Trips