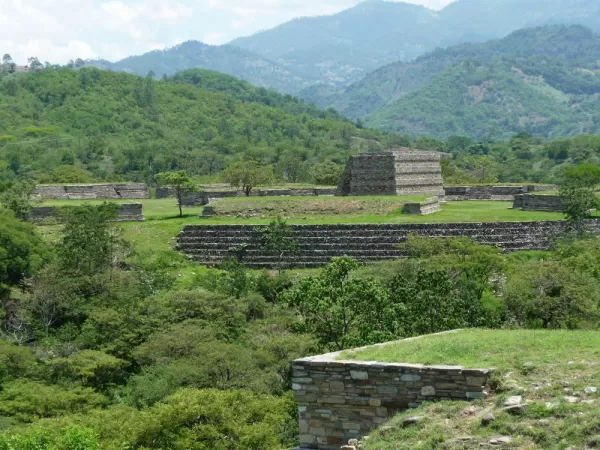 Monday, June 8 - Welcome to my Guatemala journal. My name is Phil. I am 52, overweight and out of shape. My wife, Sheree, is the same age as me, but keeps herself in much better condition. This is our second trip to Guatemala. Last year, we took the packaged group tour that Caravan offers, but this year we wanted something customized for us. We are both college educated, and both speak some Spanish. Sheree is a teacher, so we travel in the summer. She also makes and sells jewelry, and one of our aims on the trip was to find a good selection of Guatemalan woven beaded jewelry.
Sheree and I woke up at 5:00 AM for our 8:15 AM flight from San Antonio to Houston. We let our son, Brendan, sleep an extra 15 minutes before getting him up. Brendan is 22 and he was not going with us on the trip. He had the chore of taking us to the airport and then watching the house and caring for our two cats, Tiffy and Forrest.
Brendan got up and got dressed, and was ready to leave the house within plenty of time for our 5:45 departure from home. Sheree had left Brendan a bunch of notes on how to do laundry, when to take out trash, and everything else he might need to know for the next two weeks. Sometimes I think that Sheree forgets about Brendan's mild ADD, and that too much detail is not necessarily a good thing.
Coincidently along with our departure for Guatemala, this was to be Brendan's first day at a new job, as a tech support person. His training was scheduled to start at 8:00 AM. After taking us to the airport, he planned to have a leisurely breakfast. We had spent part of Sunday scoping out potential breakfast and lunch locations for Brendan. We had found a few likely candidates on the route between the house and his new work location.
We arrived at the airport shortly before 6:15 AM, as planned. We had not checked-in on-line, since we were planning on checking a bag. It turned out that we could have checked-in on-line, but we were soon to learn that not checking-in on-line gave us a great opportunity.
The check-in line moved along very quickly, and when we reached the counter a very helpful Continental representative got us through the check-in kiosk process. As she was pushing buttons, a miracle happened - we got offered the chance to upgrade to first class for the Houston to Guatemala City leg. It would cost $150 each, but as we had paid less than $350 each for our roundtrip tickets, this additional cost for first class did not seem overly extravagant. My eyes grew wide as I turned to Sheree and said, "Yes, we want the upgrade." She agreed, and there we were, not even out of San Antonio and already $300 deeper in trip costs than we had planned.
The flight from San Antonio to Houston was full, so our strategy of booking an aisle and a window seat did not pay off. We were joined in our row by a nice gentleman, who, it turned out, was an insurance adjuster taking his family on a trip to the Florida Keys.
We got into Houston and we did not find the breakfast burrito place that we remembered from last year's trip. Instead, after looking around, we decided to try Famiglia. They had breakfast stromboli that was just yummy.
After our nearly two hour wait and the requisite documents check, we boarded our plane to Guatemala, and settled into seats 1A and 1B. The flight was fine, and the crew was very attentive. I had four airline-size glasses of sauvignon blanc on our flight; Sheree had two. Our movie was supposed to be Last Chance Harvey, with Dustin Hoffman, but that film did not want to work in the airliner's player. We wound up with Paul Blart, Mall Cop. Sheree's headset did not work well, and she was not interested in that movie anyway, so she used the time to read. I usually enjoy silly comedies and I decided to give this one a shot. I had brought my folding Sony Studio headphones along, and they sounded great with this movie. The plane food was great, featuring a beef and chicken mix with what seemed to be a marsala sauce.
We arrived in Guatemala City, and exited into what appeared to be a brand new area. This was our second trip to Guatemala. We had been there just about one year ago, leaving us with expectations from that experience. The arrival area was beautiful but it was not cooled.
We made our way to the customs and immigration areas. We had to fill out one form at the airport because Guatemala had not supplied Continental with the form. We breezed through the airport and made our way to the exit, to look for our shuttle.
Our time in Guatemala City was the only part of the trip that caused me to have heightened safety concerns. I remembered the Guatemala City airport as having an exit which puts you into a crowd of guides with signs for their clients, and all manner of other folks trying to make a few dollars or quetzals helping you with your bags or picking your pocket. I was wearing an inside the pants money belt to alleviate the pick-pocketing concerns. We made it through the crowd to the barricaded-off shuttle waiting area, just as our shuttle was leaving, full. We called to the driver who said he'd be back in ten minutes. After about fifteen to twenty minutes, the shuttle driver returned and took us to our hotel, the Biltmore Express.
Unfortunately, a name can create expectations. Having lived in Phoenix for several years, we were familiar with the opulence of the Arizona Biltmore. We had researched the hotel, and we had no preconceptions about the opulence of the Biltmore Express. It looked on paper like it might be a hotel roughly equivalent to a Holiday Inn Express. But, unfortunately, it was disappointing. Here is what Expedia says about the hotel:
Biltmore Express Guatemala offers a bar or lounge, a poolside bar, and a swim-up bar. The property provides 24-hour room service. The full-service spa features beauty services. In addition to an outdoor pool and a seasonal outdoor pool, Biltmore Express Guatemala also provides a health club, a steam room, and a fitness center or room. This property offers a business center and secretarial services. Meeting facilities include conference rooms, a ballroom, exhibit space, and banquet facilities. This Guatemala City property also offers a casino, wireless Internet access, and high-speed Internet access. The property has a 24-hour front desk.
* Swimming pool - outdoor seasonal
* Swimming pool - outdoor
* Poolside bar
* Swim-up bar
* Full-service health spa
* Steam room
* Complimentary breakfast
* Complimentary newspapers in lobby
* Health club
* Fitness equipment
* Bar/lounge
* Coffee shop or café
* Room service (24 hours)
* Parking (secure)
* Meeting rooms (small groups)
* Ballroom(s)
* Business center
* Banquet facilities
* Exhibit space
* Conference room(s)
* Event catering
* Audio-visual equipment
* Cell phone/mobile rental
* Secretarial services
* Internet access in public areas - surcharge
* Business services
* Computer rental
* Internet access - wireless
* Internet access in public areas - high speed
* 24-hour front desk
* Porter/bellhop
* Security guard
* Safe-deposit box - front desk
* Multilingual staff
* Number of rooms: 116
* Number of suites: 4
* Number of floors: 4
* Translation services
* Hair salon
* ATM/banking
* Gift shops or newsstand
* Tour assistance
* Currency exchange
* Medical assistance available
* Beauty services
* Dry cleaning service
* Grocery
* Shoe shine
* Coffee in lobby
* Casino
* Air-conditioned public areas
* Elevator/lift
* Wedding services
This description, however, is quite misleading. There is no coffee shop/café, casino or ATM. The pools and spa facilities, and most of the other amenities listed above are not found in the Biltmore Express. These services are available at the sister property to the Biltmore Express, the very first rate appearing Westin Camino Real, which is around the corner from the Biltmore Express. But, you cannot get from the Biltmore Express to the Westin Camino Real without venturing out onto the streets.
We had hoped to just stay in our room at the hotel on this first day, as we had been warned about walking in unfamiliar areas of Guatemala City. On our trip last year, we were given detailed descriptions of safe and unsafe places to go. I knew we were in Zone 10 of Guatemala City, a reasonably safe area, known as the Zona Viva, but I also had this warning in the back of my mind:
Guatemala City, Zona 10: An adult male was approached by two individuals on a motorcycle while driving his vehicle. The individuals attempted to rob him of his cellular phone and shot at his vehicle when he did not turn it over.
I had seen several reports of this type of thing including beatings that occurred in the Zona Viva. While it is viewed as generally safe, being the first day of the trip, I did not want the vacation ruined by one criminal. Nonetheless, as there was no restaurant in the Biltmore Express, we decided to venture out into the Zona Viva. The street in front of the Biltmore Express lobby looked a little dodgy. Up from the hotel, there are crowds of folks waiting for what turned out to be eye exams needed to get a driver's license. The other direction leads to a main thoroughfare which has a split walking area, making it hard to feel that one is walking in the safety of the public's eye. Still, we were determined to make the best of it, and we rounded the corner to head up the main street. At the next corner we found the Westin Camino Real, which was on a street that looked a little better suited to a tourist's walk.
We were hoping to find bottled water on our walk, and we eventually found a farmacia that sold cold bottles. The restaurants on Westin's street looked pretty good, but most wanted between 100Q to 200Q for dinner. At a rate of 8 Quetzals to the dollar, that translated to between $12.50 and $25.00 for an entrée - not exactly budget food territory. We eventually happened upon an upscale tacqueria directly across from the Hotel Intercontinental. Their menu had prices from about 50 to 80Q. It was called Mexico Lindo.
After a little more exploring, we decided the area did not look very dangerous, and we made our way back to the Biltmore Express. At dinner time, we walked back to Mexico Lindo for dinner. It was excellent. They serve a variety of soft tacos called gringas. They are a sort of cross between a soft taco and a quesadilla, loaded with meat and cheese. Sheree and I had the gringas and a queso fundido for dinner, along with several bottles of the local beer, Gallo. When it was all said and done, we still wound up with about a $40 bill.
By the time we left the restaurant, the darkness was settling in. Being closer to the equator, it actually gets dark earlier in summer than it does at our home in San Antonio. By 7:00 PM it is quite dark. We made our way back to the Biltmore Express, on streets that seemed even more dodgy in the darkness, and settled in for the evening.
The TV had a Latin American Hallmark channel, which broadcasts in English with Spanish subtitles. I find watching TV this way is a great way to refresh my Spanish. They were showing Anaconda. It seemed like a perfect way to end our first day.