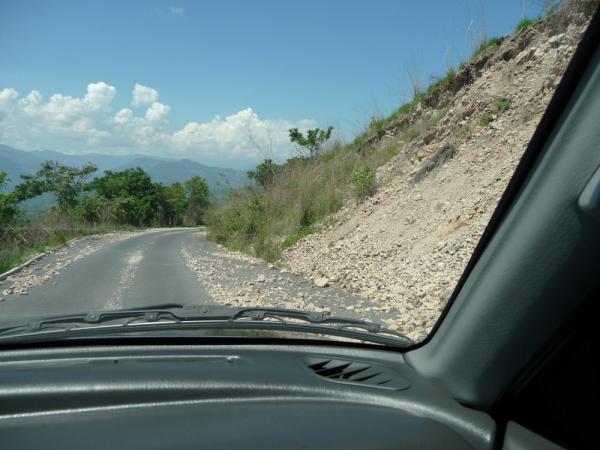 Thursday, June 18 – Today was a fairly easy day. Hugo called us last night to ask if we knew where some of the co-ops we were scheduled to visit were located. We pulled out our papers and found that the most interesting ones were in Santiago and in San Juan, where we had already visited. Adventure Travel had recommended a paper mache place in Jaibalitos, but Jaibalitos has only 900 residents, and the locals were not aware of a paper mache co-op.
We met Hugo at 8, and he said he remembered a jewelry maker in Santiago, on the street where Maximon had been before being moved to his present location at the edge of town. We crossed the lake to Santiago and spoke to a local guide. The local guide said he knew of a jewelry making place a couple km east of town. We traveled to that location by tuk-tuk, and found the factory, but no one was working. We had arrived too early. I suggested we go get a coffee and come back in a little while.
Hugo hailed a pick-up truck, and he and I rode standing up in the back, while Sheree sat in the passenger's seat in the cab. We got out in downtown Santiago, near the road to the docks, and started walking up the main street, toward the Hotel Pescador. We happened upon a family jewelry business.
Hugo asked where the jewelry was made. We were told that family members made it inside. We asked if anyone could demonstrate what they did so we could take photos. Out came their young daughter, with a jewelry loom, which she worked in front of us. We took some photos and bought two dozen bracelets.
We walked up the street a little farther and stopped to buy bottles of water. I had wanted some keychains for gifts, and after getting our water, found a shop with keychains and a moderate selection of more jewelry. Hugo made a deal with the owner for me to get a dozen keychains for 70Q. We asked where the jewelry was made, and the shop operator, a young Mayan woman, said it was a couple block away, and offered to take us.
There must have been some miscommunication, because we wound up at her house, where no one made jewelry. But, it turned out, she did wholesale jewelry from her house, and she had quite the stash of jewelry in an armoire in her living room. We negotiated through Hugo for a good price.
After finishing buying from this young lady, Leticia, we hailed a tuk-tuk for the ride back to the larger factory we had seen earlier. We still wanted to get photos of working age people weaving jewelry. This time, we were in luck. There were about 15 women working. We got good photos which we will be able to use in out display when we set up for sales at craft shows.
Hugo asked if we wanted to lunch in Santiago. As it was starting to rain, I suggested we head back to Pana, to try to beat the rain.
We were successful. We told Hugo we were done for the day, and planned to meet at 7 for our ride to Xela in the morning.
We hit a nearby restaurant in Pana for Gringas and Taquitos. They also had Caldo Tlalpeno, which was excellent.
We killed the afternoon relaxing at the hotel. I played guitar for awhile.
We left the hotel at 6 to hit the Internet café. We checked our e-mail, but still had no word from Jorge. We sent Brendan a note reminding him of a concert in San Antonio tomorrow night, by one of our favorite bands, Skindred. I won't be able to catch them this time around, as we'll still be in Guatemala.
We walked up Santander, thinking about going back to the Uruguyan place, but we didn't see it. Instead, we went to the Pana-Rock, a bar/restaurant that hosts live music and which has a logo roughly resembling that of the Hard Rock Café. Inside they had a row of booths that looked like they came from a chicken bus; it even had the Bluebird plaque that said "Made in Central America". Pana-Rock had decent margaritas, and interesting Nachos made with cheddar cheese. Sheree had a Tortilla Soup that was excellent. I had a beer and Nachos. The café showed great classic rock video of CCR and the Rolling Stones Bridges to Babylon concert.
Walking back to the Dos Mundos, we spotted the Uruguyan place, Guajimbo. We didn't see it because it was closed for the day, and it was covered in huipils and T-shirts. We then realized that several businesses were closed, possibly because so many tourists went to the market in Chichicastenango.
All in all, we had a nice easy day.