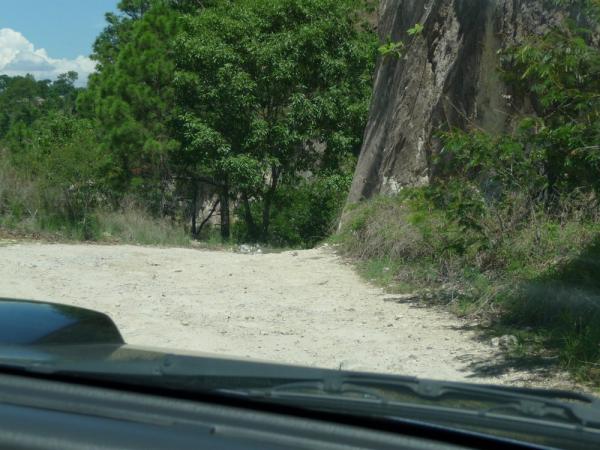 Friday, June 19 – We got up early to meet Hugo for the planned 7:15 AM departure for San Francisco el Alto. We had our coffee, and Hugo was there, right on time. He asked us to leave our valuables behind due to the crowded conditions at the market, and the possibility of pick pockets. Off to the market we went, with only about 25Q in our pockets.
The drive was beautiful, taking us up to over 9000 feet above sea level. This part of Guatemala is called Alaska by the locals, because it is the only place in the country that occasionally gets snow.
We arrived in San Francisco el Alto at about 9:30. Hugo had a parking location planned, but the police would not let him take his route to it. We parked in a lot on a street headed directly away from the market.
The market was quite a bit like the Solola market, but it was much larger. We climbed up several streets and we were made to go through several areas where we had to push our way through the crowd to make a turn. There is no concept of personal space here. Every time I left so much as a foot between Sheree and me, it was filled with a Guatemalan.
The market had all kinds of vegetables and dried fish, but the highlight of the San Francisco market is the live animal section. There, people sell cows, goats, pigs, chickens, turkeys, cats, dogs, and rabbits. I even saw one vendor selling turtles.
On the way out, we stopped to look at beautiful cloth by the yard. The pieces came in 5 yard sections, and were wide enough for Sheree to use. But, each piece cost from 250Q to 750Q, much more than the 25Q we had in our pockets. The colors were beautiful, and it was a wonderful day at the market. I was glad that we had found a good substitute for the volcano hike.
After San Francisco el Alto, we headed to San Andres de Xecul. There is a beautiful yellow church there that I had seen in some guide books. This is really off the beaten tourist path. I loved the friezes on the church, as two showed cherubs with guitars – cool! San Andres was very small; it didn't have a hotel or restaurant.
From San Andres, we drive through Zunil, a vegetable growing area. There, large trucks were being loaded with cabbages, beets, leeks, radishes, potatoes and more. Considering that all these crops are produced and harvested with hand labor and almost no machinery the size of the crop is amazing.
We had noticed a large number of children out of school and working in a number of jobs throughout our trip. Hugo told us that one reason was saw so many children working was that schools were closed due to the H1N1 virus. The kids were on "swine break." The President had ordered the regular summer break to start a couple weeks early because of the virus.
Our last planned market stop with Hugo was in Almolonga. There, the vegetables that we see growing in Zunil are for sale on Friday mornings. We arrived at around noon, as the market was closing, but we were still able to see several nice fruit stands. Two little boys saw my camera and asked to have their picture taken. I showed them the photo, and they seemed excited. They ran off, and then ran back and asked for sweets. Having only that 25Q, I could not help them.
We went for lunch in Quetzaltenango. Quetzaltenango is called Xela by the locals. Xela is the old Mayan name. It is also a much easier name to put on the side of a chicken bus. We had a great lunch at the Bonipaz Hotel, right off the main square. Hugo indicated that Via Ventures had given us a very large allowance for lunch, and recommended we get the Filet Mignon. We did. It came with squash and a brown mushroom sauce and a small amount of mashed potatoes. It was excellent. At Hugo's recommendation, I had dessert. I tried a Chilean pie, which was also very good.
Hugo suggested that Sheree and I walk through the square and wait for him in front of the façade of the old cathedral. There square was very nice. There were shoeshine men who did not attempt to accost me to shine my black walkers. We took our photos and headed to the façade to wait for Hugo.
While standing there, we heard a loudspeaker going on about something. I could not make it out, but figured it was either political or religious, as every other loudspeaker we had heard here had been. But, this time there was something different.
Rounding the corner, came a car with the loudspeaker. The car was painted with tiger stripes. Behind that, a truck pulled a cage with tigers. Then another came with camels, one with llamas, another filled with both lions and tigers. It was a circus – Circo Rey Gitano. Hugo pulled up shortly thereafter, and we told him about the circus. We caught up to the circus again, while driving out of town.
The ride back to Pana provided a good opportunity for a nap. When we got back to Pana, we arranged to meet Hugo on Sunday at 8, for our ride to Iximche and then to Antigua. We took at little time back in room to rest and regroup, and then we headed out to a side street off Santander, where Hugo had told us there were some jewelry wholesalers. At the end of the street, we found a fellow who made and sold robes. He also had some jewelry for sale, and we were able to get several pairs of earrings for 6Q each. Sheree was quite pleased.
Dinner was at the Sunset. The Sunset Bar has the best margaritas that we found in Pana. Yum! It was a clear night, but the sun and clouds produced no colors.