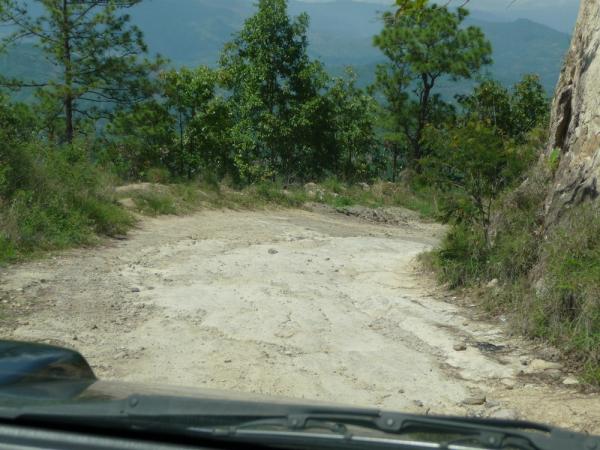 Saturday, June 20 - We had no plans for today, other than to meet the gentleman from Santiago at his jewelry store up Santander. We got up well before store hours and had our Chapin breakfast at the La Lanterna - eggs, beans, fried bananas and coffee.
Afterwards, we went for a walk down along the lakefront, from the Sunset to the public dock. We saw several shops and restaurants that we had not seen before the walk. We also saw the boat that we had used last year when we were on our Caravan trip. The morning sky was clear, offering great views of the San Pedro, Atitlan and Taliman volcanoes.
We stopped back at the Dos Mundos, and around 10, we headed up Santander to the store, where we were to meet the fellow from Santiago. The store had several styles of jewelry that we had not seen before, but Jose was not at the store. We browsed a bit, and I explained to the clerk on duty that we had met Jose in Santiago, producing the card that Jose had given us, and that we had planned to purchase moderate quantity of jewelry to take back to the U.S. The clerk understood, and immediately pulled out a catalog of items with wholesale prices. We shopped for quite awhile, and we ended up spending about $200, without having to go through the whole negotiating process. We talked about ordering from home, and the process was explained to us.
We dropped off our purchases at the Dos Mundos, and it was approaching lunch time. We had decided to go cheap for lunch, and Sheree had suggested Pollo Campero. But, I remembered seeing an independent local restaurant that had meals for 25Q to 50Q. We went with my suggestion.
Sheree had a Carne Asada for 25Q and said it was very good. I opted for a bass fillet
At 50Q, as we hadn't really had any lake fish, yet. In retrospect, I should have gone with the carne asada, or Pollo Campero, as the fillet was not really filleted; I was continually dealing with tiny bones while trying to eat the fish. With sodas, water and a tip, our tab still came to less than $15, but we probably could have found something better.
The rain started a little early, so a visit to the Nature Reserve did not seem like a great idea. We headed back down Santander to Comunidad, a store supported by the Friendship Bridge. In general, the prices there were higher than at other stores, but we knew that the organization tries to see to it that labor gets compensated at fair trade values, so we accepted the higher prices as part of the package. We passed on the basic necklaces and bracelets we had seen elsewhere, but we did find beaded ropes that cane be used as necklaces, bracelets or belts.
The rain continued through the day, and judging by the rise in the hotel pool's water level, we must have had 2 ½ to 3 inches. We used the time to relax, read and repack. At around dinner time, it slowed and stopped entirely.
Since this was our last night in Pana, and since we planned to go to Reilly's for the Pub Quiz tomorrow night, we decided to splurge on an upscale dinner. We already knew of the La Lanterna, which is great, and the Casa Blanca, which certainly appeared like it had potential to be at least very good. We took a look at the Lonely Planet guide, and found a place called Chez Alex, which was described as offering upscale cuisine. When 6 o'clock rolled around, we decided to give it a try.
The restaurant was excellent, but we really should not have sat at an open window. The street vendors, will not let you eat in peace. The food, though was excellent. I had a Lobster Bisque, which had large chunks of lobster in the bisque. Sheree had a French Onion soup, which was a little lighter than the typical offerings we get at home at Outback Steakhouse or TGIFridays. For the main course, I had a Beef Tenderloin in a nice brown sauce. The sides were green beans, carrots and potato croquettes. Sheree had Pork Tenderloin Medallions in a white wine and mushroom sauce. Everything was great! We split a bottle of an Argentinean Malbec, which was very good. We considered a chocolate fondue for dessert, but we were stuffed.
My knee started to act up after dinner, so we took a tuk-tuk ride back to the Dos Mundos for 10Q. With only two of us in the tuk-tuk, it was a comfortable ride.
We realized this was our last night in Pana, and we had not seen the Cazadores for a couple days. We wish them well on their trip to South America. We also realized we had not heard from Jorge. I guess our schedules just did not match up.