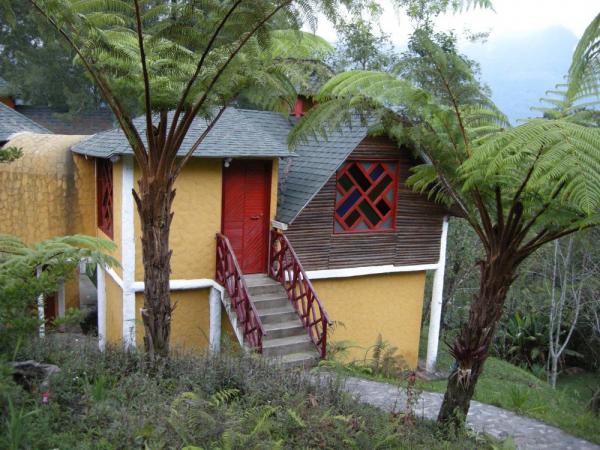 Sunday, June 21 - This was our last full day in Guatemala. We had our breakfast at the La Lanterna, did our final packing, and got ready to meet Hugo by 8. Hugo had told us that he might not arrive until 8:15, if there were any issues with the road heading to Pana. He arrived right at 8:15. Hugo explained that he had a flat tire, "llanto pinchado" and that we would pick up the repaired tire on the way out of Pana.
The tire was just about ready at the tire repair shop. It was raining lightly, and we waited in the minivan. After the tire was fixed, Hugo had to unload all of our luggage to mount the spare in its holder. It took several minutes and the rain remained steady. After we got going, Hugo wished me a Happy Fathers' Day. Fathers' Day in Guatemala was on Friday, and Hugo had been able to spend Saturday with his daughters.
We headed on to the ruins at Iximche. Hugo explained that Iximche was a Cakchiquel stronghold during the conquest. It was conquered by Pedro Alvarado, who had built a fortress at nearby Tecpan. Hugo explained that Tecpan had been the first capital of Guatemala, followed by two capitals in Antigua, and then the present capital of Guatemala City.
By the time we reached Iximche, it was raining heavily. We visited the museum, but then went into the ruins site only briefly, just long enough to take a few photos.
We left Iximche and headed on to Antigua, arriving at around noon. There was a bike race going on, which had several streets blocked. It was also Corpus Christi day, which meant churches had celebrations going on, which also blocked some streets. We winded our way to the Aurora, checked-in and dropped off our bags. We then went to eat with Hugo, as lunch was included with our trip, today.
We went to Antorchas, an Argentinean steakhouse just around the corner from the Aurora. It looked familiar to us, and we realized that it was one of the restaurants at which we had a group meal last year, while we were on the Caravan trip. We both had Chapin Churrasco - grilled beef with a piece of grilled sausage, bananas, rice and beans. We also had an order of garlic bread and a bean soup. As we were finishing eating, Sheree spotted Jorge entering the restaurant. This was a total surprise. We had not heard from him, and we had made no plans to meet.
Jorge's wife Virginia was at the restaurant, too, having just finished leading a group. We had time to chat and discuss our trip. We pretty much saw eye to eye with Jorge regarding the lack of facilities in the Lanquin and Coban areas. The areas are beautiful, but they would not be places to attempt to travel to with large groups.
Jorge asked if we stayed in touch with anyone else from last year's group, and I let him know that we still heard from a young man from Houston, Russell. Jorge, Virginia, Sheree and I exchanged hugs, and Jorge asked that we send his best wishes to Russell.
We left the restaurant with Hugo, and we went to meet a cab driver to take us to the airport in the morning. We met a man name Umbaldo, and arranged to have him pick us up at 8:00 AM. Hugo took us back to the Aurora, and we gave him his tip, and exchanged goodbyes. He left his card so that we could contact him if Umbaldo did not show up in the morning. We relaxed through the afternoon while the rain fell, and at 5:45 we head out to Reilly's, for the Pub Quiz.
Last time we were at Reilly's we had the Nachos which were very good. This time we tried the Hamburgers which was a mistake. The Hamburgers just didn't taste good; they had an after taste, however the French Fries were good. Next, we tried to get a team together. A couple Australians were waiting for friends, and a group of six students needed to split up. The Aussies' friends arrived, and the students offered us one of their group.
We teamed with Clinton, a medical student from Austin, who is attending Texas Tech med school. He was in Antigua to learn Spanish. Since we were all from Texas, we called ourselves "Remember the Alamo." Round 1 was movie trivia, and we got 8 of 10. We did not know that The Claw was Inspector Gadget's nemesis, and we did not know who had written Sin City. Several teams got al 10, so we knew we were in for a fight.
Round 2 was a general knowledge round, and we did decently, getting 6 ½ of 10. I let myself miss a Thrilla in Manila question, because we chose Foreman instead of Frazier as Ali's opponent - dumb.
Round 3 was a picture round, with outlines of European countries, out of context, which had to be identified. I got only 6 of 12 - they were very tough.
Round 4 was Australian trivia. How I wished we had the Aussies on our team. It was a bit unfair for that to happen, but so it goes. We got 3 ½ of 9.
The music round again nailed us. I got a few, and Clinton helped with a few. We got 2 ½ of 10 points.
When it was over, we had come in 6th, beating the student group by ½ of a point. The Aussies had come in 2nd, losing by 1 point. I know that Sheree and I had a couple that they missed, so if we had been able to team up, we might have won. Still, the Pub Quiz was a great way to spend a Sunday night.
We headed back to the Aurora, in the rain, and again found ourselves locked out. I pressed the red button and got no response. Then, I noticed a black button under the red one. I pressed that and a voice responded, and a gentleman let us in. After taking showers, we settled in for our last night in Guatemala.