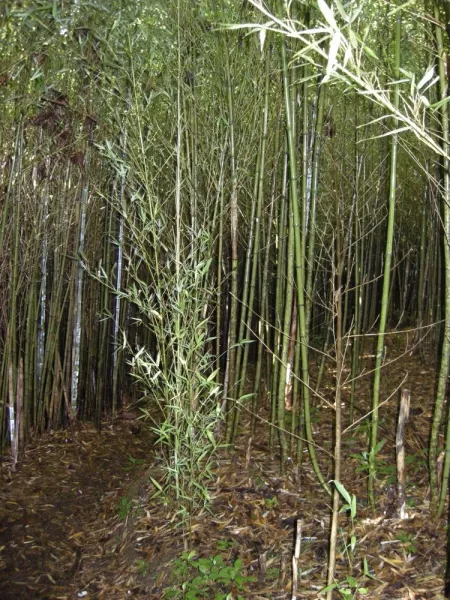 Monday, June 22 - It is time for the trip home. Umbaldo showed up on time, right at 8. We loaded his Subaru wagon, and headed out of Antigua for Guatemala City. On the way out of town and on the paved road up the mountain, we never got above 65 kph. But, traffic was light, and we were traveling at a steady pace, so we seemed to making good time. When we reached the top of the mountain, I was glad we were not going fast.
Every time Umbaldo hit the brakes, there was a distinct loud sound of metal grinding on metal. His brake pads must have been worn down to zero. I was glad he had a stick shift, figuring he could slow us down with the engine, if he needed to. We made it down the mountain, and reached the airport with no problems.
We made our way into the Guatemala City airport and found the Continental counter. There we had to fill out an exit document. When we finally made our way through to the counter, we found that our large red bag weighed over 50 pounds. But, since we were checking only one other small red bag, we did not have to repack it or pay an overweight fee. After checking in, we paid our exit fee of 20Q and headed to the gate area.
The path to the gate area was not marked very clearly, but we eventually figured out that we had to pass through a set of automatic doors that were made of frosted glass. We opened the doors and saw the x-ray machines and the security personnel. There was practically no line. I went through first, and the screener decided she needed to check my black carry on bag. I was waiting for a question about the chili powder, but she never touched it. The screener packed me up, and said I was OK to go. Then the screener wanted to look in Sheree's blue bag.
Sheree had her toiletries in the blue bag, and the screener decided that the nail file on Sheree's clippers was too dangerous to allow on the plane. She indicated we could keep the clippers if we broke the file off. Then, she decided Sheree's tweezers were a dangerous hijacking device. I imagined that Sheree could use them to pinch the crew, overpowering them and forcing them to permit entry to the cabin, where mere threats of severe pinching could allow us to take the plane to Cuba. The screener seized the tweezers, and Sheree was far from happy. I urged her to calm down, as I didn't think a pair of tweezers warranted making a further scene and winding up in a Guatemalan holding cell or worse.
We surrendered the tweezers and made it through security. I spotted the duty free shop. Everyone had told us we had to buy a bottle of Zacapa Rum on the way out. The XO cost $80 per bottle, which was much more than I had expected to pay. I ended up buying just one, along with a bottle of Flora de Cana, the highly regarded Nicaraguan rum. I had hoped to just get the affordable 12 year old Botran, but it was not available in the duty free shop. Paying for the rum used up my Quetzals, plus $2. We continued on to the gate, and we passed a couple more duty free shops, which we could not see when we first got through security. We should have waited to make our purchase, since at least one shop did have the 12 year old Botran.
While sitting at the gate, a couple passed by with Caravan tags on their bags. I made my way over to chat with them regarding heir trip. Their guide had been Jane, Alfredo's wife. I let them know that Alfredo had been our driver one day. The couple stated that they had had a very enjoyable trip.
As boarding time approached, Sheree asked me to get sandwiches from the nearby Pizza Hut. We got them with just enough time to eat them before getting onboard.
When it was time to board, we found that it was a full flight. We did not get offered a first class upgrade this time. We made our way to our seats, and the middle seat occupant was already there. She offered to switch seats to allow Sheree and I sit together, but Sheree likes her window seat, and I was not going to give up my aisle.
From time to time, Sheree and I had to talk to complete the customs forms for the U.S. I could tell that it really annoyed our seatmate when we spoke across her. I asked Sheree to fill out the forms, to minimize the need for the crosstalk.
Sheree filled out the form, but when it came time to deal with the money issues, she passed the documents to me, so I could convert the money we spent from Quetzals to dollars. When I was done I passed the documents back to Sheree. Ms. Angry grabbed them, and sharply shoved them toward Sheree, dropping our notebook on the floor. I noticed that this miserable person had no wedding ring on, and I was glad of that, as I would hate for her to be someone's wife. I couldn't get away from her soon enough.
We arrived in Houston, and the immigration line was very long. I had time to call my office and verify that Brendan had parked our car in the lot. We got through customs, and repacked our bags so the rum could get to San Antonio.
We had planned to eat at Pappadeaux's, one of our favorite seafood restaurants, that had a location at the Houston airport. But, when the time came, we were not very hungry, so we got something from a deli in the food court. We both had a Cajun chicken dish. The servings were huge compared to what we had been eating in Guatemala.
We went to our gate, and eventually loaded for the short flight back to San Antonio. This flight was also full. When we got to our seat, I just took the middle seat, since it is only a 40 minute flight. Our row mate eventually showed up, one of the last people to board the plane. She was happy to trade her middle seat for my aisle seat.
We arrived in San Antonio and gathered our bags. We exited to the taxi line and got a cab. I told the cabbie it would only be a short trip, but I'd give him a nice tip. We had a little time to talk about our trip, and he was surprised that anyone would go to Guatemala for vacation. He was of the impression that the country was a military dictatorship. We corrected him and told him it was a great place to visit.
After our very short ride, we arrived at my office. We unloaded the cab, and got our bags into our Hyundai Tucson. The fare was $8, but I gave the cabbie $15, knowing how the cab line works in San Antonio, and that it would take about an hour for the cabbie to get another fare.
We headed home to Schertz, and we were surprised to find Brendan at home. He had been able to get out of work a little early, and wanted to be able to chat with us before going to bed. We stayed up telling tales of our trip, and sometime after midnight, after sampling the Zacapa, we all headed off to bed.
Our second trip to Guatemala was great, but it was also great to be back home.