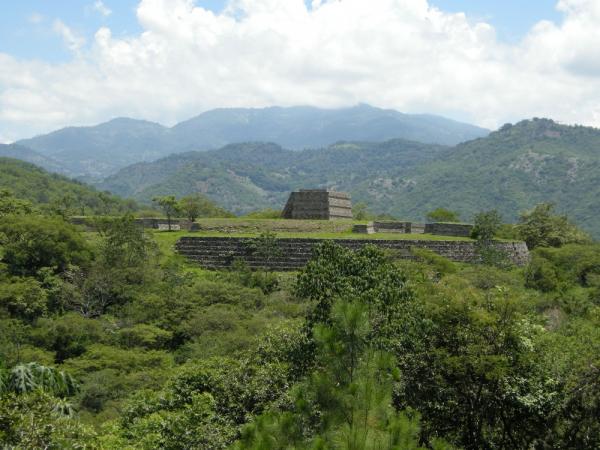 Tuesday, June 9 - This morning, we are scheduled to meet our driver at 9 AM. We got up at 7:30 and headed downstairs for the continental breakfast. The Biltmore Express had a few tables and chairs set up very close together, making it a little tough to get through to the buffet. We managed to get coffee. I saw bread and cold cuts, and gathered the makings of a ham and cheese sandwich. I also had some pineapple and an orange juice. Sheree had a snack bar and orange juice along with her coffee. We checked out and sat down to wait for our driver, who arrived early in a Mitsubishi SUV. We learned his name is Sergio, and we loaded-up the SUV. Sergio turned out to speak perfect English, which gave us a bit of relief as we were not guaranteed an English-speaking driver.
We told Sergio that before heading out of Guatemala City we would like to hit an ATM, and stop to load up on water, and, if possible get a few nighttime beverages. Sergio asked the desk to point him to a nearby ATM, and we learned that the ATM is at the Westin, around the corner. After getting some Quetzals, we headed to the supermarket, which, it turned out, is a Central American division of Walmart. We were able to get water, beer, wine, Coke, and even a bottle of rum. But, they did not have any ice chests available. Sergio seemed reasonably certain we could find another store with a cooler.
We headed to the ruins at Mixco Viejo. On the way to Mixco Viejo we passed through the Guatemala City suburb of Mixco. In Mixco, we found an Ace Hardware store that had coolers. The prices were high, but a six-pack size cooler set us back about $10. We picked up two and we headed out to Mixco Viejo.
The road to Mixco Viejo seemed long, but beautiful, up and down mountains and around switchbacks and through villages. We were quickly reminded that distances in Central America couldn't be covered as quickly as they can be in the U.S. We saw many women dressed in traditional Mayan clothing. Just as the ride seems to be too long we arrive at Mixco Viejo.
Mixco Viejo is amazing. We have seen nearly all of the "major" Mayan sites in Latin America - Chichen Itza, Tulum, Palenque, Tikal, Copan, etc. This site has no one incredible photogenic feature, but the setting is incredible. Mixco Viejo is a mountaintop fortress. I am reminded of photos of Masada. The cliff around the site drops off at least 500 feet to the valley below. The site appears to occupy about ¾ of a linear mile on the mountaintops.
Sergio pointed us in the direction of the ruins, and we were off on our own. Only one other small group was at the site. They were also Americans. We crossed paths with them a couple times, but we were virtually alone. We spent about 1 ½ to 2 hours at the site, and we hiked back to Sergio and the SUV.
It was a fairly cloud free day, and the heat and humidity had me sweating through my shirt. I found I had to take my time when hiking up the hills, and I was already thinking about our volcano hike next week. I hoped that guide would let me take my good old time as we try to climb San Pedro.
When we arrived back to the SUV, we found that we were parked in by some repairmen. But, Sergio had been chatting with them, and when we were ready to leave, after having downed a bottle of water, Sergio asked them to move and we were on the road.
Sergio was excited because the repairmen told him of a beautiful sugarcane plantation and museum that we could visit in the direction we were headed. It sounded worth looking into. Sheree and I were both ready for lunch, and we assumed Sergio was heading to a restaurant. We were wrong. Sergio had planned a route to have us avoid Guatemala City on the way to our hotel. What an adventure that was!
For the next several hours, we traveled on roads that went from excellent highway, to areas partially blocked by landslides to areas that were totally washed out. Now we saw why we needed the SUV for this part of the trip. We traveled across two stream bed crossings and over a beautiful bridge spanning the Rio Negro. We eventually arrived in Salama. It was about 3:30 and we were beyond hungry.
In Salama, Sergio took us to a Pollo Campero. We had wanted to try Pollo Campero on our last trip, but as the meals were all included, we never had the chance. Pollo Campero was fine. It also had Wi-Fi, and we were able to use our iPod Touch to send Brendan an email. After Pollo Campero, it was too late to visit the sugar plantation, so we headed off to the hotel.
Sergio made a wrong turn on the way to the hotel, but checked his itinerary and turned around to head toward the correct mile marker. We got stopped at a construction zone, but eventually made it to the Hotel Ram Tzul on the road to Coban in the Department of Baja Verapaz.
Ram Tzul has a beautiful lobby. The main lobby/restaurant/bar building is a giant bamboo lodge. The rooms are separate cabins. We were away from heavily populated areas. There is no TV in the rooms. There is also no A/C and no ceiling fan, and it is very warm. But, we were told, at this altitude it will cool down very quickly.
We enjoyed our dinner at the hotel. I have something called Bell Creole, a chicken breast will red bell pepper, pineapple, banana slices and bacon. The combination seemed a bit strange, but the flavors were great. The soup was also excellent - a yellow vegetable soup that reminded me of acorn squash. There was no black pepper on the table. Instead we were given a red, roasted, dried pepper as a condiment. The chili pepper really added some zing to the soup.
Sheree had Cak-Ick, the local turkey stew that is a specialty of this region. It was a feast for one, with fried turkey pieces, along with a spicy broth, and a selection of vegetables. Sheree could not finish it, and she let me have some. It was excellent.
We never did buy ice for those two coolers. I asked for ice, but the hotel did not have much. They gave me a couple pieces, which I was able to use to cool a Diet Pepsi. When it cooled off, I poured equal amounts of Diet Pepsi and 5-year old Botran Rum into a glass to make a diet Cuba Libre.
It did cool off, and the rain started up. It rained heavily. We had planned a hike on the hotel premises for the morning, to visit a waterfall. We realized that we might have to reconsider if the rain keeps up.