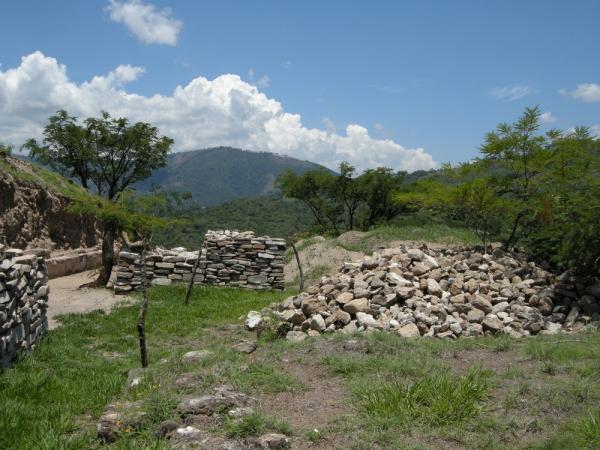 Thursday, June 11 – We didn't really like Hotel El Recreo. We were not able to figure out how to get the hot water to work, if there is any, so showers amounted to something resembling sponge baths. The mattresses had no padding causing us to feel the coils like a sofa bed. We figured we'd ask Sergio if we could change hotels, possibly to something in Coban after we visit Semuc Champey. Breakfast, though, was what really made me want to leave El Recreo. When I lived in Las Vegas, I had a friend who used to live in the high desert of California, the Victorville area. There, he said, businesses had this high desert mentality, like they were doing you a favor to be in business rather than you having any value as a customer. I am not going to accuse the whole of Lanquin of having a Lanquin mentality, since I only dealt with one business there, the El Recreo, but, the El Recreo certainly has the high desert mentality.
Breakfast was included with our rooms. At breakfast we were told we could only have two of the choices on the menu – a continental that cost about 25Q or a cooked choice, which was 27Q. What we both really wanted was the Chapin, which added fried bananas, for 3Q more. We asked if we could pay the difference and get what we wanted and we were told no. I have real issues with rewarding businesses for that kind of behavior, and did not want to see any more of my money going to the El Recreo.
Sergio arrived a little before 10 and we explained our dissatisfaction with the El Recreo. After considering the options, the Via Ventures offices recommended a second night at Ram Tzul, indicating that, if nothing else, it would at least cool down for sleeping. We accepted, and we checked out of the El Recreo, and headed off to Semuc Champey.
The road to Semuc Champey was another 10 km over dirt, or really, over rocks. It seemed to get worse the further we went, and again I was glad that we had a 4-wheel drive and an experienced driver. At some places the road was improved with a pair of parallel concrete strips providing a road surface, but mostly, it was rutted dirt. The 10 km trip took about 30 minutes to complete.
We arrived at Semuc Champey, and headed to the pools. Many people regard Semuc Champey as the most beautiful place in Guatemala. It was not exactly what I had expected, but it was beautiful, nonetheless. The river enters an underground break upstream of the Semuc Champey pools. It emerges near the pools, which are formed by groups of limestone outcroppings. The water flows over a series of limestone shelves, with deep pools that develop between high and low portions of these shelves. The water teems with tiny fish that swim close enough to you to get caught by hand. I caught and released several. They also tickle you by nibbling on your skin. Facing upstream you see a series of waterfalls. The view reminds me of pictures of Havasu Falls or of Maui.
After playing in the water for about an hour, Sheree and I decided to try the summit hike to see the overview of the pools. It was very hot and we had a planned time to meet Sergio. After climbing for quite awhile, I felt signs of heat exhaustion coming on, and told Sheree we had to turn back. We climbed down over the difficult terrain without injuring ourselves. We were both wearing our water shoes, and I think had we been wearing our hiking shoes we would have had a much easier time.
We made our way to the exit and met Sergio. There, we each drank two large bottles of water and had a snack. We felt refreshed, and loaded up for the trip back to Ram Tzul.
On the way back, we stopped at the other hotel in Lanquin, El Retiro. Sergio had stayed there the night before, and he was trying to buy some chocolates he had ordered from a local woman. He could not find her, but he left word to have the chocolates forwarded to Antigua.
This morning, Sergio had apparently done some serious injury to his ankle. He believed he had a torn tendon. The ankle was very swollen and Sergio was walking with a pronounced limp. He said it had swollen up to the size of a baseball. He had gone to a local clinic in Lanquin and had been treated before meeting us at the El Recreo. We were concerned for him, as he told us of a trip he had planned to Cuba, which was to start on Sunday.
We decided not have lunch in Lanquin, opting to wait until we reached Coban. Going out the 60 km plus dirt road took a couple hours. Sheree and I had kicked around a couple lunch ideas, and I was surprised when she said she wanted to try McDonald's in Coban. It was great! The restaurant was very clean and the service was excellent. I learned that "plain" is, apparently, "plen" at McDonald's in Guatemala. Sheree and I both had quarter pounders. Sergio had a double that took too long to make, so he got a free pie. We left Coban, and, a couple hours later, arrived at Ram Tzul. After making a call regarding our revised arrangements, the clerk showed us to our room. It was fine. We found we could open a window to the outside to get some cool air in. The hot water system still baffled us, but I was able to get it to work when needed. I am hoping we do not see one of these electric shower head heaters again on this trip.
My Panasonic camera seems to have quit working, but I am hopeful it will spring back to life. I guess both batteries could be bad, but that seems unlikely. I am concerned that maybe I sweat on it too much and something is shorted out. We will have to be extra careful with the Nikon, as it is the only camera we have left.
Tomorrow will be our last day with Sergio, and we also have another waterfall hike. I hope it will not be overly demanding.
We had dinner at the Ram Tzul with Sergio. I decided to try the Cak Ick with "pavo." Sheree had it the other day with "chunto." Both are words for turkey, but we were told the difference lies in how the turkeys are raised. The chunto is free range and the pavo is not. The chunto was better, but really, I think, it was more the pieces we were given. When Sheree had the chunto, she got some large breast pieces. With the pavo, I got part of a leg.
The room at the Ram Tzul has very little light for reading. I joked that the overhead light was not as bright as the light I used to have in my darkroom. I have enjoyed this portion of our trip, but I am ready to settle into gringo-ready rooms in Antigua.