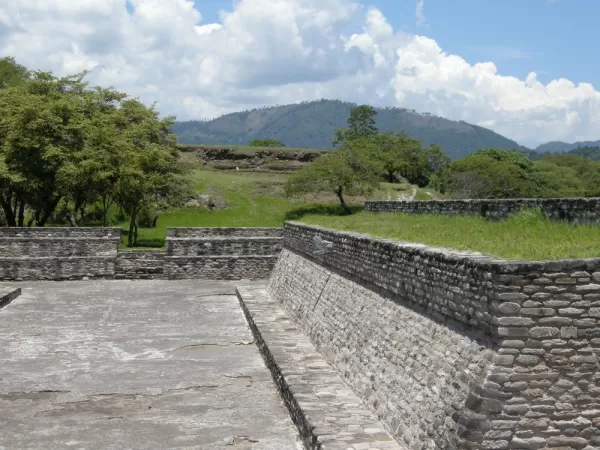 Friday, June 12 – This was our last day with Sergio. Sergio is fairly young in appearance. He is married and has a wife named Amanda. He has two daughters, Sophia and Sabrina, ages 10 and 8, and a baby son, Carlitos, age 10 months. He has traveled extensively in the U.S., having visited California, Florida, Hawaii and Nevada. He has been to all of the countries of Central America except Costa Rica, and he has visited Mexico. His father is a doctor, who saw to it that Sergio got private English lessons as a child. Sergio ran his own businesses, trading coffee, performing heavy equipment construction work and being a part owner in a restaurant. He also works his guide job, which gives him great travel benefits. His shared many stories with us on our long drives, and we hated to see him leave today.
This morning started with breakfast at the Ram Tzul. They let us upgrade to the Chapin, and then did not even charge us for the difference. They are great guys at this hotel, always offering to be helpful. After checking out, we traveled a few miles down the paved road and then 12 km up a dirt road to Chilasco Falls. A visit to Chilasco Falls was planned as an afterthought. We would be traveling from near Coban to Antigua, and we were looking for something to see along the way. In retrospect, had we stayed at the El Recreo, this would have been a very long day. By staying at Ram Tzul, we cut about three hours out of the trip.
This was not supposed to be an easy hike, but after this day of adventuring we were to have three nights in Antigua with no planned activities. We stopped at the tourism shack on the way to the Chilasco trail head to get our guide. I surprised when Sergio exited the shack with a little girl, Wendy, who would be our guide. She was probably 11 or 12 years old but to me she looked like she was 8. We arrived at the trailhead for what was to be a four hour hike.
The trail set off straight down a hill. There was no forest canopy in this area, and it was very hot. The trail had a rocky surface over clay, and it was easy to slip. Next to one side of the trail there was a coffee farm, and that side of the trail was separated from the coffee farm with barbed wire. On the other side of the trail, there was a dirt road surface that was lower than the trail, varying from about three to seven feet below the trail. The road was in awful condition, as this was rainy season. It might be passable for strong horses, a Hummer H1 or a strong tractor, but it was not anything that a car could handle. After walking for quite awhile up and down several hills, we reached a split in the trail. There a sign showed that there were three viewpoints for the falls, Miradors 1,2 and 3. A trail to the right would take us to Mirador 1 and to El Saltito. Going straight ahead would get us to Miradors 2 and 3. I asked Wendy if we would see the same falls from Miradors 2 and 3 as from Mirador 1. She said that we would. I asked her about El Saltito, and she explained that was a different waterfall. We decided to take the path to Mirador 1 and El Saltito. I was already getting tired, so I explained to Wendy that we would just go to see Mirador 1 and El Saltito and we would not continue on to Miradors 2 and 3.
At Mirador 1 we were able to clearly see the falls. It reminds me of Yosemite, except it seems to come out of the mountain, not over the top of it. The water exits the mountain and drops hundreds of feet into the valley below. It is a majestic sight.
Next we continued on the trail to El Saltito. This may have been the highlight of this trip to Guatemala. El Saltito is not a huge falls, it drops 70 meters from its top to this viewpoint. The falls creates a beautiful pool, fit for swimming. But water has to exit somewhere, and it does, flowing out of this pool to its own several hundred foot drop to the valley below. We enjoyed watching Wendy play around on the rocks surrounding the falls. I took the opportunity to soak my hiking hat to cool me off. When I put it back on my head, you could see steam coming off me, even though it was quite warm.
We knew from the outset of this hike that the trip back was going to be difficult. We had climbed down a significant amount, which meant we had to climb back up the same amount. Several places on the trail looked particularly bad. On our hike to the falls, I had made a mental note of one particularly muddy section, which we had to climb up on the way in. On the way out, I knew it would be extremely tough to get through this mud without taking a fall.
When we reached the split between trails to Mirador 2 and 3 and Mirador 1, we were surprised to come upon a pack of dogs. They were not in a friendly mood. Several growled at us, and I was concerned that they might attack us. Wendy waved a stick at one that seemed like a leader, and it seemed to keep them at bay. I was holding my hiking stick, ready to strike one or more of the dogs if they moved toward us. After several minutes, a local man appeared, hiking by. The dogs were his, apparently, since they went off with him as he passed us by.
We started to head back toward Sergio and the SUV. I was not looking forward to the final climb out. My knees were already telling me that I was past my limit for the day, but I had no choice. As best as I could tell, it was walk or die.
When we reached the muddy section, Wendy pranced right through, without a care. Sheree followed her, and had no problems. I planted a foot and positioned my hiking stick for my next move, and boom, I was down. I didn't feel hurt, but I was muddy mess. I knew I'd have to change when we reached the SUV. But, it turned out, on the way down my left arm had caught the barbed wire side of the trail, and I had several skin deep cuts, which were bleeding. We had no way to treat the cuts. I knew we had a first aid kit back in the SUV, and decided we would just have to wait until we got there. We continued on, reaching the last two sections of the trail – a descent on the rocks over clay trail to the bottom of a hill, which would be followed by the long climb back to the parking lot where Sergio would be waiting if we had taken enough time.
The initial descent almost ended my trip, if not my life. We were moving along carefully when I started to slip. The non-barbed wire side of the trail had wire strung from tree to tree, with occasional fence posts scattered every three to six feet. As I slipped I reached to grab one of these fence posts. The post I grabbed was not sunk into the ground. It had either rotted through or had been cut off at the bottom. My momentum carried me headfirst through the two wires. Somehow I spun onto to my back and was going feet first by the time I hit the mud road. When I got to the mud road I was still moving downhill. I was reminded of Romancing the Stone, except this was not funny. I slid several feet and came to a stop. I felt pain in my tailbone and lower back and a felt a stinger travel up into my neck. But, I seemed to be okay. Everything was moving, and I had not suffered any significant lacerations. I tried to regain my footing, and again, boom, right down onto the mud road. I could see the bottom of the hill, not terribly far ahead, and I considered my options. I could walk and fall down the mud road, and hope I didn't do serious damage before having to climb out the final section, or I could try to make my way back up to the trail and continue behind Wendy and Sheree. I looked ahead and saw a place where the climb up was only about 4 feet and it appeared to have enough going nearby to allow me to reach the trail. I made my way to that spot and pulled myself up. Now I was an even muddier mess and my left arm was covered in blood. I must have been a gruesome sight.
While I was going though my ordeal on the mud road, Sheree lost concentration on her footing, and she also took a fall. She managed to stay put on the trail and was not hurt.
When we reached the top of the trail, Sergio was there. I went to the back of the SUV and washed up with bottled water and soap. Sergio had some Neosporin-like anti-infectant and we applied that too. Sheree thought I might need a tetanus shot, but we could see nothing other than skin deep abrasions. I changed clothes, wrapping my muddy stuff into plastic bags. After drinking some water, we headed back to the tourism shack and dropped off Wendy. She gave Sheree and me each a kiss on the cheek. I think she felt badly that we had fallen.
I paid a pretty steep price to see El Saltito, but I am glad that we did it. This is a great hike for anyone fit enough to handle it. Chilasco Falls were among the most beautiful sights we saw on our trip.
We have one more hike planned, up the volcano San Pedro. It is also supposed to be very challenging, and I am now wondering if I will be able to get through it.
We headed out the dirt road from Chilasco and hit the black top to head toward Guatemala City and then to Antigua. We were troubled on our last trip at having to go through Guatemala City to get anywhere. But, looking at the map, it appears that there is not much choice. There are not roads around Guatemala City. Everything goes through it.
We stopped for lunch at a restaurant called Las Montanas. I had a whole fish. I think Sheree gets creeped out by the fish eyes when I do that, but it's not something I eat very often.
Sergio had been hoping to get to Guatemala City before rush hour. We did not make it. We crossed the city slowly but steadily during the evening rush hour, and made our way up the mountain to Antigua, home to Sergio. Sergio dropped us off at the Hotel Aurora, which seems to be very nice.
After saying our goodbye to Sergio, we get checked in and head out for a little exploring before nightfall. We are only two blocks from the central square. We hit the ATM off the square and found a store with beer and water. We dropped off our purchases at the hotel and went to dinner at a restaurant next door. It turned out to be another Mexican place. We had chicken soup and nachos, then headed back to the hotel next door.