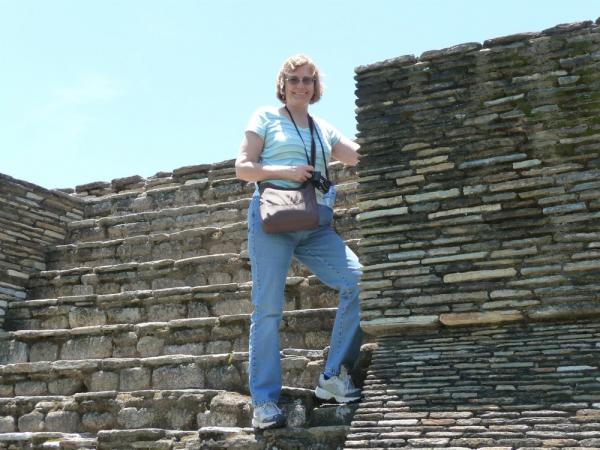 Sunday, June 14 - I did not sleep well last night. My right leg was very sore, and I could not get comfortable. My tossing and turning kept Sheree up as well.
I woke up at about 5:30 or 6:00 to a mild earthquake. I felt the bed moving and when it stopped the overhead light was still swaying. But the earthquake must not have been very strong because no one talked about it all day.
We got up before 9 and had our continental breakfast at the Aurora. We decided to go exploring, looking for a classic rock bar that was supposed to be nearby. We found it around the corner, on Avenida 3. The Aurora is on Avenida 4. We decided to walk down Avenida 3, to head toward the ATM. As we walked down Avenida 3, we came upon an Indian Market. We shopped and got excellent deals on bracelets and necklaces. We ran out of Quetzales, so we had to head to the ATM. The ATM is on the main square and it is close to the Arch street, where Nim-Pot and Frida's are located.
After visiting the ATM, we decided to see if Nim-Pot had jewelry for a reasonable price. This was a great idea. We found some items for better prices than we were getting on the streets. I picked up two t-shirts for me, stamps for my friend Ken, and a doll for my friend Peggy who had jokingly asked that I bring her back a baby. Nim-Pot's prices were excellent, plus they gave a 10% cash discount and accepted dollars at a full 8 quetzals per dollar, which was a little better than the bank rate we could get during our visit.
After, we went next door to Frida's for lunch. I had Pulled Pork Tacos, hoping to replicate the flavors I had last night at Café No Se. It didn't quite match up, but it was still very good. We headed back to the hotel after lunch, and napped while the NASCAR race played on the TV (with Spanish commentary.)
After our nap we took a nice walk to the Rainbow Café, where they have a "book swap." Sheree got only a 10Q credit on a brand new best seller toward a 28Q beat up older mystery best seller. I asked her if we got kissed, too. We were heading toward the square, and we decided we should probably get more bracelets at Nim-Pot, since we don't know what time we will get back next Sunday, our final night in Guatemala. We found a few more to add to our growing jewelry collection/inventory.
It was just about 6 PM and we were right next to Reilly's - probably the most popular ex-pat and tourist bar in Antigua. On Sundays, they have a Pub Quiz, a trivia contest. Right outside of Reilly's, we ran into "Los Cazadores de la Chupacabra." When we left them in Lanquin, they were hoping to find one member of their party, the brother of the guy from Lubbock, who, we learned, had gotten angry with the group and separated from them up around Tikal. Somehow, they had managed to get word to each other, (I presume via the magic of the Internet), and they were able to get back together in Antigua. The Cazadores encouraged Sheree and me to enter the Pub Quiz.
We had to pay a 20Q entry fee, but Reilly's triples the total fees to give a great prize to the winners. The total pot tonight would be 660Q, about $82. Each team is allowed up to five members, but Sheree and I were the only two on our team. We did great in round 1, scrambled movie titles, getting 9 out of 10. The 10th title came to me just after we turned in our answers. Round 2 was Middle East facts, and we surprised ourselves getting 7 of 10. Round 3 was photos of celebrities with a list of real names at the bottom. We had to match the real name to the photo and come up with the stage name. Again, we were awesome, getting 8 ½ out of 9. Round 4 was our downfall. There were really weird questions with a wine theme. We only got 1 ½ points, but the best score for that round was 3 ½, so we were still in the thick of things. In round 5 they play short bits of songs, and the teams try to come up with the artist and title, for ½ point each. We got several but missed several, too. When it was all over, we came in 2nd out of 11 teams. If we had remembered Deliverance in time, or if we could have come up with Lord Byron and Cadillac, and if we had stuck with our first guess of Richie Valens for the version of La Bamba that was played, we would have won. But, as is tradition, apparently, the winners bought us a 20Q liter of beer, and our bill for the whole night was only 200Q, so it was quite an enjoyable evening.
We returned to the Aurora, before 10PM, to find the front door locked. We tried pressing the red button near what looked like an intercom, but we got no response. After a little while, we decided to go around the corner to see if we could get in through the car park. We got to the car park just as a car was leaving, and the lot attendant said we could get in through the lot. He was very apologetic about not hearing us at the front bell, but it was not real problem as we were now in.
We repacked for our departure to Panajachel (Pana) in the morning. I couldn't seem to find my cell phone, but since we couldn't use it here, we agreed it would not be a huge loss if it did not turn up.