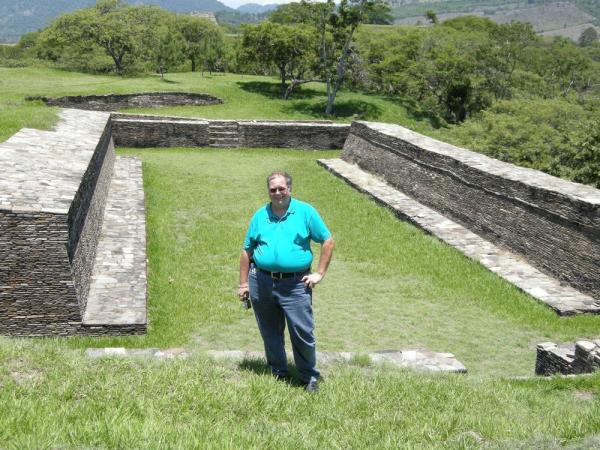 Monday, June 15, 2009 - We checked out of the Aurora and our driver, Alfredo, met us right on time for the ride to Pana. He told us yesterday's earthquake was a 5.2 centered at Coban, so it was not so small after all.
We passed several familiar points on the way to Pana - the lookout for Lake Atitlan, and the restaurant that serves as a potty break for the Caravan tours. We talked about our Caravan tour with Alfredo, and we learned his wife is a tour leader for Caravan, along with Jorge, who we hope to see in Pana, and Jorge's wife Virginia. Alfredo spoke English with a distinct British accent. It turned out his wife is British, and he had lived on the Channel Islands for eight years.
We arrived in Pana at the Hotel Dos Mundos, and it is wonderful. Our room has a double and a single bed, decent cable TV, and, or course, no fan and no A/C. The hot water appears to be OK. I sure hope it stays OK, as we will be here for six nights.
We finally had a chance to unpack. Unpacking makes a trip feel more civilized to me. Obviously, it is not practical when you only stay at a hotel for one night. But, since we would be here six nights, it made sense to empty out the suitcases and start to organize clean vs. dirty clothes.
We went for a walk up Calle Santander, the main street of Pana. One purpose of our visit to Pana was to go to the local Friendship Bridge office and drop off gifts for the children at a day care center supported by Friendship Bridge. Friendship Bridge provides micro loans to Mayan co-ops and provides assistance to the co-ops in the form of family assistance and marketing support. We found the Friendship Bridge office, but it was closed for lunch.
We were hungry enough to eat lunch, too, so we checked out the choices on Santander. We would up at Guajimbo, the Uruguyan place, and had a dish described as slabs of steak on a roll. The rolls were small hamburger sized, and each of our plate contained 4 of these. Sheree could not finish her plate, and we had no facilities for taking it back to the room.
In Pana, the Mayan street vendors can be incessant pests. Even when you are in a restaurant, they will come right to your table and try to sell whatever they are hawking. While we were eating two little girls came by the sell us weavings. Woven personalized bracelets are a common item in Pana. Vendors will make one for you while you wait. One of the little girls had a basket of bracelets, all with one name on them - Obama. The girls spoke broken English and broken Spanish. I bought one of the Obama bracelets for $1, but, unfortunately, it came off my wrist undetected at some point later in the day.
Shoe shine boys also will not leave me alone. My New Balance black walkers got filthy during the Chilasco ordeal. On Saturday, I had them shined in Antigua, and they looked fine. Then, on Sunday, while sitting in the Park in Antigua, another boy had offered to polish them, and since I noticed some mud spots remaining on Saturday night, I agreed. We settled on a price of 3Q. They boy did a great job and gave an even greater sad story about being hungry, so I gave $2 when he finished.
But, today, I was not going to have them polished. I explained to the boys that I never shine "sneakers" in the US. I had these shined twice in the last two days, and I now had the most beautiful shoes in Guatemala. I did not need them shined again.
Still, while we were eating, another shoe shine boy approached. I did not want a shine, and Sheree did not want her last beef sandwich. I offered it to the boy who gladly accepted and then left to enjoy his lunch. It meant nothing to us, as it would have just gone to waste, but we did get funny looks from the restaurant staff.
While at the Guajimbo, we were treated to jazz guitar playing. Signs posted at the restaurant indicated that lesson were available for 70Q per hour. The guitarist seemed to be very cool, and I thought about visiting with him at a later time.
After our lunch, we went back to the Friendship Bridge office and delivered our gifts - storybooks, coloring pads, colored pencils and sharpeners. The staff was very appreciative.
We headed back to the Dos Mundos to relax. It started to rain at around 5 PM and continued into the evening. We used the rain as an excuse to have dinner at the hotel's restaurant, La Lanterna, the best Italian restaurant in Pana. It was delightful. I had a Beef Saltimbucco - an excellent rolled beef filled with prosciutto and cheese. Sheree had Raviolis. We split a nice bottle of red wine, and our bill with tip was under $50.