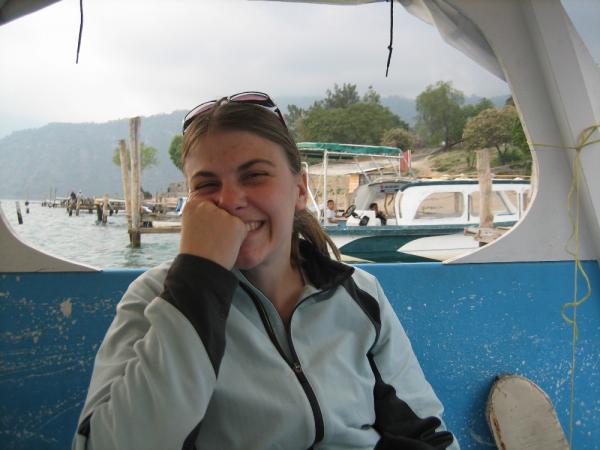 After 26 hours of being rerouted, and then flown all over the United States due to a mechanical failure in the plane, we finally made it to Guatemala at 1PM the day after we were due to arrive. We were picked up at the airport directly by our guide, Hugo, who was holding a sign with our last name on it, waiting patiently in the crowd at the airport.
Right away we hopped into the Kia minibus and drove off on the 3 hour ride to Lake Atitlan. Since we had not eaten a decent meal all day, we stopped at a roadside restaurant for a quick bite and some coffee, and then set off again. Hugo explained to us all the way different things we were seeing, such as many painted rocks and trees bearing political party logos -- everywhere! It was fascinating to me that they have enough paint for it all! The winding road took us up through mountains and past farms and villages. We quickly adjusted to the style of driving -- with only 2 lanes, passing slower vehicles along the way occurs almost every 10 minutes.
Soon we fell asleep since we had not slept for nearly 30 hours (I cannot sleep on planes to save my life) and awoke upon arrival to Panajachel - the "hippy" city as Hugo calls it. He told us the history and development of the population of hippies from the US in the 70s and how it affected the growth of the lakeside town. Here we saw the first colorful textile markets, with elderly Maya women holding out colorful embroidered blankets and shirts.
We drove to the boat launch and boarded a covered water taxi that took us the 25 minutes across the lake to the dock of Posada de Santiago, our home for the next 2 nights. The views of the lake and volcano were cloudy, but beautiful nonetheless. As we walked up the hillside to the reception area, we saw the pool and Jacuzzi along the hillside looking out over fishermen on the lake and women washing their cloths along the shoreline. What a spectacular view! We checked in and made our way to a quaint stone cottage. It was very charming and cozy, with a fireplace ready to be lit (although we never used it)! After dinner in the hotel restaurant, we settled in and slept a good night's rest.