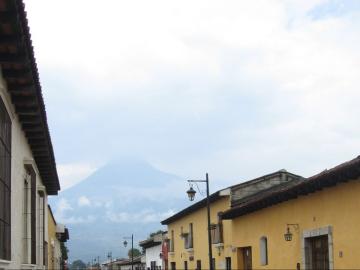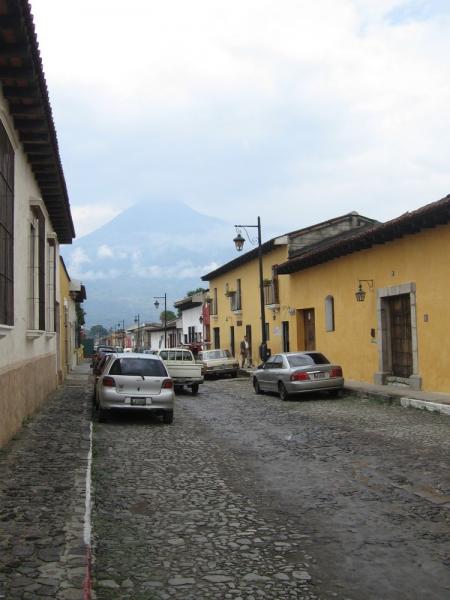 Today we did some sightseeing in Antigua – Plaza Central, museums, and then caught our transfer to Lake Atitlan. We arrived at Panajachel, which is the main hub – Where you catch all the boats to the other towns around the lake. We took a lancha (small speedboat) to Santiago de Atitlan, where we were to stay for two nights. The lake is beautiful, ringed by volcanoes. Men are fishing in their wooden canoes using only fishing wire and a hook. Very peaceful.
We arrive at Santiago de Atitlan where we were met by tuk-tuks (the 3-wheeled small taxis) offering to give us a ride to the hotel. We decided to walk so we could see the town. On the walk we bought some grilled plantains on the street – One of my favorite things to eat!
Joe and I checked into our bungalow at the Posada de Santiago. It was great! We had a fireplace, and it the whole bungalow was made mostly of stone from the area. There was even a separate faucet in the bathroom that supplied purified water! (We never saw that anywhere else on our travels.) Since canoe rentals were included in our stay, Joe and I hurried to take one out of the lake – Even though it was raining!
Dinner at the Posada was excellent, and we ate there both nights! They have a lovely dining area, and had live music (Cuban music) on Saturday night. It was a great treat!