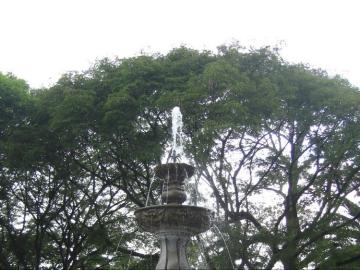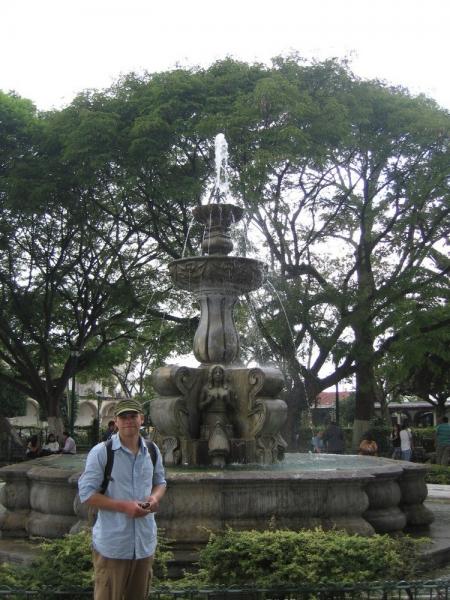 Early to rise this morning for our big Day of Adventure! We booked a tour to visit Semuc Champey, a national park about two hours away from Coban. Difficult to get to, but well worth it! We arrive at Semuc Champey and begin our hot, humid walk up to the lookout (El Mirador). Once there (and all nice and sweaty), the view was AMAZING! We looked down onto a series of tiered turquoise pools that form a natural limestone bridge over the Cahabon river. The river runs under the pools and comes out the other end. I haven't seen anything quite like it before! During our hike we saw an owl, a poisonous snake, and many colorful butterflies.
After a quick lunch, we start our adventure! We swam in the clear, cool pools (with some small fish swimming around us). It was great to cool down after our long, humid hike. We moved from one pool to the other, and even got to repel down a small waterfall to get to the last pool. This part was really fun, but definitely a little dangerous. We repelled down a rope with knots tied into it – No helmet; No harness. But it was so much fun! And then we had to climb back up the rope!
After the pools, our guide, Rudy, took us to some caves nearby. We did not go to the famous Lanquin caves, but to Kanba Cave. It was great! We all donned our headlamps and received tapered candles to enter the cave. It was full of water! We walked and then swam in the cave, going up a couple of ladders and ropes along the way. The water was cool, but not too cold. The candles were a really nice touch, but I kept putting mine out in the water!
After caving, we picked up some inner tubes and finished our day with a lazy float down the river. This day was full of adrenaline, and one of my favorite days of the trip! Some say that Semuc Champey is the most beautiful place to visit in Guatemala, and I just might have to agree with that!
We arranged our tour with a company called Aventuras Turisticas, based out of the Hostal de Dona Victoria hotel in Coban. Our guide, Rudy, worked for a company called Maya'ch Expeditions, and he was fun and energetic!