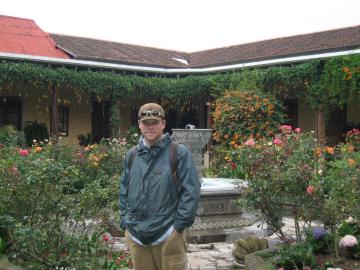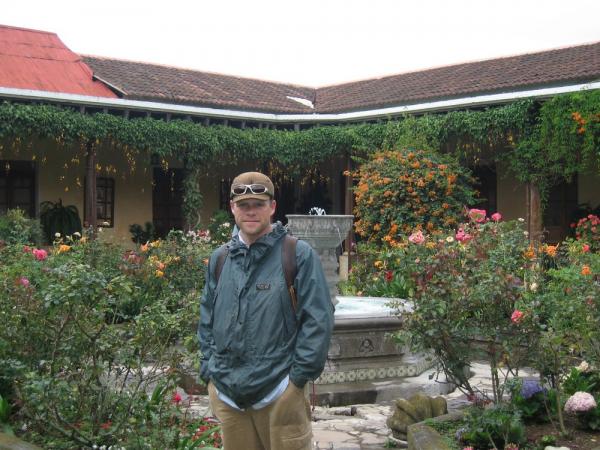 On our way! Joe and I depart LAX for our overnight flight to Guatemala. Watched some movies, slept, and before we knew it, we were in Guatemala City! It was a bit odd to see the airport staff wearing their swine flu protective masks upon arrival, but we were just so happy to be done with all of our flights!
We were met at the Guatemala City airport and transferred to our Antigua hotel, Hotel Aurora. The whole transfer was about 1 hour and 15 minutes. Our driver brought some bottled water for us when he picked us up, which was a very nice touch! Our driver gave us our welcome packet, which included vouchers for all of our hotels and some useful information about the areas we were traveling to. They even were nice enough to give us some information on how to catch certain buses, as we were traveling a bit on our own without Adventure Life.
Hotel Aurora was great. The rooms were of an average size, but very beautiful. They have an amazing courtyard full of colorful flowers. Our window did face the street, but there was not too much street noise. (No need for earplugs!) They have a simple continental breakfast (toast, jam, fruit, juice or coffee) that was included in the reservation, and they also have 2 computers that you can use for email or what-have-you. Took a while to figure out how to type that "@" sign. I had to type Alt-6-4 (all at the same time). I've never seen that one before when traveling!
After a much-needed nap, Joe and I walked around and saw some of the sights in Antigua. It really is a beautiful city, and the volcanoes in the background make it a mystical place. We ate some yummy street food (grilled pork tortillas) with fresh avocado, and didn't get sick! There was rain on and off, but it didn't put a damper on the day.
We took an afternoon group tour to the Pacaya Volcano. It was amazing! It's the only active volcano in Guatemala, and it's quite a sight! The hike was a bit steep in parts, but there were horses following behind and you could ride one up the mountain if you felt like you weren't going to make it! Seeing the lava flowing down the mountain was quite a site! Some people brought marshmallows with them and we all took turns roasting them over the hot lava! It was great! (And delicious!!) On the hike down, there were fireflies all around, and the skies cleared up so we could get a great view of Guatemala City.
A much-earned dinner awaited us in Antigua…. Joe had the Desayuno Chapin, or the Guatemalan breakfast – which we ended up having a few times on the trip: Eggs, refried black beans, cheese and plantains. DELICIOUS!