Ancient History

Arawaks and Caribs were the first known tribes to inhabit Guyana. The peaceful Arawak populated the coast, while the Carib lived in the rainforest, as many still do. Existing tribes include the Wapishiana, Akawaio, Macushi, Patamona, and the Wai Wai. Anthropologists believe these peoples may have originated farther inland in South America and populated Guyana during territorial expansion.

Colonial Guyana

Columbus sighted Guyana in 1498, but did not drop anchor. Instead, the first European settlers were the Dutch. Though they established fertile plantations on reclaimed land, the English took command in 1814, in one aftereffect of the Napoleonic Wars.

In 1831, three separate settlements united into British Guiana. Laborers were imported for the plantations; their descendants would bring Guyana great diversity. A third of the modern population descends from African slaves brought to grow sugar. Nearly half comes from East Indian laborers imported after slavery ended. Perhaps 10% of the population is Amerindian, surviving mostly in the hinterlands. Other ethnic groups include descendants of British, Portuguese, and Chinese immigrants.

After World War II, the colonial world ended. As Guyana moved towards independence, two factions formed, one of Indo-Guyanese and one of Afro-Guyanese. Independence came in 1970, though Guyana remains a Commonwealth nation.
Want to Go?
country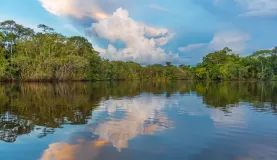 continent