The Rupununi Savanna in southern Guyana is a sparsely settled rolling plain set beside the wide Rupununi River. A dirt road leads north to Georgetown, and south to the Amazon.

Culturally closer to Amazonia than to coastal Guyana, some residents of the savanna speak Portuguese as well as they do English, while others speak Amerindian languages. Huge ranches spread out from the river, with sturdy buildings set on stilts in case of high water. Vaqueros, cowboys, work the plains, some descended from Scottish immigrants of long ago.

Petroglyphs left by early Amerindians are still found on the savanna, records of their hunts and reminders of their history. The tribes still have wonderful storytellers, and welcome visitors to their settlements to hear their tales.

The Rupununi Savanna surrounds the Kunuku Mountains, where wildlife abounds. Giant anteaters, huge snakes, harpy eagles, and jaguars all find refuge here.

Jaguars are most active around dawn and dusk. Often associated with water, they enjoy swimming. Virtually eliminated from many parts of their range by deforestation, development and ranchers defending livestock, they are not rare in Guyana, though they may be rarely seen. Beside the Rupununi, this adaptable predator hunts the savanna as well as the rainforest.

Among the bird species of the area is the astonishing Cock-of-the-Rock. Its orange and black feathers spread into a fine-spun fringe at its wings and a semi-circular crest like the one that brought ancient Roman officers commanding height and notice tops its head.

The polygamous Cock-of the Walk flaunts his finery to attract the brown females that raise their chicks in colonies near the leks where the males parade. Many species of macaws fly through the trees as well, often in pairs, but it is the harpy eagle that most travelers come to see.
Called the flying wolf, it's the largest eagle in both the Americas. Black above and paler below, it wears a black band across its chest. It has stubby wings for maneuvering through close-set trees, but can fly at 50 miles an hour. It wields five-inch talons. From Mexico to Argentina was its range, but no longer. The harpy eagle is endangered.

The river wolf is the Giant River Otter. It can be six feet long, with webbed feet, warm waterproof fur, and ears and nostrils that close out river water. Monogamous otters live in extended families and eat fish, crustaceans and reptiles. They hunt cooperatively, and seem to have something like language. There may be only a few thousand of these intelligent social creatures left in the world.

At Karanambu Ranch, injured and orphaned river otters are rehabilitated. Naturalist. Diane McTurk runs the facility; paying guests help support her work. They may also participate in the care of the otters. Available excursions vary according to the wet or dry season but can include boating trips, land rover trips on the savanna, guided forest hikes, or visits to nearby Amerindian villages.

Boaters may see black caimans, the rare arapaima, and, if the trip is extended until after dark, Victoria amazonica waterlilies, fragrant nightbloomers that open pure white the first night and magenta the second. Lily pads can be seven feet across; they're soft green above, but with undersides lined with sharp magenta thorns.
Want to Go?
continent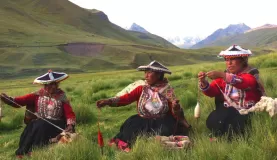 country