Located in central Guyana, the Iwokrama Forest is a treasure of nearly one million acres of rainforest. Iwokrama Forest is considered to be one of the few remaining pristine tropical forests in the world. These robust lowland tropical forests have been relatively undisturbed. Wildlife in the Iwokrama Forest
Wildlife in the Iwokrama Forest is unbelievably plentiful and diverse. There are over 450 species of birds in the Iwokrama Forest including the amazing crested Harpy Eagle. One of the most powerful birds of prey, the Harpy Eagle is the largest eagle found in either of the Americas. The Iwokrama Forests is known to have more of the large, fruit eating birds such as parrots and cracids than any other forest. With toucans and macaws and so many colorful and songful birds, the Iwokrama Forest is the crown jewel for bird watching. Amphibians and reptiles, including many varieties of lizards and frogs, also call the Iwokrama Forest home. These animals are key players in insect control. In 1998, there were eleven new specials of amphibians and reptiles identified in the Iwokrama Forest. The Iwokrama Forest is also known for unique and lively mammals such as Jaguars, Giant Otters, Giant Armadillos and several species of monkey including Howler Monkeys. These animals are rarely found in disturbed forests. Over 30% of the animals that live in the Iwokrama Forest are listed as endangered under the International Convention on the Trade in Endangered Species (CITES). Conservation International has secured over 300,000 hectares of pristine rain forest in conservation. The healthy animal populations in the Iwokrama Forest mark the region as a prime candidate for both conservation and eco-tourism. Many visitors to the Iwokrama Forest expect to and do see Howler Monkeys but one of the great surprises are the large numbers of butterflies in wondrous colors and never before seen sizes. At night the fireflies put on a breathtaking display of "fireworks." The Essequibo River
The Essequibo River is the longest river in Guyana, spanning 630 miles. The river is known for unparalleled diversity of over 450 kinds of fish. The Essequibo River is home to the Arapaima, the largest freshwater fish in the world. There are estimated to be over 350 islands in the Essequibo River and there are numerous waterfalls as well. Visitors can take part in white-water canoeing or guided boating tours.
Want to Go?
country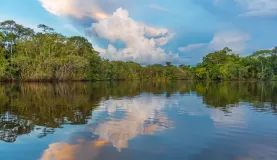 continent