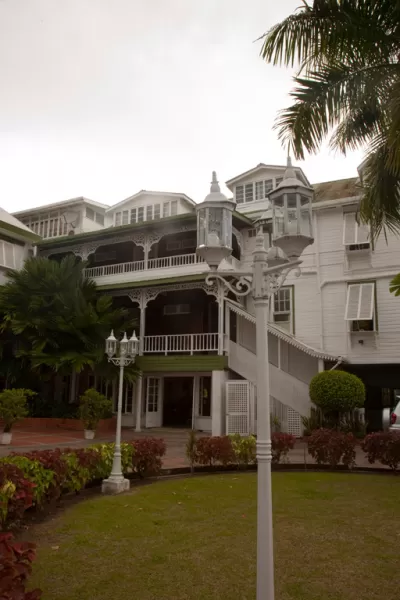 With only a few hours before we returned to the river to travel to the Caiman House, we embarked on what would be my last shot at seeing a giant anteater. After about an hour, success!!!!!! The caballeros had spotted one and herded it towards our location, where it came to within 50 feet of us!!!! Now I could really see the speed of these animals! It was a great morning!!!
Back on the Rupununi River, we spotted kingfishers, several jabiru storks and herons almost everywhere one could see. At least six different species, most of which I had seen before on the trip but there was one that definitely stood out amongst the others. As we took a sharp left turn on the river, up on the branches of a dead tree sat a beautiful capped heron!
After landing and a short ride the village of Yupukari, we arrived at the Caiman House. The house is a research facility which focuses on the study of the black caiman. Although the official research project had ended a few years ago, the residents of the house continue searching for, snaring them, taking measurements and tagging them, and updating their database with this info to assist in the continuous study of the caiman.
We had some free time to walk the grounds and the local village before departing for a night ride along the river to participate in catching a caiman with the local guides. While on our quest, we saw a green tree boa, howlers and spider monkeys. As it became dark, we entered an area known for caiman. The first attempt to snare one failed as the scaled prehistoric-like beast was too quick for the guides' reflexes. But on the second attempt, they managed to grasp one!!! We could see the entire struggle as one of the other accompanying boats beamed a spotlight on the action! They towed the caiman onto a nearby sandy bank where they proceeded to secure its mouth so they could perform all the necessary measurements. It was an 8 year old female about 10 feet long and weighing well over 300 lbs. Once their job was completed, they released it into the darkness of the murky river. The whole event was absolutely awesome and something I will never forget!!!!!! Or being a New Englander - Wicked Cool!!!!!!