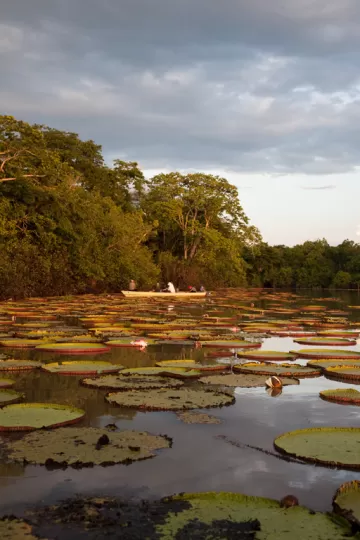 At dinner the night before, we inquired if there was an alternative to hiking up Surama Mountain per the itinerary. The older couple and the others got quite exhausted during the Turtle Mountain hike and I was on a search for an anteater which wouldn't likely be found on that hike. MarkPaul offered a hike on more level ground and a boat ride on the river to look for birds, giant otters and eventually hike to an area known for poison dart frogs. The elderly couple and one other stayed behind to visit the village while I and the other two chose the alternative itinerary.
On the walk to the river, there were numerous birds, too many to name. And as we walked the trail to the boat, MarkPaul spotted a giant anteater. I saw its tail as it slipped into the forest and we pursued it with MarkPaul clearing the path with his trusty machete! We never saw it again but the chase was fun! I never thought anteaters were so fast! I had always pictured them as sluggish animals.
We arrived at the Burro Burro river landing only to find that the motor for our canoe was nowhere to be found! The four of us jumped into the canoe and after a few minutes watching MarkPaul struggle rowing upstream in a strong current, I grabbed an oar and proceeded to help him row for the next 4 hours. I figured I wanted to see wildlife and this was the only way it was going to happen! Plus I was trying to shed a few pounds so I knew it would be good for me! We must have seen at least 40 species of birds of most notable was a ringed kingfisher, green kingfisher, paradise jacamar, Amazon trogan, channel billed toucan, painted parakeets and black-bellied cuckoo. A giant river otter swam alongside our boat for a few hundred yards! And while MarkPaul made a fire to cook our lunch, I noticed a thorn mimic treehopper crawling across our blanket (Yes-more bugs!).
We finally made it to our destination and after 4 hours of rowing I was a bit tired! But not tired enough to search for the poison dart frogs we had set out for. At the landing was a wilderness survival training camp and we watched them perform some of their training they would need to survive in the rainforest - alone! After about a 1/2 hour hike, we reached the area where frogs were known to occupy. MarkPaul found a yellow striped poison dart frog immediately and the clicks of our cameras echoed in the forest. I asked if I licked the frog's back if that would take me to a more relaxed state. After 4 hours of rowing I was sore and tired! He advised against it. Guess I would have to wait for drinks back at the lodge.
The canoe ride back was welcomed as going downstream we only had to use the oars to steer and it took half the time.
After a 2 hour hike, we arrived at the lodge greeted by a yellow caracara perched upon the lodge's rooftop. Many beers were consumed but I was still wondering about the effects that could have been experienced from licking the back of that frog!!