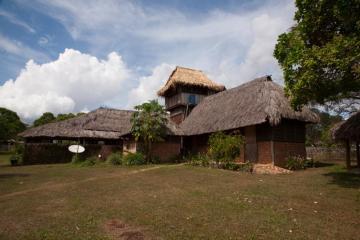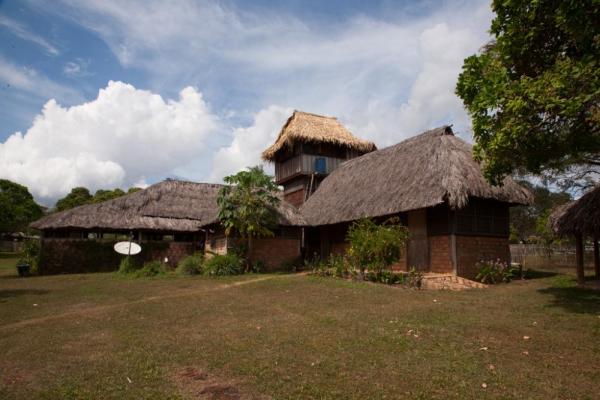 After one more stroll around the grounds of Rock View and a short excursion to foothills for more birding, we finished our breakfast, said goodbye to our gracious host and staff and boarded the behemoth, other known as the Bedford truck and made our way towards the landing to set off down the Rupununi River to our next stop, the Karanambu Ranch. Along the drive, we came across gray slated hawks, cocoi herons and egrets, several species of flycatchers and a maguari stork. This was a huge bird that I had not seen on any of my previous trips to South America so I was quite pleased!
We were greeted at Ginep Landing by the Karanambu Ranch manager, Salvador, who along the way provided us a history of the ranch, interesting facts about the river and the Rupununi area, and the wildlife we may be seeing. During the 2 hour boat ride, I spotted at least six species of herons including too many cocoi herons to count, jabiru storks, and several other flycatchers not seen back at Annai.
As we approached the landing at Karanambu, we were met by our first host - a rescued giant river otter that was frolicking in the water having a fantastic time! We were introduced to Diane McTurk, who makes the ranch her home and Andrea, Salvador's wife, while the otter nibbled at our ankles! He was one mischievous guy and was very excited to socialize with the people who would be his friends for the next few days! Thankfully, he didn't nibble too hard and Diane could distract him as one wouldn't have wanted him to nip you considering the size of his teeth!!!! Diane, a woman of near 80 years with the features of one who had endured the heat and sun of the savannah for years, had lived there all her life adopting and caring for many injured or orphaned animals. Her enthusiasm and love for the creatures was evident in the way she handled this particular otter. Andrea was originally from New York and had abandoned the hectic pace of the fashion/cosmetic industry to live out here in the middle of nowhere and manage the ranch with her husband. I thought I was entering into the Guyana version of the old Green Acres TV series from the 60's!!!!! They even had a resident pig, but I don't believe his name was Arnold!
The ranch was very rustic and that is what I most enjoyed about the place. A nesting pair of red capped cardinals made their home in a tree just outside my cabin. After dropping off our bags, we set off for a ride on the river, followed for a short distance by our new friend who I think would have kept following if not commanded back by Diane. We saw red howlers in the trees along the banks, more egrets and cocoi herons and a flock of skimmers on a sandbar. We weaved our way through the narrow tributaries, spotting black caiman along the way, until we arrived at Buffalo Pond. Here we would witness an amazing display of nature! As the sun began to set, a field of giant Victoria Regis water lilies began to bloom! I had seen this on the Science and National Geographic Channels but to witness it in real life was incredible! A beetle pollinates the plant which eventually changes color and sex after three nights of repeating the process of blooming and closing. Definitely a highlight of this stay at Karanambu!
Now in complete darkness, we returned to the ranch for a great dinner, rum punch and entertaining stories from Diane, Salvador and Andrea. How our guides could navigate in such pitch black darkness was beyond my comprehension. In my cabin, I could hear the pitter-patter of bats flying above in the rafters of my room. I flicked on the light and identified at least three different ones (fruit, brown and one other) but had no worries and felt quite safe in the confines of my netted bed. I actually thought this was really cool!!!