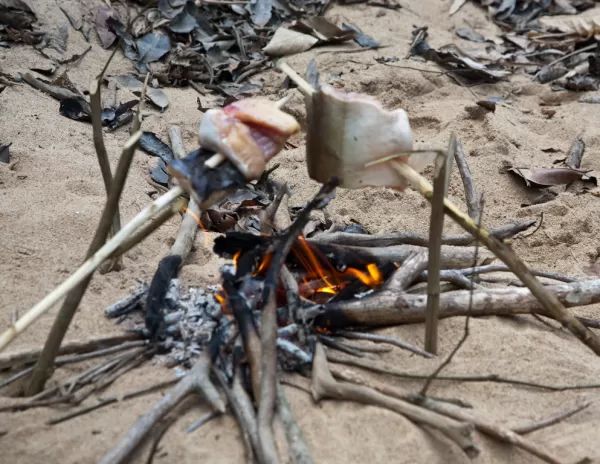 Prior to this trip, I had arranged for an excursion to a Harpy Eagle nest before moving to our next destination at the Rock View Lodge in Annai. I convinced one of the others, Peter, to join me. It was about a 1/2 hour drive and then a 1 hour hike to the nest and we patiently waited for the large eagles to return. We could hear them in the distance and waited for nearly 3 hours but they never returned. Apparently the chick was now old enough to venture out further from the nest. I was disappointed but at least we tried.
We arrived at Rock View Lodge in time for lunch and now in the savannah. My thoughts of seeing a jaguar had now passed and I shifted my focus to the giant anteater. Of all the lodges so far, this was the most luxurious and reminded me of the lodges I had stayed in Botswana, Kenya, Tanzania and other lodges I had stayed in across Central and South America. The owner also owned the Atta Lodge which was under renovation when I was there earlier and I know when completed will be just as pleasing to future tourists. As I entered my room, a blue tailed emerald hummingbird was admiring itself in my mirror! But by the time I could retrieve my camera from my bag to capture this image, it flew out the window. What an awesome shot that would have been but I still have the memory! It was so cool!
As I strolled around the grounds, buff-necked ibis were also surveying the grounds as well as numerous species of wrens, flycatchers and tanagers.
While the others relaxed, Peter and I walked about the airstrip with our guide Richard to search for other birds (and maybe a giant anteater?). It was amazing how many species of birds we saw. The best was vermillion flycatcher, fork-tailed flycatcher and a burrowing owl that allowed us to get within 25 feet.
Despite not seeing the Harpy, this was a great day!