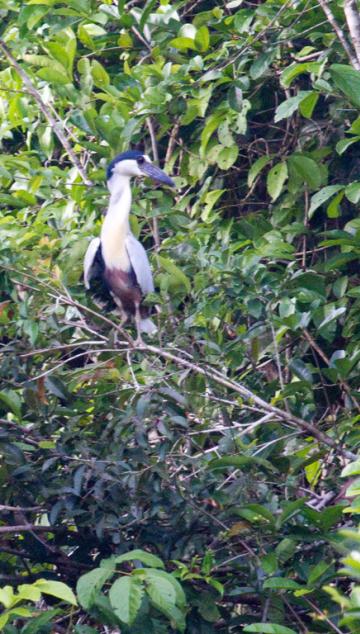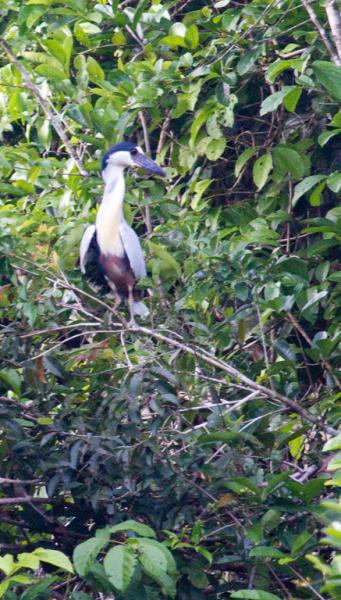 At 5:30 am, I was once again wakened by the sound of the forest. Although, this time much louder as our three howler buddies were in the trees just around the corner from my room and howling in three part harmony. I had enough time to do a bit of exploring before our departure to the next lodge. Walking back to the main dirt road (yes - the North-South one!) with one of the other travelers, we startled an agouti and he swiftly disappeared in a wetland area. Luckily I kept my eye on where he was going because his path drew me straight into the eyes of a beautiful red brocket deer that was grazing in the wetland. A few steps further up the road, I stumbled on a baby red-footed tortoise thinking how lucky this creature was that there was hardly any traffic at all on this road and his life would be spared.
I returned to the lodge for breakfast and we took off towards our next destination. On the way, we stopped for a short hike through the forest to a spot known as a hangout for the Guinean Cock-of-the-Rock. After about an hour or so, one came into view along a jagged cliff formation in the forest. A beautiful crested orange bird that must know its beauty since it was very photogenic and let me approach within 50-75 feet of it to take its photo. Another one showed up shortly thereafter but kept hidden in the branches. But as I was successful with the first one after having no luck previously at Kaieteur Falls, I was quite satisfied. Walking back through the cliffs and rocks to return to our vehicle, I noticed a few long nosed bats overhead hanging upside down from the rock ceiling. They seemed quite content and were not bothered by the disturbance we were creating below them as we walked underneath.
We were back on the road headed to the Surama Eco- Lodge. Once we arrived in the village of Surama, we were met by MarkPaul who would be our guide during our stay. He walked us through the village as our luggage was transported to the lodge. We visited the medical clinic, school, and got a feel for village life at a place where the rainforest and savannah converge. We made our way to the lodge, very basic but it fit the bill as I needed a nap at this point. A blackheaded vulture and Northern Cara Cara greeted me at the entrance to our lodge.
The Surama Eco Lodge is community run with all staff and guides from the local village as part of a program to allow the local people to receive education and prepare themselves for anticipated increases in future tourism and employment. Four of the six in our group stayed in separate rooms in a newly built lodge with four rooms while the one elderly couple had a hut to themselves. There were about 5 huts with a painting on each door of a tribesman in their customary dress from each of the tribes of the region. It was a really comfortable place.
After my short nap, we ventured off into the savannah in search of the Great Pootoo. On our hike, we spotted kingbirds, savannah hawks, gray tanagers, gray and blue tanagers, a swallow winged puffbird, Gray necked woodrail, and white throated toucans in flight. Of course I was on the lookout for bugs and spotted a huge forest roach! We entered a wooded area where pootoos are known to nest but they are so well camouflaged they are difficult to see. But luckily MarkPaul had eagle eyes and found one. It took me a while to see it as MarkPaul tried to focus me in to its location but I eventually saw it. With our success, we returned to the lodge where we were treated to an absolutely fabulous dinner accompanied by indigenous songs sung by the cook, Anna, and the staff. Over drinks afterwards, Anna, captivated us with stories of the history of the region. Absolutely amazing!!!!