Have questions? We're here.

Get inspired by the possibilities.
Build your ideal trip.
Yucatán's Mayan Cruise
Roundtrip Cancun - Example 11 Day Cruise aboard Ocean Navigator
Part land, part sea: This 11-day journey provides the best of both worlds. Experience Mexico's distinctive culture on this exclusive voyage crafted to provide an exploration into regions and sites that are rarely seen. Greet the morning at the awe-inspiring Mayan city of Chichén Itzá, which is both a UNESCO World Heritage Site and a Wonder of the World, and dive into the cultures of Campeche. Discover the secrets of civilizations past on this dichotomous journey.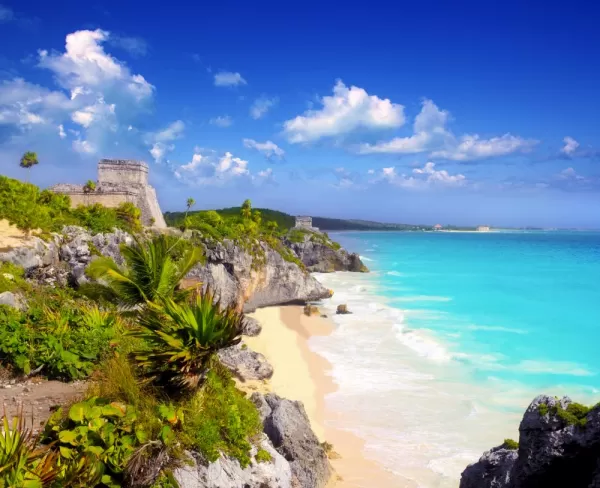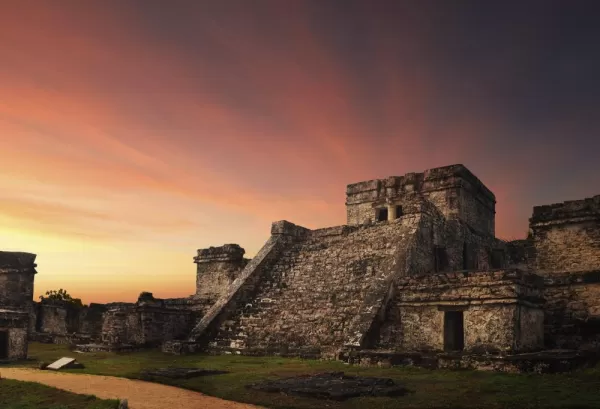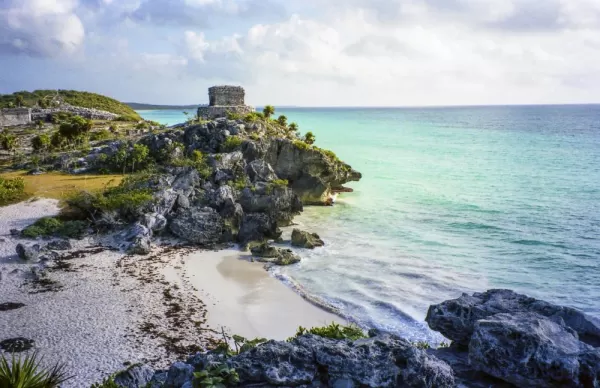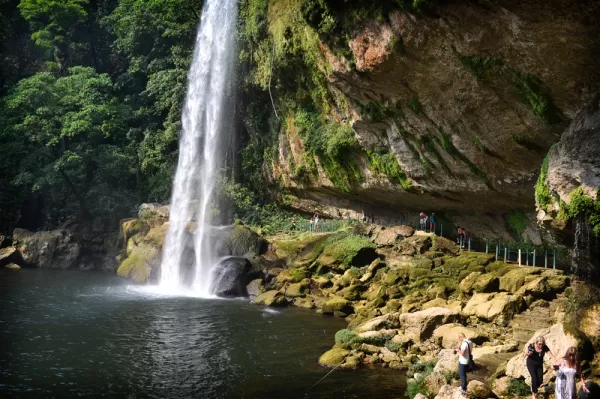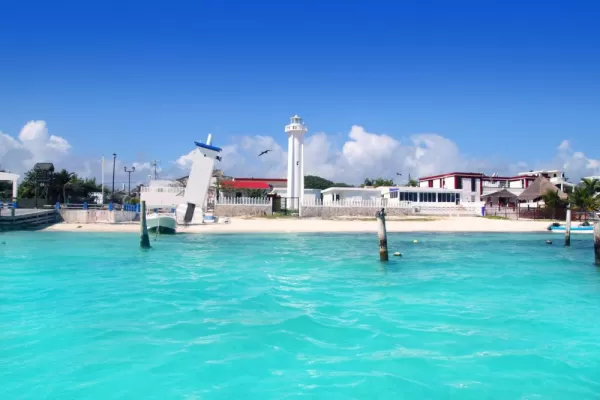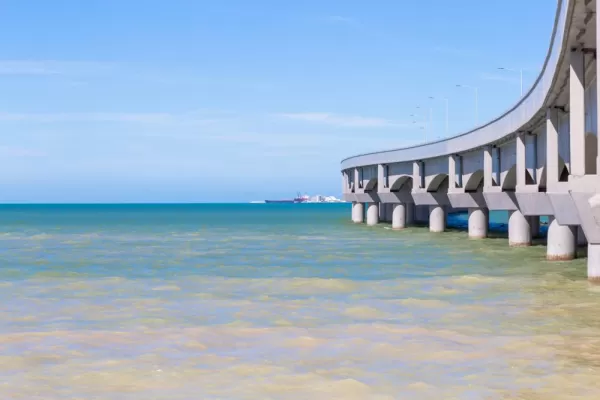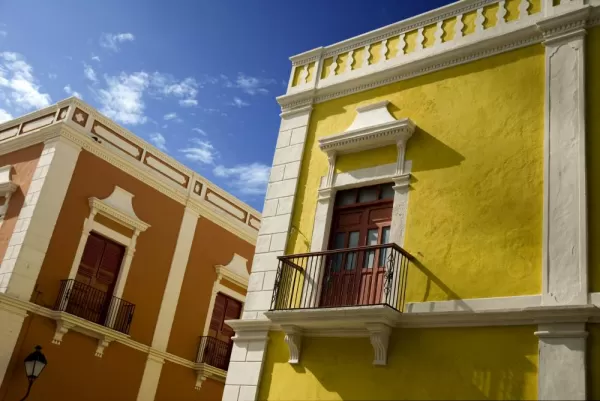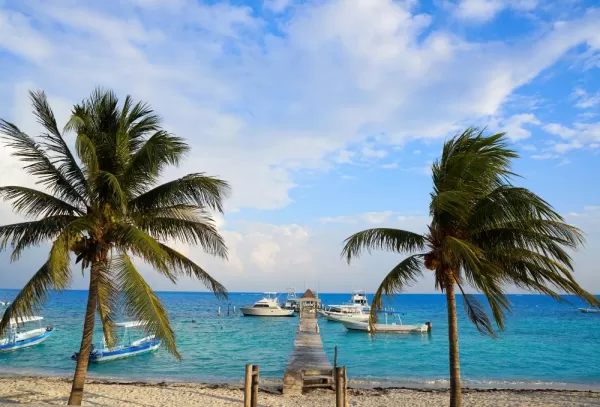 Explore the Tulum Archaeological Site
Visit the breathtaking views at Costa Maya
Enjoy the glittering waters of the Gulf of Mexico
Discover the magnificent collection of artifacts at Gran Museo del Mundo
Campeche
Cancun
Costa Maya
Cozumel
Progreso
Quintana Roo
Tulum
Veracruz
Yucatan
Yucatan Peninsula
Full Itinerary
Expand All
Day 1: Hotel Stay in Cancun, Mexico
Enjoy a complimentary stay at the pre-voyage hotel. The evening allows time to at the resort and enjoy relaxation time before the adventure begins. For your convenience, our Hospitality Desk will be located in the hotel, and our friendly staff can assist with everything from general questions about the upcoming voyage to reservation of premium experiences. Representatives will be available to provide suggestions for dining, entertainment and sightseeing options to maximize your time here.
Day 2: Cancun | Embark | Tulum | Cozumel
Today you'll explore the Tulum Archaeological Site on our included tour of one of the best-preserved coastal Mayan cities. We will travel about 80 miles south of Cancun to this well-known destination known for its spiritual history. Tulum is protected on one side by four-story cliffs and on the other by a 12-foot wall. The ruins sit along the east coast of the Yucatán Peninsula overlooking the glittering Caribbean Sea. 
Day 3: Costa Maya
1 Breakfast, 1 Lunch, 1 Dinner
Enclosed within the borders of the Caribbean Sea and a jungle, Costa Maya offers the retreat that tourists long to experience. Opportunities for relaxation, adventure and everything in between lie just beyond our porting space. Colorful fowl speckle the skyline, and breathtaking views bless the beachfronts. Traditional Mexican cuisine is accompanied by local chocolate and tequila. Whether wandering the ruins of the ancient civilizations that once thrived in the area, or indulging in the pleasantries of the lively markets, a once-in-a-lifetime experience can be guaranteed in Costa Maya.
Day 4: Scenic Sailing on the Gulf of Mexico
1 Breakfast, 1 Lunch, 1 Dinner
Azure skies watch waves absorb the sun as we set sail on the Caribbean Sea. Revel in the fetch of the gentle waves and another unhurried day of exploring the decks, taking in the view from different perspectives and sharing time with friends.
Day 5: Progreso
1 Breakfast, 1 Lunch, 1 Dinner
This day is filled with an included experience to Mérida, the vibrant capital of the Yucatán. While there we'll visit the Gran Museo del Mundo Maya de Mérida to see a magnificent collection of artifacts, including textiles, engravings, ceramics and religious works, and learn about the Mayan culture and the civilization's history. The museum will set the stage for the ancient Mayan civilizations that will be seen throughout this cultural voyage.
Day 6-7: Campeche
2 Breakfasts, 2 Lunches, 2 Dinners
The colors of the rainbow adorn this fortified city on the Yucatán Peninsula's western edge, in the restored façades of the historic buildings lining this UNESCO World Heritage Site's cobblestone streets. Today, you will enjoy an included trolly tour of the city with stops at cultural hotspots: Puerta de Tierra, El Palacio de Centro Cultural and the Our Lady of Immaculate Conception Cathedral. And in the evening, you'll be astounded by an exclusive 45-min authentic Folkloric Show and performance at the city's historic theatre, Francisco de Paula Toro.

The second day of Campeche exploration presents a completely new experience. Your included tour will provide the chance to delve into the Spanish military architecture of the city at Fort San Miguel. An optical performance comes to life in a fountain show. And you can spend some time finding your piece of the city to bring home during your Tukulna shopping experience. For a more in depth experience, guests may choose the optional premium experience to Edzna, a Mayan civilization that has been preserved to give visitors the opportunity to explore and learn. 
Day 8: Scenic Sailing on the Gulf of Mexico
1 Breakfast, 1 Lunch, 1 Dinner
Today we slip our moorings to survey the sapphire canvas of the Gulf of Mexico. Unwind in seascape and sunlight as the canvas of turquoise and emerald slips by. Scenic sailing reveals the uncommon beauty of life at sea. Laze in the grace that envelops, and be sure to seize the excellence within the vessel. 
Day 9: Progreso/Valladolid
1 Breakfast, 1 Lunch, 1 Dinner
With our ship docked in the scenic port of Progreso, we travel by motorcoach to spend a night within walking distance of Chichén Itzá. This day includes a city tour of Valladolid, known for its colonial architecture and picturesque beauty – including gorgeous cenotes – Valladolid is a jewel of the Yucatán Peninsula. The streets are colorful and buzzing with life. And unwind in the evening with your accommodations at the Mayaland Hotel to enjoy balconies with garden views, stained glass windows and pyramid horizons. You may also choose an optional evening premium experience to view the incredible sound and light show on the Pyramid of Kukulkán that tells the story of Chichén Itzá in a most unique way.
Day 10: Cancun | Disembark | Overnight Cancun
Awake to the rare and precious opportunity to greet the sun as it rises over the mystical ruins of Chichén Itzá and the fascinating El Castillo – the Temple of Kukulkan. After, enjoy an authentic breakfast at the Mayaland Hotel, explore the architectural wonders at Ek Balam, dine at the Hacienda Selva Maya restaurant and end your day with a transfer to your included post-voyage hotel in Cancun.
Day 11: Cancun | Home
As the journey concludes, there are other opportunities for you to take in the town. Enjoy the city at your leisure prior to your travel home.
Dates & Prices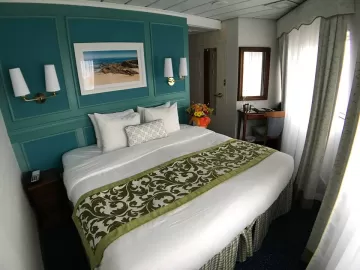 Oceanview stateroom, queen bed, armoire, chest of drawers & fresh fruit daily. (Deck 1 / 160 sq ft)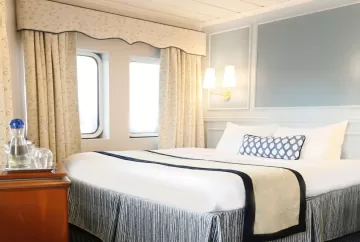 Oceanview stateroom, two twins or one queen bed, armoire, chest of drawers & fresh fruit daily.(Deck 1 / 158 sq ft)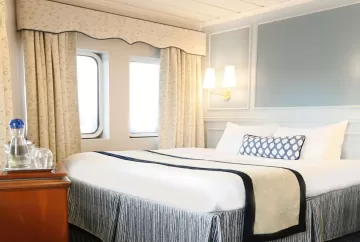 Oceanview stateroom, two twins or one queen bed, armoire, chest of drawers & fresh fruit daily.(Deck 2 & 3 / 152 sq ft)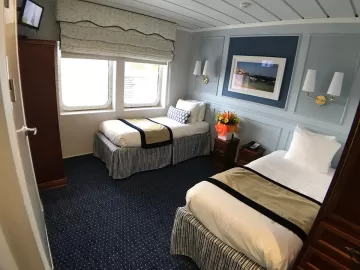 Oceanview stateroom, two twins or one queen bed, armoire, chest of drawers & fresh fruit daily.(Deck 3 / 146 sq ft)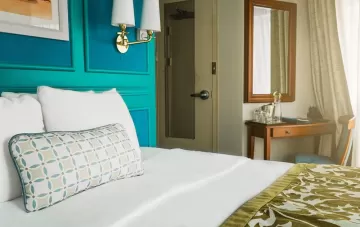 Oceanview stateroom, two twins or one queen bed, armoire and chest of drawers & fresh fruit daily.(Deck 3 / 185 sq ft)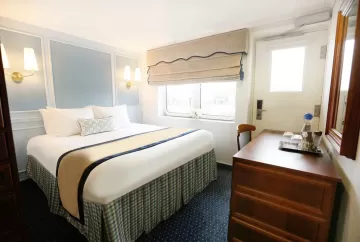 Oceanview with direct access to the open-air promenade. Two twins or one queen bed, armoire and chest of drawers, mini fridge & fresh fruit daily. (Deck 4 / 161 sq ft)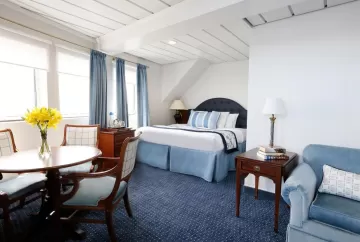 Select a Date
Owner's Suite
Oceanview suite sweeping views, a private terrace, one queen bed and one sofa bed, sitting area, complimentary minibar, complimentary laundry service & fresh fruit (Deck 3/335 sq ft)
Notes
Price Includes:  
Pre-voyage hotel night
Masterful regional cuisine with specialty and casual options
Entertainment each evening
Shore excursions in each port of call
Afternoon tea service
Cocktail hour daily
Complimentary non-premium beer, wine, spirits, tea, coffee, filtered water, and soft drinks
Wi-Fi in all public areas
Onboard enrichment
Price does not include:
Port charges per person depending on the itinerary.
Air & Transfer costs.
Gratuities on board or for any shore excursion personnel, such as tour guides or bus drivers.
Inquire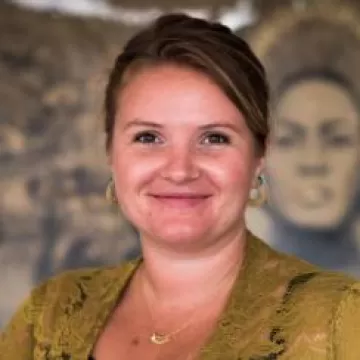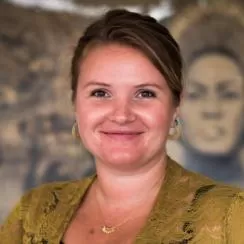 We Love to Talk Travel
Call
1.800.344.6118
or
Chat Now
Everything was amazing! The planning with Adventure Life went smoothly. The actual trip was fantastic! One of the best trips I have experienced. The cruise staff members were knowledgeable and attentive. I will be writing more about this on the blog!
Justin Chappelle
Mexico Travel Guide
Favorite Mexico Tours & Cruises