Have questions? We're here.

Get inspired by the possibilities.
Build your ideal trip.
Chiapas Maya Heartland
Example 7 Day Tour
Chiapas is a central region of the Mundo Maya (Maya World) with traditions and beliefs resembling that of the Maya of earlier centuries. Boasting a diverse landscape with tropical rainforest and highlands, wildlife viewing and birdwatching opportunities abound in Chiapas. This Chiapas trip combines the highlights of this diverse and hospitable region of Mexico in a seven day itinerary that includes visits to Maya sites, including Palenque and modern-day Maya villages. Meet artisans with your local guide and watch them practice their traditional crafts during this experiential Mexico tour.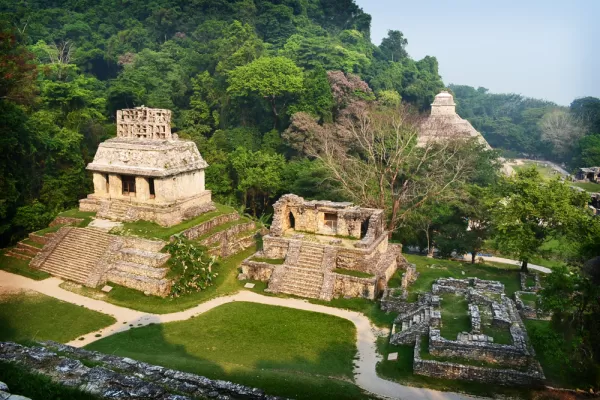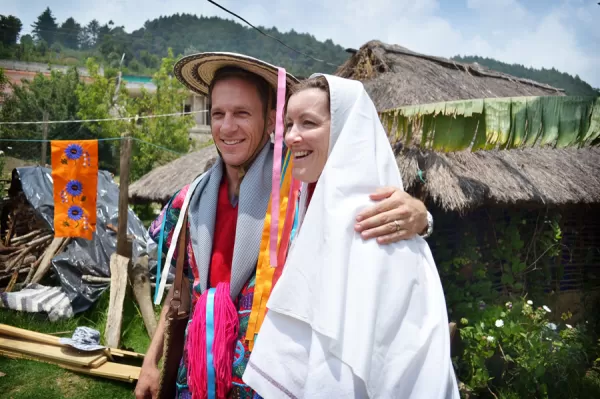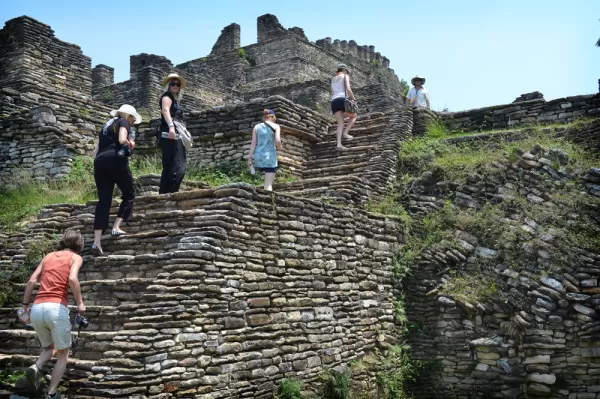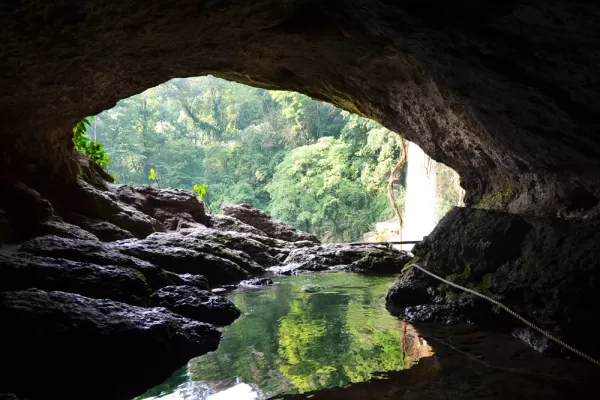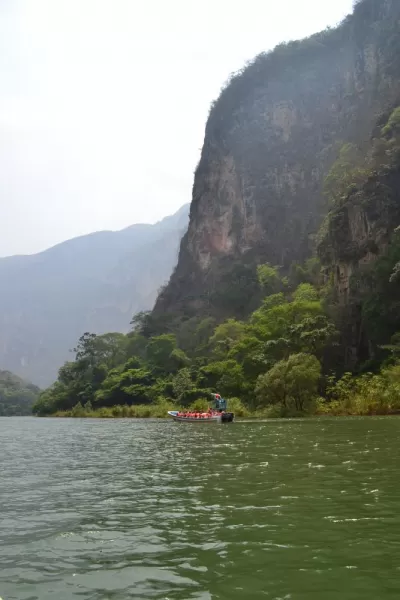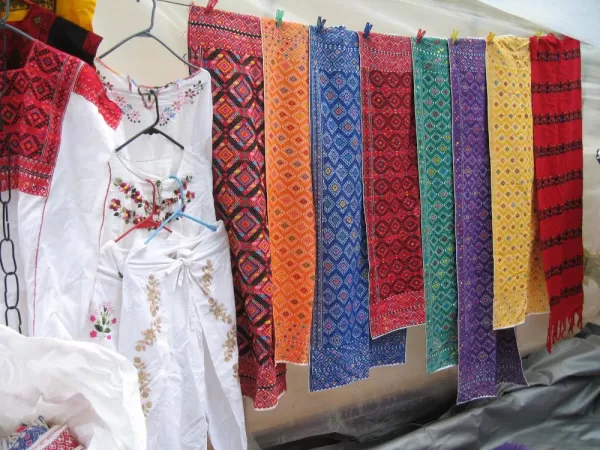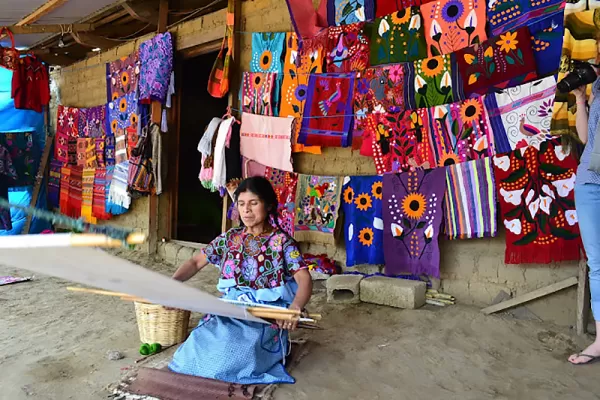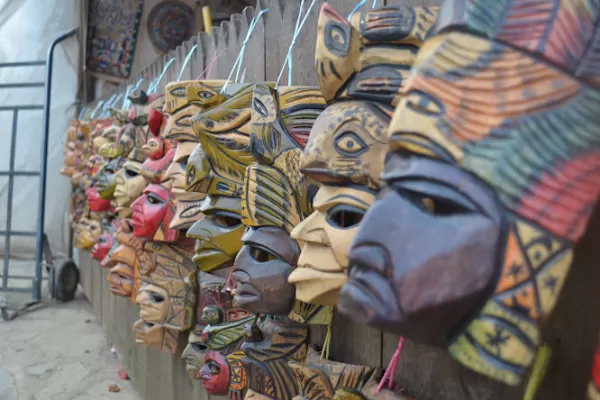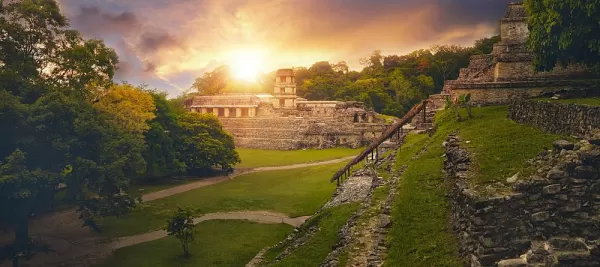 Visit a potters village and see the traditional techniques used
Walk through the Maya Ruins of Palenque and Tonina
Visit a museum in Villahermosa to learn about the Olmec people
Hike back behind the Mishol-Ha waterfall to explore a cave and take a dip
Amatenango del Valle
Chiapa de Corzo
Chiapas
Palenque
San Cristobal de las Casas
San Juan Chamula
Tabasco
Toninia
Tuxtla Gutierrez
Villahermosa
Zinacantan
Full Itinerary
Expand All
Day 1: Arrive Tuxtla Gutierrez | Sumidero Canyon
Arrive to the Tuxtla Gutierrez airport, meet your guide and transfer to Chiapa de Corzo and the Sumidero Canyon for a motor boat trip through the majestic rock walls of the Sumidero Canyon towering thousands of feet above the river. Enjoy opportunities for wildlife viewing, such as crocodiles, cormorants, spider monkeys, and herons. Return to the dock and continue into the highlands to the quaint town of San Cristobal de las Casas and settle into the charming colonial hotel.
Day 2: Maya Villages of Chiapas
Despite current discussion about the disappearance of the Maya civilization, you will find Maya culture very much alive here. Today you explore San Cristobal de las Casas and surrounding Maya villages with your local guide. Begin the day in San Cristobal, admiring the beauty of the colonial streets and alleys lined with red-roof tiles and white-washed walls. Depart by vehicle to Zinacantan, a Tzotzil Maya village outside of San Cristobal, known for its flowers and as the only source of salt in the Chiapas Highlands. Continue to San Juan Chamula, a town famous for its church that is adorned with images and artifacts representing a unique blend of Maya and Catholic beliefs.
Day 3: Pottery of Amatenango del Valle
Today visit Amatenango del Valle, a village of potters high on a hill overlooking the fertile valley. Female artisans here use traditional methods and open their shops and homes for a first-hand experience of their techniques. Peruse their handicrafts and hear their stories and beliefs that are integral to this ancient art form. Return to San Cristobal de las Casas in the afternoon for dinner.
Day 4: Tonina Maya Ruins
Depart San Cristobal after breakfast for a two-hour drive to the Maya site of Tonina. Known as the Place of the Celestial Captives, see numerous sculptures and images of captives thought to be the captured rulers of rivaling Palenque, before their execution. Explore the many temples and terraces of Tonina with your guide. Continue to Palenque in the afternoon and overnight.
Day 5: Palenque Maya Ruins | Mishol-Ha Waterfall
Palenque was an important power center during the height of Mayan civilization that dates back to 100 BC. It is still unclear what led to the important city state's fall around 900 AD. Nestled deep in jungles at the foot of the Sierra Madre del Sur, Palenque's setting is as memorable as the site is important for the light it sheds on Maya traditions, ritual, ceremony and spirituality. A massive complex spread over 15 sq. km., only the central area has been excavated. Peruse the Templo de Las Inscripciones, a burial monument that is Palenque's tallest building, and El Palacio, the residence of Palenque's rulers built in stages from 400 AD until 900 AD and restored in 1955. The palace's tower is believed to have been constructed so Maya royalty and priests could watch the falling sun during the winter solstice.

After Palenque, continue to the Mishol-Ha Waterfall that cascades 115 feet into a pool surrounded by lush, green vegetation. An optional path winds behind the main falls that acts as a curtain and leads into a cave. Be prepared to get wet, but it is a nice break from the tropical heat. Bring your swimsuit and take a swim in designated areas during low flows.
Day 6: Villahermosa | Visit to the Parque-Museo La Venta
A two hour drive brings you to Villahermosa, the capital and economic center of the state of Tabasco. Visit the Parque-Museo La Venta to learn about the Olmec civilization. The "People from the Region of Rubber" lived here from 1500 BC to 300 BC and are characterized as influencing the subsequent Mesoamerican societies. Evidence of this is in the Olmec's practice of ritual bloodletting and playing of ball games. The museum contains colossal stone heads that were moved by archaeologists from La Venta to Villahermosa to protect them due to La Venta's oil exploration. A zoo is home to native species from Tabasco including jaguars, ocelots, spider monkeys, deer, and other birds (including scarlet macaws and toucans) and reptiles.
Day 7: Depart from Villahermosa
Transfer to the airport for your flight to your next destination in Mexico to continue your Mexico tour or to return home.
6 Breakfasts
6 Nights Accommodations
2 Days Locally Hosted Guide Service
Accommodations as listed
Meals as listed
Ground transportation as listed
Professional, bilingual guide service as listed
Excursions and activities as listed
Park Entrance Fee
Arrival Transfer
Departure Transfer
Gratuities
Travel Insurance
Personal Expenses
Flight costs (please request a quote)
Additional excursions during free time
Fuel and transportation surcharges (when applicable)
Meals not listed
International Flights
Airport Departure Tax
Optional Excursions
When to Go
Good to ideal period to travel, and many people choose to visit at this time.
Chance for unpredictable weather but with fewer visitors.
Inquire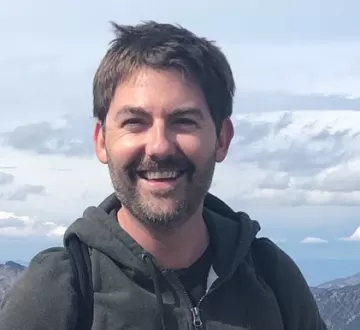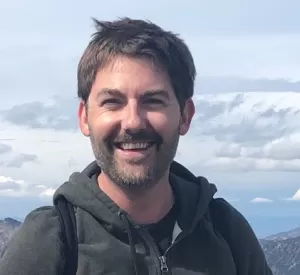 We Love to Talk Travel
Call
1.800.344.6118
or
Chat Now
This was our first trip to South America and we were a little nervous. But Adventure Life made things so easy! All our questions were answered before we left, and our guide, Vidal, was amazing! He gave us enough space to explore without rushing us along. He also knew where the best picture taking opportunities were, which was great.
Lindsay Gompf
Mexico Travel Guide
Favorite Mexico Tours & Cruises