Have questions? We're here.

Get inspired by the possibilities.
Build your ideal trip.
Yucatan Explorer
Example 8 Day Tour
The Yucatan Peninsula of Mexico is a fascinating blend of pristine beaches, turquoise blue water, spectacular nature, ruins of ancient civilizations, and residents who have not forgotten their traditions and culture. This Yucatan trip visits the Maya sites of Chichen Itza, Tulum, Coba, and Uxmal and the colonial cities of Campeche and Merida. Spend 3 nights on the Maya Riviera in Tulum, known for its Maya ruins situated on high cliffs above the Caribbean. There is time to relax on the beach as well as to explore the Tulum ruins and the Sian Kaan biosphere reserve's mangrove waterways for great wildlife viewing during this Mexico tour on the Yucatan Peninsula.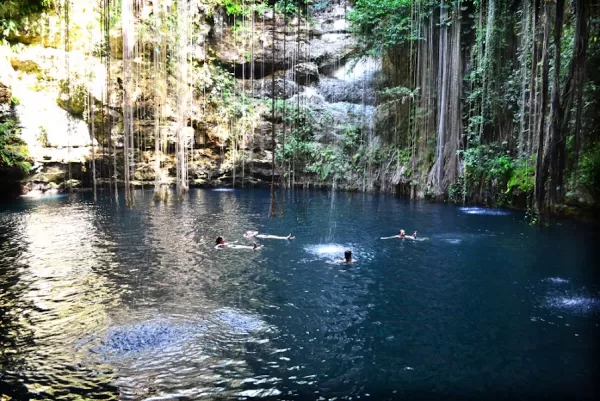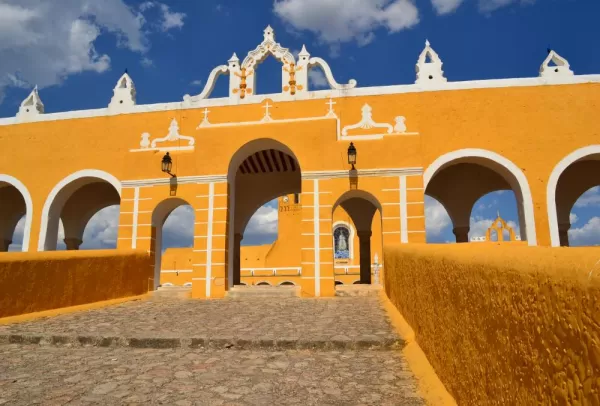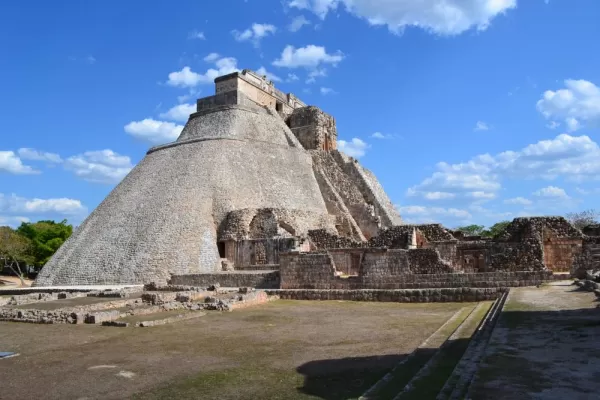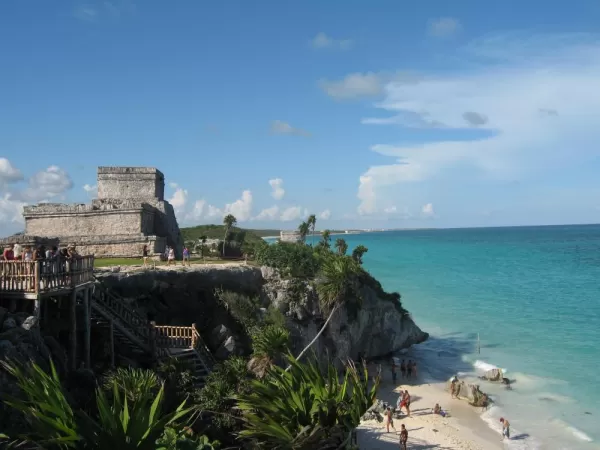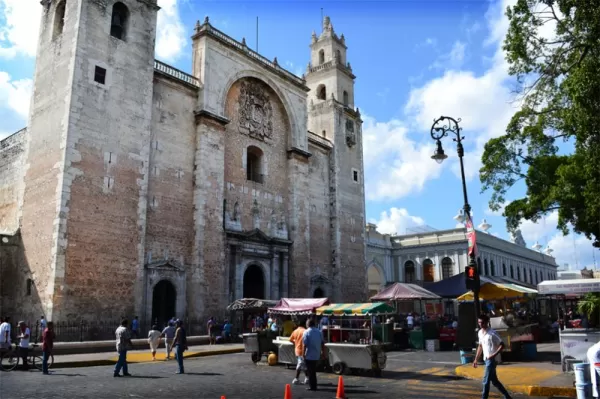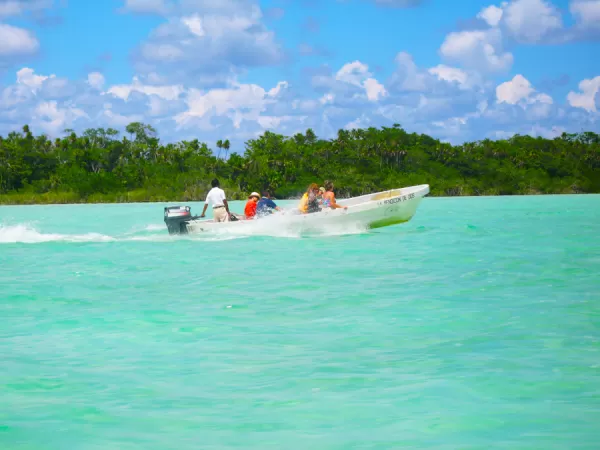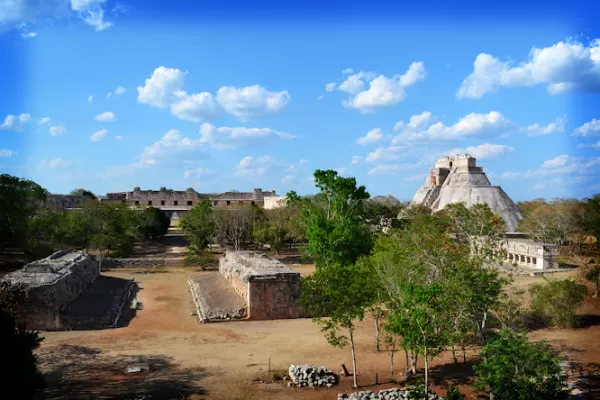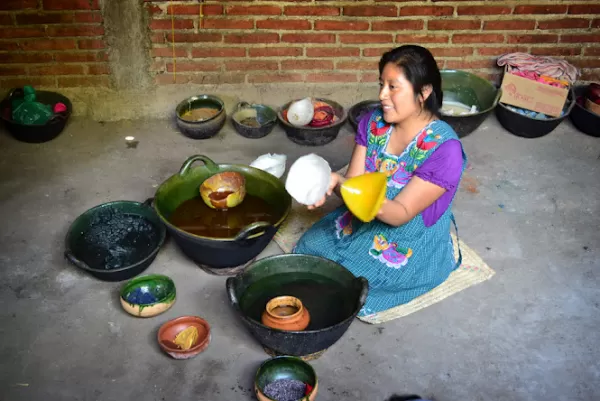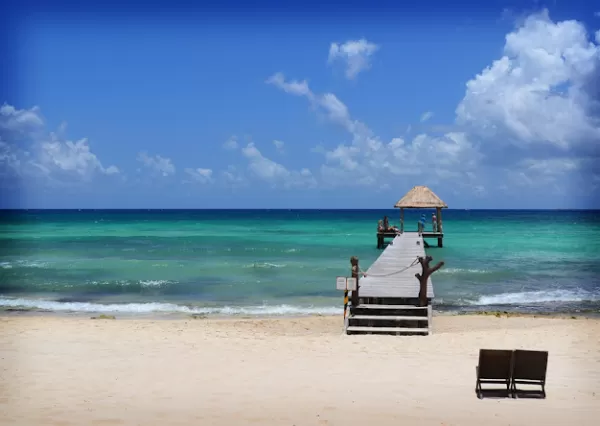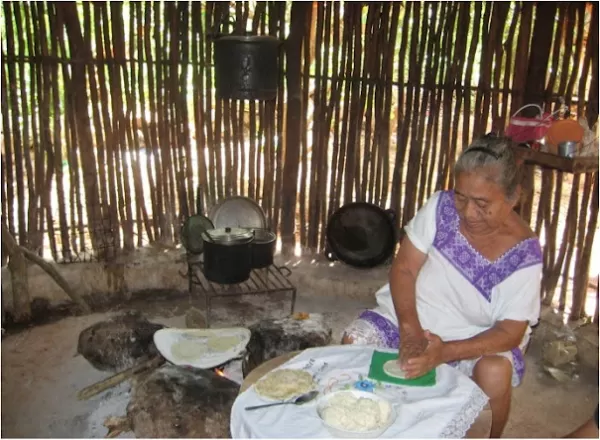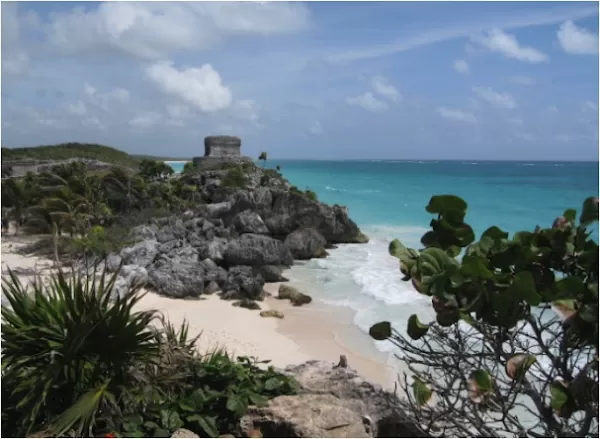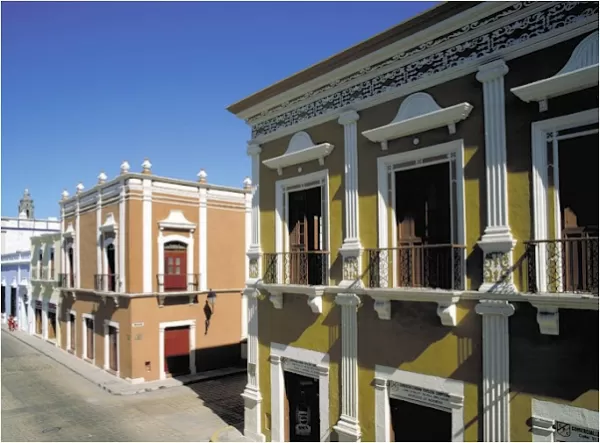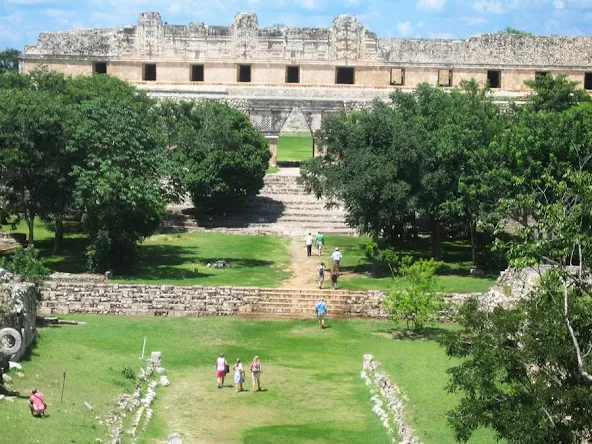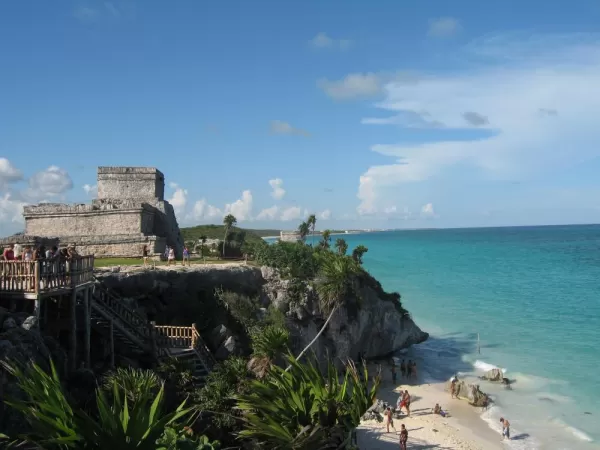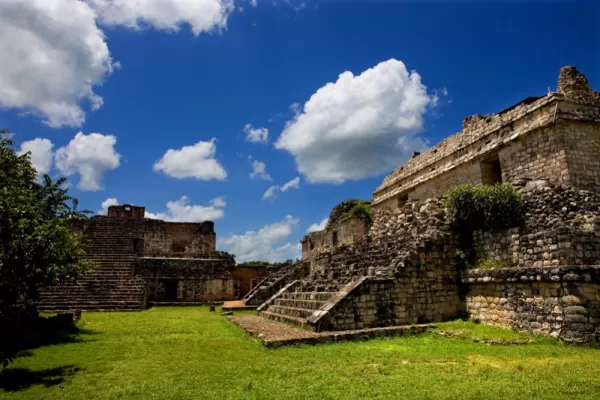 Visit Edzna, a Maya archaeological site
Stroll through "the Yellow City", Izamal, known for its yellow buildings
Explore the well-restored Yucatan Maya site Chichen Itza with your guide
Boat through channels, mangroves, and estuaries of Sian Ka'an
Campeche
Cancun
Chichen Itza
Coba
Edzna
Izamal
Quintana Roo
Sian Ka'an
Tulum
Uxmal
Yucatan
Yucatan Peninsula
Full Itinerary
Expand All
Day 1: Arrive in Campeche
Arrive to Campeche and transfer to your charming hotel in the historic city center of this beautiful, colonial city. The afternoon is free to explore on your own.
Day 2: Edzna Maya Ruins | Campeche City Tour
Meet your guide after breakfast for a short drive to Edzna, the Maya archaeological site outside of Campeche. Built on a platform of 40 meters high, Edzna's major temple, Edificio de los Cinco Pisos (Five-Story Building), provides a great view of the plazas below as well as a panorama of the countryside.

Return to Campeche in the afternoon for a guided visit of the walled city center. Campeche is a UNESCO World Heritage Site with restored cobblestone streets, pastel-colored mansions, and impressive fortified walls that protected this former Spanish port from marauding pirates. It is a perfect place for an afternoon stroll along the malecon, the waterfront promenade, or a visit to the scenic Plaza Principal.
Day 3: Uxmal Maya Ruins
Depart Campeche and drive two hours north to Uxmal. Uxmal is located in the Puuc region, the Maya term for "hill". Puuc architecture is a style found at Uxmal that is characterized by using mosaics to make facades over cement-covered walls and intricate cornices depicting Maya symbols. This ornate style abounds in Uxmal, considered by many to be the finest example of classic Maya architecture, particularly the Governor's Palace. Arrive to the hotel to relax for dinner, and there is an optional evening excursion to return to Uxmal for the light and sound show at the ruins.
Day 4: Hacienda Visit | Merida | Izamal
Start the day with a visit to the Hacienda Sotuta de Peon. This working plantation was started in the late 1800's to produce henequen, an agave plant with sword-shaped leaves with fibers that were used to make rope, twine, and paper. Henequen was a major source of the Yucatan's wealth, and the beautiful main house and grounds are evidence of this prosperity. Take a swim in the hacienda's cenote, a limestone sinkhole filled with cool, clear water that held important significance for the Maya.

Continue to Merida for lunch and then Izamal to visit the Franciscan monastery. Izamal was a center of worship of the Maya sun god, Itzamna. During the Spanish conquest of the Yucatan, the Spanish boldly constructed their monastery on top of a Maya temple with the foundation brandishing the Maya style and architecture. Stroll through "the Yellow City", named for the yellow paint adorning the buildings, with your guide, and in the evening, drive to Chichén Itzá.
Day 5: Explore New Wonder of the World Chichén Itzá and Coba
An early start allows for you to visit Chichen Itza before the groups arrive from Cancún. Explore the famous and well-restored Yucatán Maya site with your guide. Chichén Itzá's iconic temple, El Castillo, also called the Pyramid of Kukulcan, rises up and greets you as you enter. Spend the morning visiting the great ball court, plazas, observatory, and temples of this beautiful area. Your guide will share Chichen Itza's troubled history as a settlement that was largely abandoned in the 9th century and then resettled almost 100 years later to then be invaded by the Toltecs from the Mexican highlands near present-day Mexico City. This brought a fusion of highland and Puuc Maya styles to Chichen Itza's temples and buildings.

Next travel to Coba. An expert guide will lead you in exploring the temples and stelae (inscribed columns) that remain at the site despite early looting when Cobá was first rediscovered. Climb the 130 steps to the top of the steep Nohoch Mul pyramid, the highest pyramid in the Yucatán Peninsula, and look out over the site dense with jungle where pyramids poke out through the trees.

The site is so large, and there are so many things to see, it is recommended that you traverse the site on bikes or be driven on a tricycle, light-heartedly called "Maya Limousines."

Continue to Tulum and "home" on the Caribbean coast.

Day 6: Explore Sian Ka'an
Take a boat tour to explore the channels, mangroves, and estuaries of the Sian Ka'an Biosphere Reserve, one of the largest protected areas in Mexico. Sian Ka'an is home to a diverse selection of birds and mammals, notably howler monkeys, pumas, ocelots, osprey, jaguars, flamingos, cormorants, frigatebirds, and spoonbills. Float quietly through Sian Ka'an with a local naturalist guide before visiting an archeological site in the reserve amongst the mangroves.

Return to the beachfront hotel in the afternoon to relax on the white sand beach and take a swim in the turquoise Caribbean sea. Grab a hammock and enjoy the sea breeze!
Day 7: Tulum Maya Ruins
Visit the Tulum ruins that are situated on a rocky outcrop overlooking a white beach and turquoise water. Modest compared to other sites explored during the trip, the location along the Caribbean coast sets Tulum apart. Tulum is Maya for "wall" and this fortress resisted attacks from other Maya city-states as well as the Spanish. It is believed that Tulum was one of the last of the ancient cities to be abandoned.

Return to your hotel for lunch, and the remainder of the day is free. The hotel can arrange optional snorkeling, diving, and fly-fishing excursions.
Day 8: Transfer to Cancun | Return home
Transfer to Cancun to connect with a flight home. With more time, extend your stay in Cancun or along the Maya Riviera or visit another region in Mexico.
7 Breakfasts
7 Nights Accommodations
3 Days Locally Hosted Guide Service
Accommodations as listed
Meals as listed
Ground transportation as listed
Professional, bilingual guide service as listed
Excursions and activities as listed
Park Entrance Fee
Arrival Transfer
Departure Transfer
Gear Rental: Bike Rental
Gratuities
Travel Insurance
Personal Expenses
Flight costs (please request a quote)
Additional excursions during free time
Fuel and transportation surcharges (when applicable)
Meals not listed
International Flights
Airport Departure Tax
Optional Excursions
When to Go
Good to ideal period to travel, and many people choose to visit at this time.
Chance for unpredictable weather but with fewer visitors.
Inquire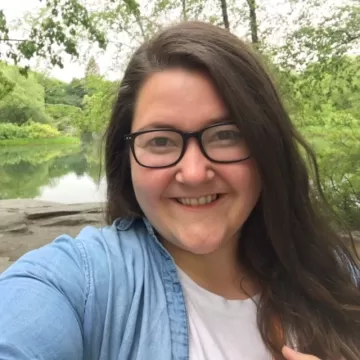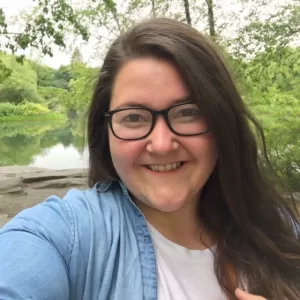 We Love to Talk Travel
Call
1.800.344.6118
or
Chat Now
This was our first trip to South America and we were a little nervous. But Adventure Life made things so easy! All our questions were answered before we left, and our guide, Vidal, was amazing! He gave us enough space to explore without rushing us along. He also knew where the best picture taking opportunities were, which was great.
Lindsay Gompf
Mexico Travel Guide
Favorite Mexico Tours & Cruises