Today is our last full day here.  This morning we head to the very touristy shops at the end of the beach to bargain our way to some deals for families and friends back home.
This afternoon, Kurt and I decide it is our time to play around in the waves.  He takes the boogie board to the far left of where we had been the previous few days.  We watch in awe as he catches wave after wave.  By the time he is tired and ready to give up the board, I am eager to try it out.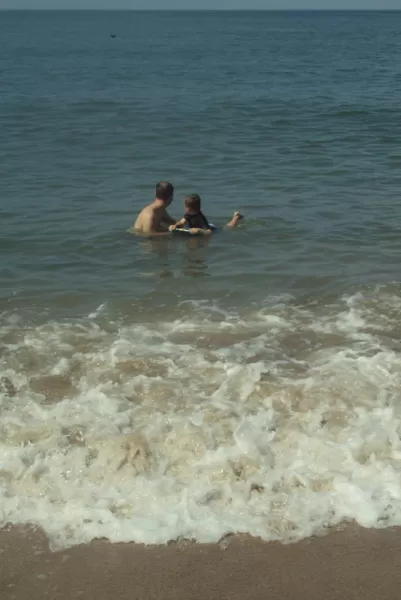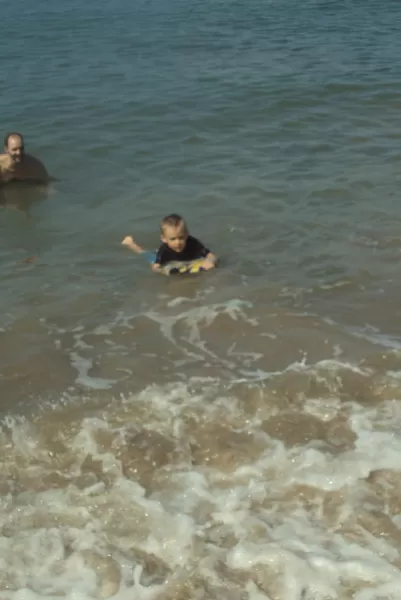 I go a little closer to the condo so I can help with the little ones if need be.  The sand in the water on this side of the beach is so soft.  My first indication of trouble should have been when I walked into the water and a crab pinched my toe.  I told myself to get over it and tried to catch some waves.  I did catch a few but they were far between.  With every wave that washed over me I could feel debris by my ankles.  Mainly seaweed and sticks.  These felt very weird when they hit my legs and I contimplated putting my boarding skills to rest for the afternoon.  But again I told myself to get over it.
The next wave I pushed off the sand to jump on my board and stepped on something very slimy and squishy.  It really grossed me out.  Thinking it was a sea cucumber and bidding myself to continue to boogie board, I jumped up to catch the wave.  In that instant I felt a sharp pain on the outside edge of my left foot.  It hurt and bad.  At first I thought a crab had clipped a chunk out of my foot.  I started to panic a little.  And then realizing I had to swim to shore with one arm (the other holding the board) and one leg (as my left foot hurt too bad to move it) I really started to panic.  I couldn't yell for help because I knew the waves would drown out the sound. 
Finally making it to the beach, I yell for my mom to come help.  "I've been bit by somthing".  When she comes to check it out, I see the blood and I really start to worry.  Kurt makes it to us and heads to the condo to get water and ibprofen.  In the meantime, my mom wraps a towel around the wound to stop the bleeding.  After Kurt arrives, we try to get me out of the sun and in a chair.  I try to hobble my way to the chairs and am not able.  Finally he carries me and we decide to go to the condo to take a better look.
The condo managers start to be concerned when they see Kurt carry me off the beach.  When they see my foot they tell us in Spanglish, I have been stung by a Manta Ray and I need to go to the emergency room.  That is when my true panic sets in.  'This is serious enough to require medical attention is my first thought' and then 'what will an ER in Mexico look like'. 
Kurt rushes to get us clothes, passport and some money before we have a very diligent taxi driver rush us to the hospital.  I am trying to go to my happy place but my happy place is the beach and that only makes me think about the sting and the excrutiating pain I am in.
At the ER, they wheel me away while Kurt takes care of the paperwork.  I am so thankful I know Spanish but wishing I knew more medical terms.  The doctor speaks good English and she explains the only treatment is very hot water and pain reliever.  The pain is so bad I just want her to knock me out.  But when she sticks my foot in the hot water it does start to feel better.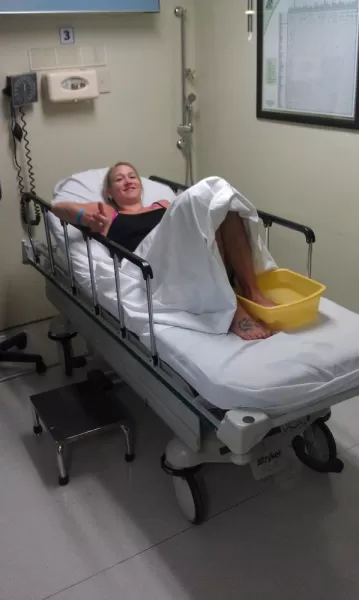 When Kurt makes it back, it is his duty to re-fill the water.  He is doing so every 3-5 minutes.  As soon as the water even starts to cool I am in pain again.  It takes an hour or so and when I am still crying, the doctor decides to give me an IV of what we manage to understand is like morphine.  And that does it.  We make it back to the condo around 7 that evening and I am done for. 
The kids are so excited to see me as I could tell they were worried.  My mom as well not knowing what to expect and being solely responsible for our kids in a foreign country has spooked her for sure.
After I am better, we research how and why sting rays sting.  Usually the only time they strike is when they are stepped on.  They strike over their heads so I was in the perfect position for the Manta Ray to get me. 
The main treatment is to put the wound in very hot water and to let it bleed as both draw out poison.  It is also a good idea to have a medical professional check for the stinger and have it removed.  The stinger is barbed it is not recommended to remove it yourself as you can cause tissue damage.
It is also recommmend to shuffle your feet in the sand!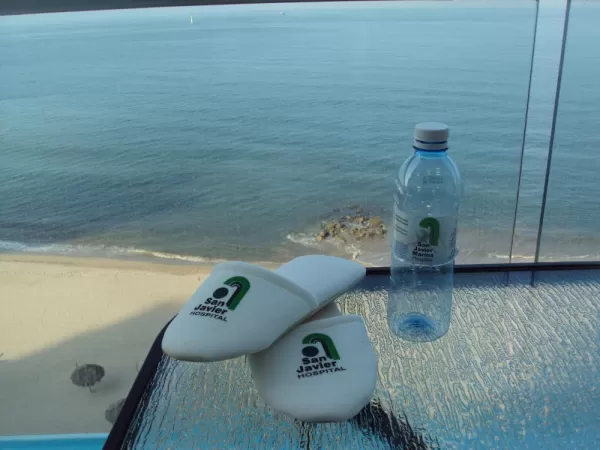 While my last day in Puerto Vallarta was not the best, the entire week of sand, sun, ocean, food and family has made up for it.  I love Puerto Vallarta and can't wait to return again!