I left Missoula at 7 PM on Wednesday and arrived in Buenos Aires at 5 AM on Friday.  The two days of travel were exhausting, and I slept about an hour total on all of my flights, so our first priority was to catch a little shut eye.
We were lucky enough to be able to check in to our room early and immediately crashed.  We woke up around 11, and while we still had no desire to move, we didn't want to waste the day.  We showered, dressed for the beautifully warm weather, and set out from our hotel to explore.
Our first stop was a visit to our local office - Kallpa.  They operate all of our tours for us in Argentina, so it was nice to finally meet the folks I have been working with for the past few years!  From there, we headed to the main shopping street - Florida.  Here we stopped in the Galerias mall and did some people watching on the main drag in town.  Rather than finding a nice restaurant for lunch, we wanted to get off the main tourist street and get some local food.  We saw an empanada shop that offered 3 empanadas and a coke for what came out to about $3 US.  It was full of locals, which is always a good sign.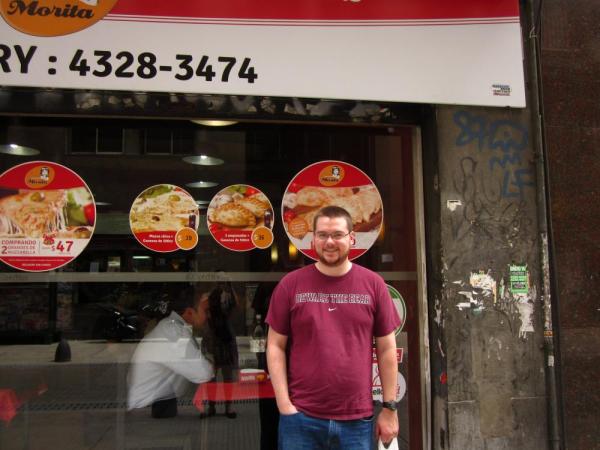 In our best Spanish, we ordered 6 different ones and they were served to us on a round wooden board.  I really meant to take a picture of them, but we were so hungry and so tired, we had already finished devouring them before I remembered my camera!
After lunch, we went back to the hotel, sent out a quick email letting our families know we were alive, and then set out on our afternoon city tour. 
My last name is actually a Portuguese name (my husband's family is from Portugal a few generations back) and everyone we met commented on it.  They would be very excited that I was Portuguese, and then I would tell them it is my husband's name.  They immediately would look at Ben and start speaking to him in Portuguese, to which I would have to respond "No, es mi hermano" (No, he is my brother).  Then they would apologize profusely or laugh about the mix-up.  "No, es mi hermano" quickly became a theme on our trip!
The city tour was a whirlwind that showed you the top highlights of the city - and you had about 30 seconds to enjoy each of them.  It would be a perfect way to get aquianted with the city if you were going to have more time to explore (or in our case, to give you a glimpse of what you are missing out on!). 
We saw the main areas and stopped for a while in the main government square (where we saw the cathedral the new pope is from)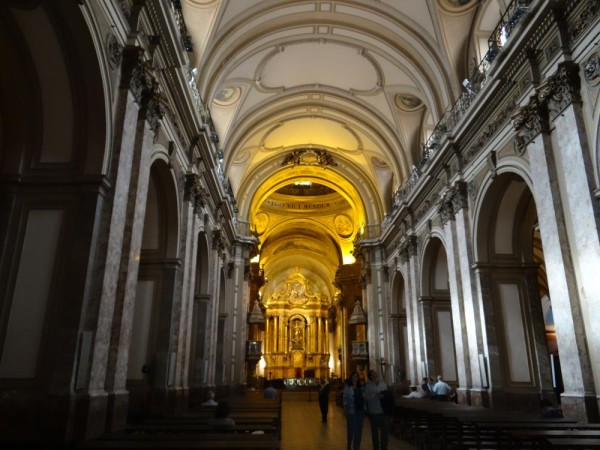 and in Las Bocas which was very touristy and colorful. 
In Bocas, we were dragging a bit, so we ordered a frapuccino.  It was made with ice cream and looked so good...until we realized they were serving it in actual glasses and we only had about 1.5 minutes to drink it before we had to be back on the bus.
On our way back to our hotel, the guide started talking about the Galerias Mall, and that it was famous because of the amazing paintings that covered the cathedral-style ceilings.  Ben and I both started cracking up...we realized we never even looked up while we were there!
Back to our hotel, we had just enough time to get super dressed up and meet our driver for our Dinner and Tango Show.  When we arrived, they had us pose with sexy dancers, then they wanted us to pose sexily with each other - "No, es mi hermano" (cue crazy giggles from the staff)
The free-flowing wine at the show did not help my sleep-deprived state, and Ben (who had plenty to drink), kept kicking me under the table to wake me up throughout the show. 
Finally, a bit after midnight, we were returned to our hotel.  We quickly packed our things and passed out...only to head back to the airport at 5 AM.
We had just long enough in the city to make me realize 24 hours is not nearly enough time to enjoy Buenos Aires!